By Justin Lehmiller
This article originally appeared on Playboy.com.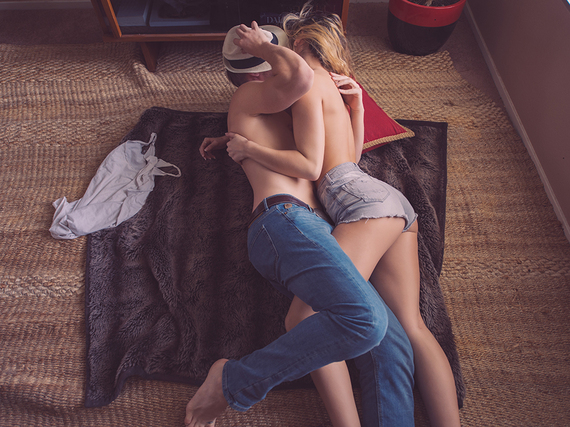 PHOTO COURTESY OF ED GREGORY / PEXELS.COM
Male sexual enhancement is big business. Just look at Viagra, now 17-years-old, which racked up nearly $1.7 billion in sales in 2014 alone. That number doesn't reflect sales of other popular drugs like Cialis and Levitra, nor does it take into account sales of the myriad creams, potions, pumps, "natural" remedies and self-help books that men are buying in droves.
While some of these products are pure snake oil, there's no doubt that many of the treatments comprising this multi-billion dollar industry work in the sense that they can give guys firmer more frequent erections and help them have longer-lasting sex.
You may not need to pull out your wallet or get a prescription in order to up your game in bed, though.
Scientists have discovered that there are many things men can do on their own that have the potential to both prevent and treat a wide range of sexual difficulties, from premature ejaculation to erectile dysfunction (ED) to low sexual desire. Having spent years scouring the research, here are my top ten recommendations:
GET OFF THE COUCH AND GET SOME EXERCISE
Several studies have found that the most physically active men report the best erectile function. How much exercise do you really need? According to the research, about two hours per week of strenuous activity or six hours per week of light activity. Exercise does more than just help your erections, though. Physical activity can also reverse problems with low sexual desire. Oh, and losing belly fat offers the added benefit of making your penis look bigger.
DO YOUR KEGELS
Don't just exercise your chest, arms and legs--do some exercises for your junk, too. Research has found that Kegel exercises have been used to successfully treat both premature ejaculation and ED. Another potential benefit is that these exercises may also help you become multiply orgasmic.
CUT BACK ON THE BOOZE
"Whisky dick" is a real thing. Occasional bouts of heavy drinking can lead to temporary performance problems by making it more difficult to both get an erection and reach orgasm. Chronic alcohol abusers often develop more persistent problems. In one study of men being treated for alcohol dependence, 72 percent reported one or more sexual difficulties. You don't necessarily need to stop imbibing altogether (unless you have an addiction)--just use it in moderation.
STOP SMOKING, AND MAYBE CUT BACK ON THE WEED, TOO
Alcohol isn't the only substance that can undermine male sexual performance. A number of other drugs can as well. For instance, cigarette smokers have a substantially elevated risk of developing ED. Consider this: a meta-analysis of the research in this area found that while 28 percent of the overall population smokes, 40 percent of those with ED were smokers. Other research suggests that frequent marijuana users may also be at risk for developing erectile problems, given that cannabis inhibits certain receptors in the penis.
LEARN TO LOVE YOUR PENIS (NOT LIKE THAT)
When men are asked how they feel about their own penises, nearly half of them report thinking that theirs is too small. Small penis concerns can make guys uncomfortable being naked around their partners and can contribute to sexual performance anxiety. The good news is that most of these guys are worried for nothing. In all likelihood, your penis is probably a perfectly normal size. Moreover, the vast majority of women say they"re happy with their partner's penis size, and research has found that longer penises don't necessarily bring women more pleasure.
STOP THRUSTING LIKE A PISTON DURING SEX
Good sex isn't about thrusting as hard and fast as you possibly can. For one thing, if you miss your target, you run the risk of a fractured erection, which is just as unpleasant as it sounds. For another, jackhammering isn't the route to orgasm for most women, especially when you consider that clitoral stimulation (not vaginal insertion) is crucial for many women to reach orgasm. One position that offers clitoral stimulation and increases the odds of simultaneous orgasm is the coital alignment technique, which you can read up on here.
MIX IT UP
Research has found that as the number of different sexual activities people engage in when they have sex increases, the more likely they are to reach orgasm. This is true for both men and women. In other words, don't skip the foreplay, and keep in mind that "sex" doesn't mean just one thing.
DON'T BE AFRAID OF SEX TOYS
A lot of guys think of vibrators as something that only women use. However, a national U.S. survey found that nearly half of men report having used one before. Men report a wide range of reasons for using vibrators --most commonly as a way of pleasing their partner or injecting some novelty into one's sex life -- but regardless of the reason, male vibrator users report better erectile function, more sexual desire and more satisfying sex than men who have never used this kind of sex toy before.
EXPERIMENT WITH LUBE
Compared to men having condomless sex, research has found that men who combine condoms and lube report feelings of sexual arousal that are just as high; by contrast, guys who use condoms without lube report less arousal. It's also worth pointing out that adding lube to the outside of a condom can make sex more pleasurable for your partner, while putting just a drop or two on the inside of the condom can enhance your own pleasure and comfort while you're wearing it.
TALK ABOUT SEX AND COMMUNICATE DURING SEX
Last, but certainly not least, talk about sex with your partner(s) early and often. Research has found that people who engage in more sexual communication are more satisfied with their relationships and feel closer to their partners. In addition, those who are more vocal during sex (e.g., by moaning and groaning) tend to be more sexually satisfied. Not only does sexual communication help to ensure that both you and your partner get what you want, but it also signals appreciation for their efforts.
With all of that said, there is a caveat: not all sexual problems can be prevented or solved through lifestyle change, so there's definitely still a place in this world for Viagra and other medical treatments. However, drugs and medications shouldn't be our first line of defense. The reality is that a lot of men will find that simply taking a cue from the science and following the guidelines offered here will help their sex lives immensely.
________________________________________
Justin Lehmiller, PhD is a sex educator and researcher at Ball State University and author of the blog Sex and Psychology. Follow him on Twitter @JustinLehmiller.
More from Playboy.com:
Everyone in Cozumel Thinks This Guy is Ron Jeremy
Monogamy May Not Protect You from Getting an STI
A Fresh Look at the Age-Old Question, 'What do Women Really Want?'
Also on HuffPost: