Don't be surprised if Alaska Thunderfuck pops up next time you turn on a mobile dating app! While many gay men log on to Grindr, Scruff and the like to window shop while bored, meet a mate or interact with locals when traveling -- not to mention find more immediate gratification -- it's strictly business for the RuPaul's Drag Race star.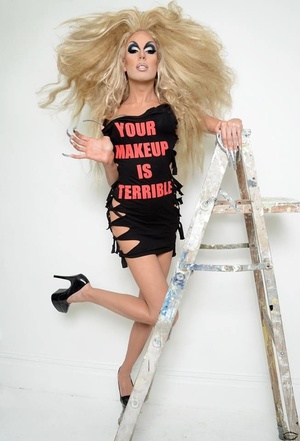 "I don't really hook up with people from Scruff, because I'm, like, in drag in my Scruff profile," clarified Thunderfuck during a recent telephone interview, "But I do find it useful for business opportunities and getting people to send me naked pictures of themselves."
OK, so maybe it's not strictly business, but her career definitely takes precedence. According to the Season 5 standout, she was introduced to the director of her current music video on Scruff!
"We didn't hook up or anything," clarified Thunderfuck of Sasa Numic, who lensed "Your Makeup Is Terrible." "In this case, I got a really fun opportunity to meet an amazing, aspiring filmmaker. He was really excited to work with me, and it just worked out."
I'll say!
The resulting collaboration sees the diva sashaying, shante-ing and even mocking her captive male alter ego before seemingly self-destructing as the video reaches its climactic conclusion. To date, it's amassed nearly half a million YouTube views.
The star said the song itself, like its accompanying video, happened organically. In fact, the concept and song's title were hand-delivered by fans. Said Thunderfuck, "It's not like I even had to ask myself, 'What will the next song be about?'"
As one of the busiest alumni from the popular LOGO reality competition, which annually crowns "America's Next Drag Superstar," Thunderfuck performs at nightclubs and Pride festivals and makes public appearances worldwide. Everywhere she went, people were saying, "Your makeup is terrible," a memorable quotation taken from her season's "perfume challenge."
"It just became really popular," explained Thunderfuck. "People were making memes online about it. I was like, 'I really need to do something with this.'"
After downloading music from an online website -- "It was on sale for, like, $6," the entertainer bragged -- Thunderfuck penned the lyrics while sitting in an airport during one of her countless travel experiences. Several live performances of the song proved to be a hit, so the video followed.
"It was a long process, so it had a lot of evolution," the gender-bender stated. "But that's basically how it came about."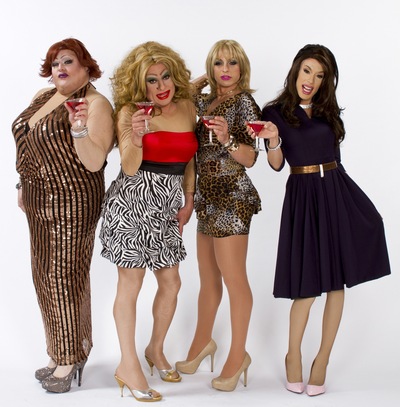 Despite the song's success, Thunderfuck is not content to rest on her laurels. Though currently featured as "Charlotte" in Sex in the City: Live, a campy San Francisco staging of the popular television series starring Bay Area favorites Heklina (Carrie), Lady Bear (Miranda) and D'Arcy Drollinger (Samantha), she is already planning her next musical project.
Regarding her upcoming release, titled -- naturally -- "Nails," Thunderfuck explained, "The moral of the song is: If you're not wearing nails, you're not doing drag."
Known in part for her long, ornate, almost claw-like nails, the superstar wrote the song a while back. "Definitely a portrait of a certain time in [her] life," she calls "Nails" "a message for young, starting-out queens to not neglect the detail of their hands when getting themselves in drag."
"Drag is about the face," said Thunderfuck of this cautionary tale (so be sure your makeup is not terrible), "but the secondary thing is about the hands."
The lyrics and music are already in place. Up next, said Thunderfuck, is the "Nails" music video.
To find out how to get involved, presumably, hit her up on Scruff.
Alaska Thunderfuck stars in Sex in the City: Live, running Thursday through Saturday at 8 p.m. and Sunday at 7 p.m. until Aug. 10 at San Francisco's Victoria Theatre. Click here for additional information.