When Billboard Magazine ranked the top girl groups of all-time earlier this year, the usual suspects -- The Supremes, TLC, Destiny's Child -- topped the list. Comfortably at No. 5 though, besting acts like The Spice Girls, En Vogue and Martha and The Vandellas, was Exposé. According to singer Jeanette Jurado, the '80s freestyle collective is all-too-grateful its music, now "classics," lives on.
"Who does not want to be remembered, to be appreciated by all those people?" asked Jurado.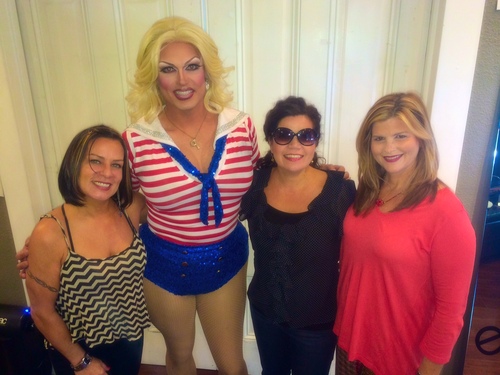 "I remember all those artists my mom would play growing up...all those artists my dad would play; they have a special place in my heart," stated the singer (next to me in sunglasses above, with Exposé cohorts Gioia Bruno and Ann Curless bookending us). "So to be one of those artists, it's such a huge compliment."
Starting with the release of their 1987 full-length debut Exposure, Exposé racked up an impressive seven consecutive Top 10 hits on Billboard charts. Songs like "Come Go with Me," "Point of No Return" and "Let Me Be the One" made Bruno, Curless and Jurado dancefloor staples. "Seasons Change," a then-rare ballad from the group with Jurado singing lead, became their first mainstream No. 1 single.
In 1992, Exposé returned as a quartet, adding Kelly Moneymaker to the fold. Their ballad-heavy, self-titled 1992 album spawned another Top 10, "I'll Never Get Over You (Getting Over Me)," which also landed No. 1 at adult contemporary radio.
After nearly a decade atop charts, the group took a hiatus. According to Jurado, unlike many groups, which encounter internal drama, the decision was fueled by frustration with their management.
"It really had nothing to do with the three of us -- or, at that time, the four of us," shared the singer. "We are, and always have been, very good friends. We were just so tired of fighting against [the production company]...we needed to a break."
When Curless, Bruno and she reunited in 2007, though, that pesky management team was waiting. Says Jurado, "They just came after us!"
Suddenly, the women were thrust into a lengthy legal battle. Despite being the same trio which scored the group's most enduring hits, it was up to a court to decide who owned the Exposé name.
"We put our foot down," Jurado stated. While acknowledging partially financial reasons for pushing back, she names a more important factor as their primary motivation.
"It was the three of us banding together and saying 'Enough is enough,'" she stated, "So we [went to court] -- and we won!
"That was great," Jurado said amid laughter, "It took us a couple of year, and had a some difficult times doing it, but we did it - and we're very proud of it."
Despite their music's enduring legacy and new-found confidence brought by legal victory, Jurado admitted a degree of uncertainty about the reunion. Would fans still remember and come to see them perform, the ladies wondered?
Calling their return to the road and self-doubt "nerve-wracking," Jurado says fans have been nothing but responsive. The Pico Rivera, CA, native named LGBT fans among the most accepting.
"Automatically the gay community opened their arms to us," she gushed. Exposé feels "at home," she said, playing gay clubs and Pride events, including an August performance at the Sacramento Rainbow Festival (where the above photo was taken!).
"The gay community is absolutely loved by the three of us, and I think even more so since reuniting," Jurado pointed out. "So many people come up to us and say our music really helped when they were coming out to their parents or their friends.
"I don't know why it is they make that link," she confessed, "But I'm really happy we are part of that. It's like reuniting with old friends."
For More Information, Visit the Official Exposé Website.