Master navigator Nainoa Thompson was honored for Excellence in Exploration at the 2015 Peter Benchley Ocean Awards ceremony this week in Washington D.C. He is one of a handful of indigenous navigators that can find islands in the open ocean without instruments, using techniques handed down through generations for over a thousand years.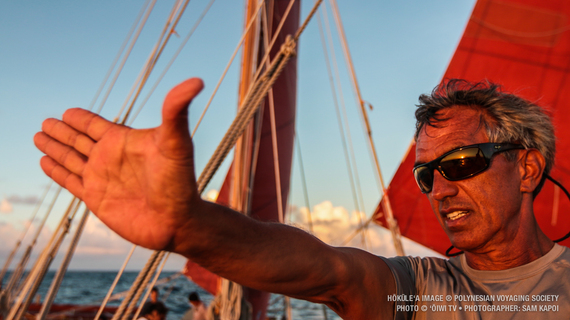 Thompson, mentored for decades by master navigator Mau Piailug, became the first Native Hawaiian in 700 years to practice long-distance wayfinding. As president of the Polynesian Voyaging Society, Thompson has overseen the 150,000 miles sailed over a span of 40 years by the traditional voyaging canoe, Hōkūleʻa.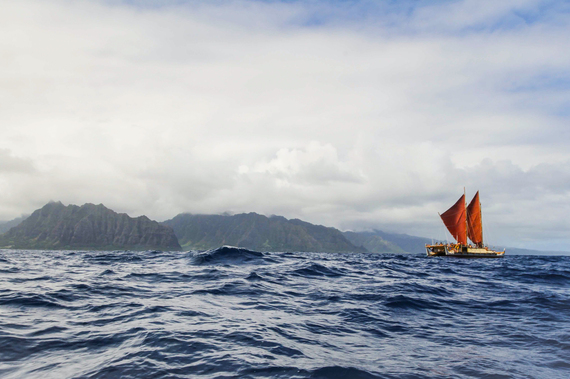 Thompson and the captains and crew of the Mālama Honua Worldwide Voyage are nearly 10,000 nautical miles into their four-year voyage around the world to explore solutions and stories of hope for our oceans and environment. Here is what Thompson had to say yesterday about the award, the connection between finding islands and finding a sustainable future, and why he is feeling hopeful about our ability to mālama honua--care for Island Earth.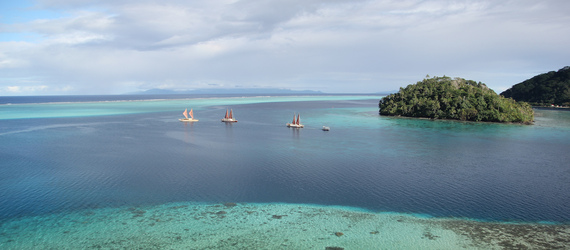 What does this award mean to you and the Mālama Honua Worldwide Voyage?

The award is not for me, because Hōkūleʻa is the one that has carried all of us. I just hold it and carry it for Hōkūleʻa and for Mau, the true explorers. If voyaging matters, you have to be able to acknowledge the thousands of people that sailed Hōkūleʻa, that cared for Hōkūleʻa, that made sure that she would be safe at sea, and the thousands of people that supported her. But at the core of that would be the great Mau Piailug that pulled Tahiti out of the sea and gave pride and dignity to the whole Pacific. He then came back for four decades and trained us. So, I don't accept this award on behalf of myself. But it was an honor to be there.
Hōkūleʻa is not sailing in isolation. What Mālama Honua stories of hope did you hear at the awards?

I was among people that are great navigators in their own fields. You get a strong sense that there is hope among all the scientific evidence that is not hopeful. Together, they provide starlight that we can follow as we try to find our way. So, for me, being there tonight and connecting and building relationships with these extraordinary people, I think it strengthens the voyage and gives me a stronger sense of purpose. We were in a room full of navigators that against all the odds are doing everything they can to build a better world--the world our children deserve.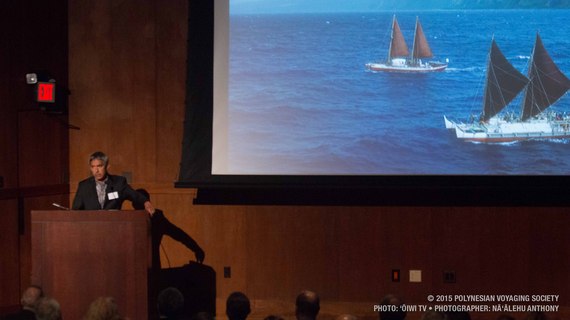 As a navigator, what changes have you seen in our oceans and environment over the past 40 years?
I see less fish, and more fishing boats. In the early years of voyaging, we would fish and by morning time we would pull in the lines because we had enough to eat. On our last trip to Palmayra we went 1,100 miles, and did not catch a single fish. I am not saying that it qualifies as scientific, but we are out there and we see a lot less life now in the oceans than we did before. It collaborates with the idea that 90% of the big fishes are gone. It is a scary time. Mounting evidence from the scientific world is painting a really bad ecological picture of the earth, and the issues of climate change and global warming, are issues of society--whether it is economic, social,or environmental. The things that we call "environmental issues" are the most important issues that humanity has to address across the earth.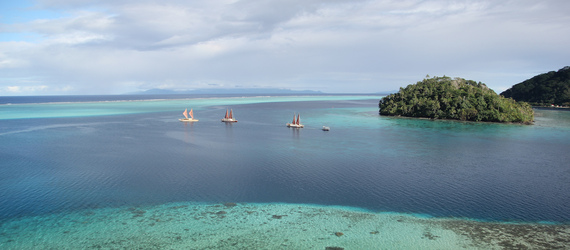 Being with Pacific Islanders--those for thousands of years and hundreds of generations that have had their wellbeing dependent on the wellbeing of the oceans--people are worried. Things that have never been talked about before--new words like acidification, or dead zones or hypoxia--all these kinds of new words are in the conversation among Pacific people. And the irony is that Pacific people had no role in creating those words, and yet they will be the ones that arguably will suffer the most, first. And yet at the same time, you see there is this glimmer of hope because everybody in the Pacific is talking about it now, and people are coming together, from grassroots and government, and from different kinds of organizations. So I do believe that what I see is a human reaction to their world that's in trouble, and they are coming together in a unifying way to make the world better. So it is a scary time, it is a challenging time, but also a pretty a hopeful time.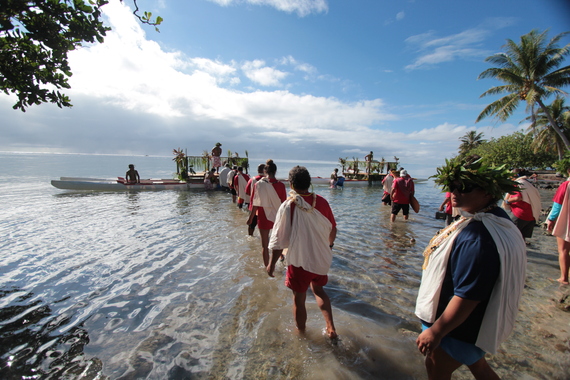 Given that the techniques you use for non-instrument navigation have been passed down through the generations over 1,000 years, how do these changes in the ocean and environment impact your ability to voyage traditionally? Can you maintain your tradition?

Things like the signs of the seabirds--we don't see the seabirds like we used to. That makes it more difficult. The sealife that we use in navigation becomes much more comprised. We still can navigate, but I would say it is diminished. And then what do you navigate? What is the worth of navigation if all you are doing is accounting for a world that is diminishing? So, the issue of tying your tradition and tying the science and arts of navigation to the future comes to a position in which we have to be responsive. It is about responsibility to nature and the ocean and the earth, which is exactly where we need to be. I think the great navigators of today are the ones that recognize the changes in nature and are taking responsibility to do something about it.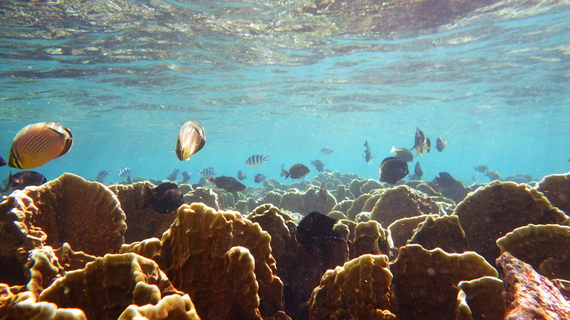 Hurricane Pam, last year, was the first-ever Category 5 hurricane in the Asian Pacific in the month of May. Climate change is here. It is not an idea, it's not a philosophy; it is here. With the hurricane season now, we are seeing way more intense storms, more days of very dangerous winds. And then we are seeing that the seasons are stretched. That is the one that becomes the biggest concern, because we try to keep hurricane risk to a zero tolerance by sailing in the non-hurricane season. We don't actually know what that is anymore. Being a student of navigation, if our priority is keeping us safe we have to address it and do something about it.


There are people saying that going around the world on Hōkūleʻa is too dangerous; there is too much risk. The great risk of our time is not sailing Hōkūleʻa. The great risk of our time is ignorance, apathy, and inaction. The signs of nature are navigating us towards a stronger commitment to responsibility. We don't have all the answers; that's why we sail.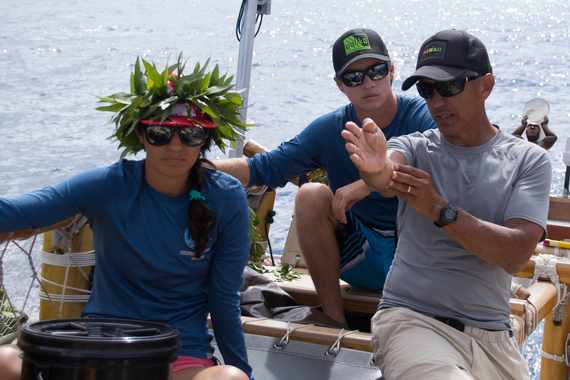 At the award ceremony, we are meeting a lot of people that are fully 100% committed, compassionate, and caring. A room full of pioneers and navigators that are doing their piece of the puzzle to create positive change. We wouldn't be in the room if it wasn't for the Worldwide Voyage. So the voyage is taking us to places that we needed to be. It makes us not only more hopeful but it strengthens our sense of purpose and helps us understand that it is important for us to sail.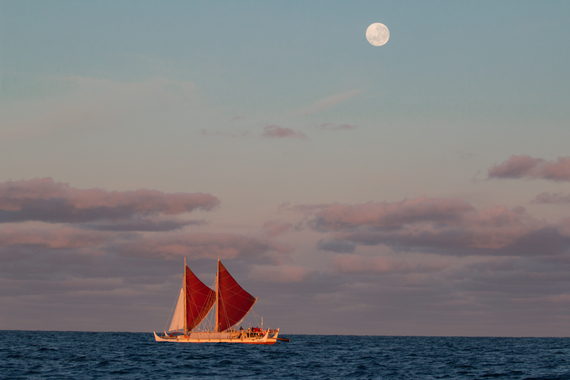 For more about the Mālama Honua stories of hope and Hōkūleʻa's planned arrival in Sydney, Australia this week, please visit http://www.hokulea.com. You can also view the Worldwide Voyage 3-minute video here.. All photos and video courtesy ʻŌiwi TV © 2014 Polynesian Voyaging Society and ʻŌiwi TV.