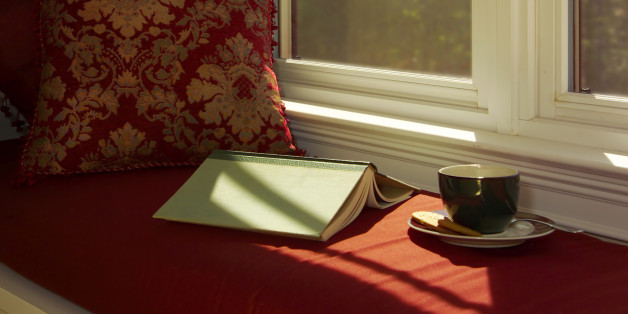 By: Anne Reagan, Editor-In-Chief of Porch.com
A window nook or alcove is a great way to add extra seating, as well as personality, to a room. As the name implies, the window nook can be the perfect spot for relaxing while enjoying the view. Adding features like bookshelves, reading lights and comfortable cushions means that a window nook can be used all year long. Window nooks that take advantage of unused corners of the living room, for example, can also provide additional seating when entertaining.
This cozy window nook takes advantage of tall windows and an otherwise unusable corner of the living room. Situated next to the warmth of the fireplace, this nook is perfect for reading but also works well as extra seating when entertaining. Drawers within the seating can store extra blankets or seasonal décor.
A window seat within a large kitchen is the perfect place to seat guests when entertaining. It's also the perfect spot for catching up on emails or finding the right recipe. What makes this window nook extra special is the depth, which means more leg room when curled up as well as extra drawer space for keeping linens or oversized platters or serving ware. The built in shelves make this nook easy to decorate and multitask.
A modern white living room is given a cozy touch with this window nook. Living rooms are often the place for entertaining guests and hosting parties, so this extra long bench seat is the best spot for seating additional guests. The cushions and pillows provide touches of color and warmth and the built in under seat storage helps keep the room neat and tidy.
Being nearly the size of a twin bed, this cozy window nook is the best spot in the kitchen for watching the cook whip up a new recipe. It's also a great spot for relaxing or catching up on the latest with a friend. Window seats in the kitchen aren't always seen as homeowners usually like to use the square footage for counterspace. However this kitchen makes fine use of a comfortable nook as the perfect place to perch while entertaining guests or catching up with family.
Window nooks are at their best when they occupy an otherwise unused area of the home, like this one on the landing of the stairs. This is a great way to utilize space in the home. The added overhead lights make sure that this cozy nook can be used for late-night reading or homework.

Beautiful molding detail and a picture-perfect window frame this bright window nook. Having additional seating in a living room is a great way to ensure you always have a place for guests. Additionally, the cost of installing a window nook can be much less than the cost of upholstered seating, making this an economical choice.
This office window nook is a great way to add extra seating without sacrificing storage space. Not only is this bench seat a comfortable place to stretch out and read, it is the perfect spot to take in the views. Under bench storage is a great place for games or blankets and the additional pillows make this bench feel like an extra-long sofa.