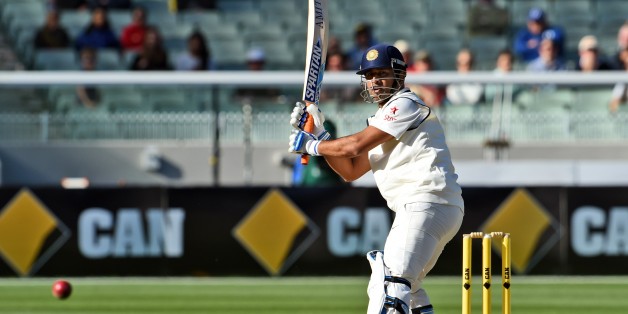 It had been rumored for some time now, of course, it had been anticipated and it had been demanded in certain circles. Still, the retirement of Mahendra Singh Dhoni not only as India's captain in Test cricket but from Test cricket altogether -- now that was a surprise.
All through Monday after the news broke, I kept hearing pundits and plebeians talking on TV about "generational change." The reference, of course, was to Dhoni's successor as captain, Virat Kohli. Now few, if any, in the cricket squad are over 30 years of age, and fewer still can remember going to stadiums to watch the greats of not-so-long-ago such as Sunil Gavaskar and Kapil Dev.
Generational change? Dhoni is 33 years old; Kohli is 26. The age difference is seven years. Here's how Dictionary.com defines "generation": "The term of years, roughly 30 among human beings, accepted as the average period between the birth of parents and the birth of their offspring."
That's my definition, too. Going by it, the transition to Kohli from Dhoni makes me feel very old indeed, very dated and very out of sync with today's generation. I am exactly twice as old as the former captain, and I suspect that neither he nor his successor was a gleam in the eyes of their respective parents. Although I do not know for sure, it's quite likely that their fathers and mothers were born after me.
So clearly the terms of reference have changed -- not only in cricket but also in professional life. Time was when a 40-year-old writer was considered "young." A 50-year-old writer was considered "youthful." A 60-year-old scribe was considered "still youthful." And a 66-year-old journalist-turned-author? I like to think that had I been of that age a generation ago, I would have been characterized as "ageless."
Ageless or not, cricket has been the defining sport of my life, ahead by far from tennis where the "generational gap" suggests that players like Roger Federer, who's 33 and still playing, is already old, already a "has-been," already well past the "use by" date, well past when he should have retired gracefully instead of diving into tournaments where most of his opponents are not quite 30.
Ageless or not, I follow cricket with a passion that borders on the maniacal. I have followed cricket for nearly two traditional generations, back when Mumbai was officially known as Bombay, back when names such as Vinoo Mankad and Polly Umrigar and Ramakant Desai and Bapu Nadkarni graced the playing fields, back when there were no televised games and we applied our ears to the radio set to listen to gravel-voiced commentators like Devraj Puri and Suresh Suraiya and Dicky Rutnagar, and Berry Sarbadhikari, and the great Englishman John Arlott, and the great Australian, Richie Benaud, who once led his country's team with distinction.
Of course, these magnificent men with magnificent, well modulated diction themselves had a "generational gap." They were most certainly not around when the first officially recognized Test match began on March 15, 1877, between England and Australia at the Melbourne Cricket Ground. There, 137 years ago, Australia beat England by 45 runs. There, in the fading light of a December day, after a match between Australia and England's former colony India was drawn, Mahendra Singh Dhoni said he would not play Test cricket again.
His announcement drove me to my library -- and my computer as well -- to refresh my knowledge of cricket's history. The literature informed me that European merchant sailors introduced cricket to India in the 18th century, and the first cricket club in India was established in Calcutta in 1792. How many generations back was that? You do the arithmetic; I don't do "generations" any longer -- after all, I'm "ageless," no?
Despite being played in India for nearly three centuries, admission to cricket's high altar -- Test matches -- did not come until 25 June 1932 at the hallowed Lord's field in London. That four-day joust conferred on India the honor of being sixth team to be given Test cricket status; now 10 countries qualify under the rules of the International Cricket Council. The ICC is based in Dubai, and, no the United Arab Emirates is not yet among those 10 teams.
Hopefully, the UAE will not have to wait as long as India to enter the Test arena. In that arena, India has contested 486 matches. The total number of Test matches since 1877? Dhoni's last match was number 2,152; the match between South Africa and the West Indies in Port Elizabeth, which ended December 30 and was also drawn like the one in Melbourne, was number 2,153.
There's no Test match scheduled for New Year's Eve, nor for New Year's Day. I will have a few days to reflect on the passing of the baton from Dhoni to Kohli; I will have more than a few days to reflect on the larger meaning of "generational change" before the next test match, wherever it is played.
Come to think of it, I will be reflecting on much more than "generational change." I will be asking: Where have the years gone. It wasn't too long ago when my father, Balkrishna Trimbak Gupte, took me to my first Test match at Bombay's Brabourne Stadium. He's been gone for 30 years - an entire generation ago - and Test cricket hasn't been played at that venue for all that time, too. (Cricket, once known as a "gentlemen's sport," is not above politics: An influential local politician who supported cricket rabidly wanted a stadium built in his name. Thus rose Wankhede Stadium, where Test matches are played -- only two blocks away from Brabourne Stadium.)
Cricket will surely be played many generations into the distant future, and I only hope that the unborn players will remember that there once was an Indian captain named Mahendra Singh Dhoni, and that he left Test cricket on his own terms before he was consigned by the following generation to the dustbin of retirement.