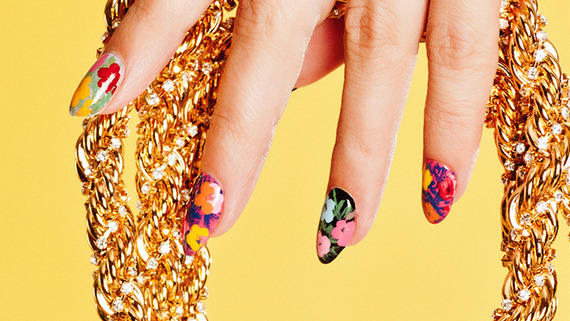 By Kathryn Romeyn, Pret-a-Reporter
Nail art might not seem like a heavy subject. In fact, the thought of anything but a classic red nail or a simple stroke of flesh-colored polish may conjure images of tacky airbrushed acrylics -- and all that they imply. But now, nary an Oscar nominee or small-screen starlet can sashay down a red carpet without elaborate nail art stamped on her talons. Statement-making nails and gallery-quality handiwork are now so pervasive that no major step-and-repeat is complete without a "mani cam" (a tiny runway where celebrities strut their nails for the camera), and the hashtag "nailart" has more than 6 million photos on Instagram. With the countless dedicated blogs, lacquer launches (including the gel revolution) and new specialty salons cropping up every month everywhere from Beverly Hills to London, nail art is way past fad status.
Which is something Angelenos Jenna Hipp and Vanessa Gualy noticed last year, when they turned Nailing Hollywood, their five-year-old beauty product development consultancy, into a niche editorial and business agency for L.A.'s most in-demand manicurists. Their goal? "To represent the industry's top talent and create looks that would change and evolve the nail landscape via our work on set," says agent and co-founder Gualy. "Our focus was razor-sharp: We wanted to create stunning nails -- gorgeous, coveted nails that could stand alone as beauty, as accessories, as jewelry and as art."
Although celebrity editorial manicurists have long been booked for photo shoots and had their business development affairs handled by top agencies including The Wall Group, Cloutier and Celestine, Nailing Hollywood is the first bunch of "ten-percenters" to focus solely on nail artists with no trace of a stylist or groomer in sight.
Read the rest, here. http://www.hollywoodreporter.com/news/how-nailing-hollywood-is-nailing-660878
Photo courtesy of Nailing Hollywood for BeautyBender.com/ Raquel Olivo