Dear sky-high stilettos: You're beautiful, but do you know what's not? Our bunions.
What's a girl to do? Embrace her flats, that's what.
Now an acceptable form of footwear for just about anywhere (work, weekend, your baby sister's wedding), flats are taking the streets by storm.
Penny-Loafer Tuesdays, here we come.
Monday: Pointy-Toe flats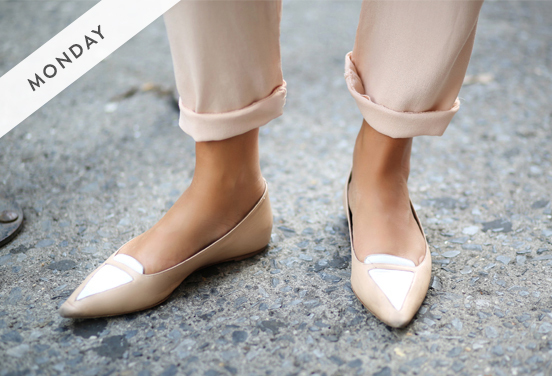 If we could dub 2014 one thing (besides the year of Yoncé), it would be the year of the pointy-toe flat. In fact, it's hard to even find a pair of traditional ballet flats these days. We like this style for Monday because it's polished and feminine, and it commands just as much respect as your killer stilettos. Photo Credit: We Wore What
Feel the pinch? Here are a few ways to protect yourself from blisters, cuts and other icky injuries, without forgoing style.
Tuesday: Loafers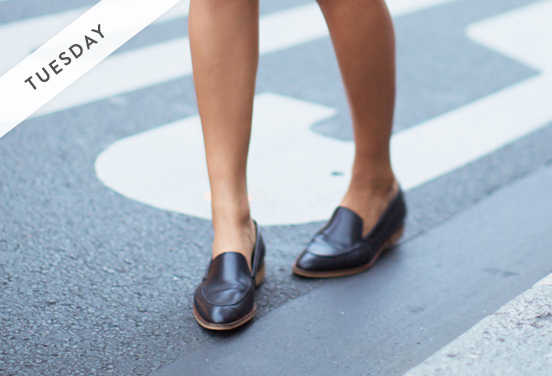 Masculine influences always seem to make their way into our wardrobe come fall. And we're pretty happy they do, because there's nothing more comfortable than loafers, the perfect shoes to take you from a business lunch to a best-friend dinner. Look for an updated take on this style, like this pair from Everlane, or go straight-up classic in penny loafers topped with leather tassels. Photo Credit: Song of Style
Wednesday: Tall Boots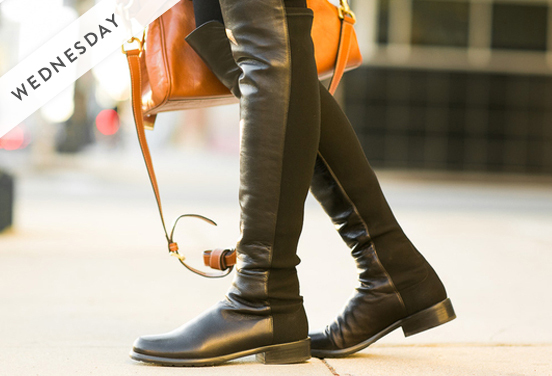 The best part about the return of '60s style? The influx of over-the-knee boots. These elegant flats work with just about anything. Pair them with a minidress to channel your inner Ali MacGraw, a midi skirt for a more '70s vibe or your favorite skinny jeans to get that modern feel. They're guaranteed to help you over the midweek hump.
Thursday: Ankle Boots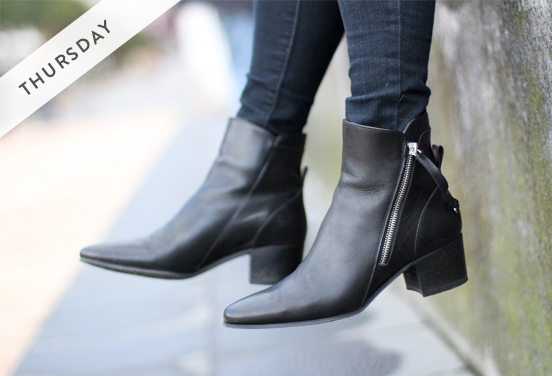 Let's face it: Thursday is the new Friday. So it's imperative that your footwear can get you through the whole day (late-night karaoke included). These puppies were made for walking. They're comfy and a breeze to style (just add skinny jeans). From Saint Laurent to Topshop, you can find virtually any price or detail to suit your personal taste. The only real question: Are you ready for some shorties? Photo Credit: Clochet
Pair them with the perfect winter coat.

Friday: Monk-Strap Brogues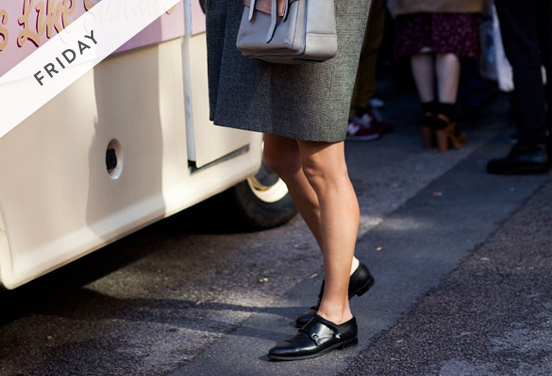 Tomboy Style isn't simply a blog anymore, it's a way of life. Hence the reason monk-strap brogues are now just as much a staple for women as they are for men. We love these shoes for a casual Friday because the look plays well with everything in our wardrobe (seriously, try us). Photo Credit: The Sartorialist
Saturday: Old School Sneakers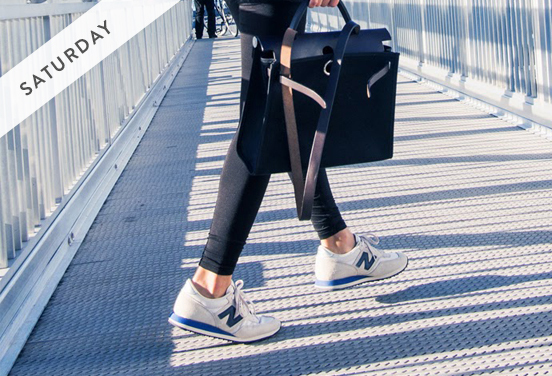 Need we say more? Saturdays were made for coffee runs, bike rides and walks in the dog park. In other words, no dress shoes allowed. Instead, lace up a pair of old-fashioned sneakers for a day jam-packed with activities. Photo Credit: Miss Pouty
Sunday: Slippers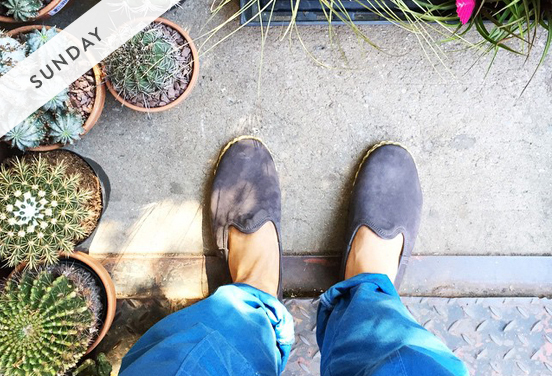 Espadrille slippers are always a "do" when it comes to a lazy Sunday brunch. Oh, and we're obsessed with these NYC-based Sabahs. You can score them by emailing "The Dealer" (psst, it's not as sketchy as it sounds). Photo Credit: The Sabah Dealer
What do your shoes say about your your Sunday brunch spot? Take the quiz to find out where you should go for brunch.
This post originally appeared as Our Guide To Wearing Flats Seven Days a Week at PureWow.
Find more great fashion tips at PureWow