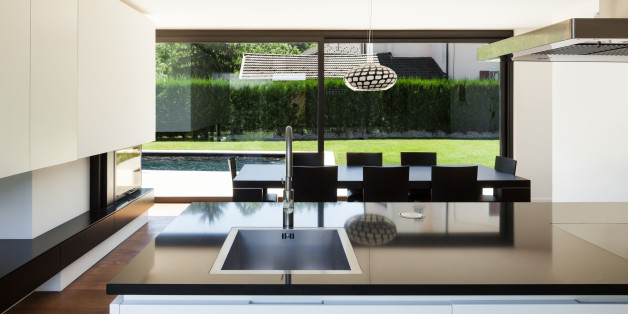 Your girlfriends know it, the neighbors know it--heck, even your begrudging mother-in-law knows it: You throw the best shindig in town.
The only problem? Your kitchen isn't actually company-ready. (We're looking at you, butcher block stacked with old Lands' End catalogs.)
Luckily, we've done some research. From easy-peasy weekend projects to small-scale renovations, we've rounded up ten tips for crafting the ultimate kitchen for entertaining.
The Grab-and-Go Shelving
Open shelving is not only chic and striking, it also makes grabbing tableware a breeze. Learn More.
The Tandem Sink
The worst part of hosting gatherings (aside from Uncle Herb's "jokes") is definitely the cleanup. Keep the dish situation under control with a second "dirty" sink. Learn More.
The Center Island
If your gatherings happen to involve lots of family-style dishes, like savory monkey bread and buffalo chicken meatballs, then a center island is key. Learn More.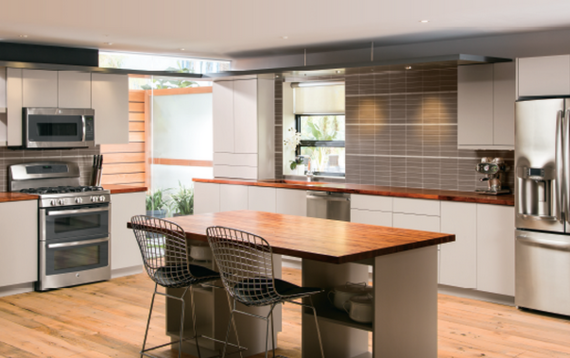 Image: GE
The Mini Wine Cellar
Remember: "As long as there's wine, everything's fine." The next time you're planning a kitchen reno, a built-in, under-the counter, temperature-controlled wine fridge is a total no-brainer. Learn More.
The Central Command
Use butcher paper or a swath of chalkboard paint on your wall or fridge to broadcast the evening's menu--and encourage guests to leave notes. Learn More.
The Double Range
To ensure that all of your dinner-party fare is ready at the same time, splurge on a burner-heavy stove top. It will make your life so much easier if you can whip up everything at once instead of in shifts. Learn More.
The Stow-Away Storage
Free up much-needed counter space by stowing your small appliances (toaster, blender, etc.) in cabinets and out of sight. Learn More.
The Versatile Seating
Lightweight barstools around your center island are your very best friend. Use them to create a pre-dinner cocktail hub or a spillover dining area. Learn More.
The Cocktail Bar
While we'd love to hire a bartender for the evening, a handy cocktail station or bar cart is the next best thing. Learn More.
The Open Floor Plan
If you take one lesson, let it be this: The hostess with the mostess is the one who enjoys her own party. And that means being a part of the action. Learn More.
More from PureWow:
9 Genius Kitchen Tricks
The Simple DIY Fix Your Kitchen Needs Right Now
How To Save Drawer Space By Rolling Your Shirts
The Best Sheets For Spring and Summer
7 Tips For Tackling Spring Cleaning
10 Gorgeous Celebrity Vacation Homes