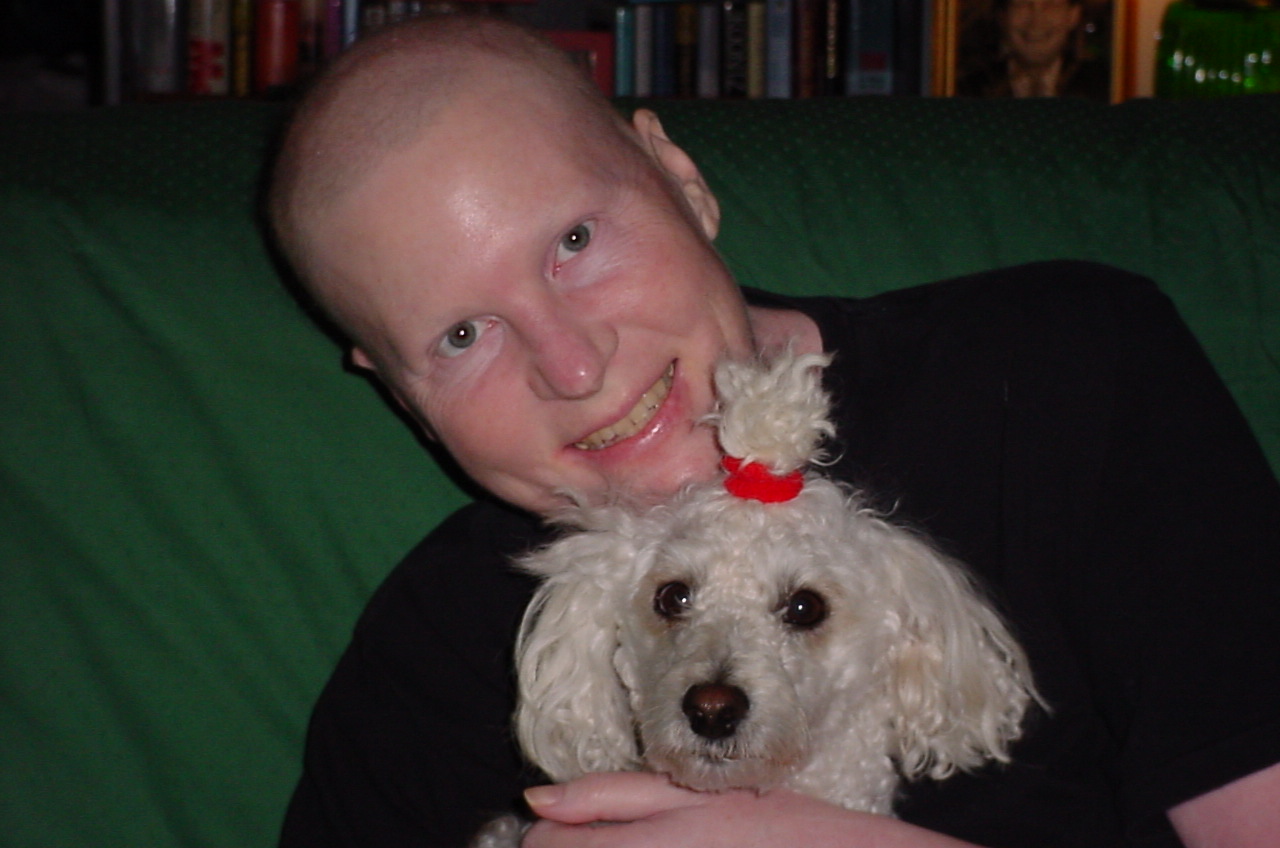 Over the course of nine months, my sister (pictured above), Army Captain Chaplain Fran E. Stuart 41, who was diagnosed post Iraq with a rare stage IV Dysgerminoma cancer, was as of November 2006 clinically diagnosed in remission. Her long, dark journey of 35 rounds of chemo and two major surgeries, the first removing a Volleyball size tumor from her abdomen, the second and last, was an exploratory surgery to see if the hazardous chemical cocktail melted away.the remaining three tumors. She forfeited her creative organs in lieu of a future cancer free. The loss of her strawberry blonde hair, and disappearance of fifty pounds---the young woman was replaced by an older sunken frame with aching bones, memory loss, flaky thin skin and clotting blood.
The cancer had brought a roulette of abandonment and fears. The chemo compounded it by bringing an imbalance to her mind by stripping away not only the cancer cells, but every living cell and organism that made up who she was as a woman, a Chaplain and soldier. Her once strong body had turned vulnerable and volatile erupting with vomiting, thrush, mouth sores, blood infections, and neuropathy. Excess saliva enabled her to swallow the thick foam thus producing dehydration. Her body in constant repair from the debilitating five day attack of chemo every three weeks, resulted in her need for uninterrupted sleep. Turning her need for bed rest into a daily 23 ½ hour protest of exhaustion.
While she was unable to predict the outcome of the added cycles of chemo and surgical procedures, the not knowing if the overzealous interventions by her team of oncology doctors at Walter Reed Army Medical Center [WRAMC], left her in a continual state of limbo between life and death. The doubt and confusion overcame her in August 2006, as she lay chained to an eight hour ordeal, an I. V. line linked to the port in her chest. She found her voice as she wept a barrage of smothered thoughts, "I don't want to die. I don't want cancer. And I'm angry, I think the military gave me this cancer." [With the DoD's use of the Anthrax vaccine and depleted Uranium while she was deployed in Iraq for 12 months in 2003 - 2004.] "I'm mad I joined the Army. How do I know if the chemo will work? The doctor said it is inoperable -- will I go through all this only to be told I need another three cycles of chemo [15 rounds]. How do I know if after the final CT Scan that my doctor won't say, 'Oh, two percent of the tumors are left.' Is it really possible to have a cure?"
The loss of who she was brought with it a fear of the future and an abandonment of hope. I watched my baby sister revert to an infant, at the same time intertwine with the fragility and sadness of an old woman. Through the carving away of self through surgeries, unable to recognize herself anymore and finding more in common with a monster -- produced a betrayal of her body as it had relinquished her life force to cancer. The violation by another's hands inside of your sacred body, splitting your armor apart and dissecting deep into your soul.....as they attempt to remold what God himself created, and in the process lifting the veil of boundaries of the sacred self, marred by the spoils of war.
I hear the echoes of her silent cries and inner torment as cancer spreads itself through the entire family, changing the core of who we are as we try to balance between life and death, health and sickness, love and loss. The anger penetrates her dreams and dissolves her thirst for life as it becomes too arduous to live... and death is just a slip away. The darkness of the womb is calling her home at the same time her heart is beating stronger towards the light, towards the love cradling her back to health. The strings of her memories, the melody to her songs awakens the eye of hope, and courage is born. The goodwill and faith of others pulls her back into life as she turns a corner onto a different path, the wheel no longer in her hands, she proceeds with caution and edges herself out of the tunnel of fear, towards the rebirth of the woman she has become.
The sun returns to nourish her sprouting red locks and sparks the wisdom beaming from her eyes. As she sheds the infant; the innocence no longer paints her face, and she shrugs off the spine of an old woman as she walks into the future -- holding the hand -- of hope. The death sentence is lifted, the words remission propel her back into life as she is once again, Fit for Duty.
But others, her military family, the Operation Iraqi Freedom women, boys and men who may face the same battles as depleted Uranium penetrates their armor and cloaks their once healthy body. As unknown soldiers they'll rest in beds at WRAMC and across this land in VA hospitals; some will live to tell their story, some will die with honor, some will disintegrate back into the DU dust that claimed them. In the face of democracy their suffering will remain ignored in the eyes of their Commanders, and the ghosts of this war will be imprisoned for yet another century.