While the war in Iraq winds down, the cases of soldiers being diagnosed with rare, aggressive forms of cancer post deployment heats up. Not only do soldiers have to contend with side stepping roadside bombs during their tour, but radiological dust from depleted Uranium, and suffocating plumes of burn pit smoke so rich with carcinogens it makes smoking a carton of unfiltered Camel cigarettes seem like a breath of fresh air.
The Army Times reported on March 17, 2009, "VA to Monitor Burn-Pit Exposure Data"
that Veterans Affairs Secretary, Eric Shinseki wrote to Congress days prior that The Veterans Affairs Department is gathering data to monitor potential health problems among troops who say they were made ill by exposure to smoke from open-air burn pits in Iraq and Afghanistan.
A growing number of service members say they were exposed to everything from burning petroleum products to plastics and batteries. At every base in Iraq and Afghanistan burn pits are used to dispose of waste, including feces. Burn pit tests in war zones have shown that the fires release dioxins, benzene and volatile organic compounds, including substances known to cause cancer. Soldiers reporting serious adverse health effects believe they are linked to those exposures.
Shinseki said the exposure data from burning trash and waste is already part of a large, ongoing population-based study comparing the health of 30,000 veterans deployed to Iraq and Afghanistan, with the health of 30,000 non-deployed.
That study evaluates; "self-reported exposures (including burning trash and feces), symptoms, chronic health conditions, functional status, pregnancy outcomes and health care utilization," Shinseki wrote.
He also said it is "essential" for the VA to educate its health care providers about toxic exposures and possible long-term health effects related to the burn pits. So far, about 200 veterans have contacted Disabled American Veterans to say they are sick, and that they think the burn pits caused their ailments. Of those, about 30 have developed lymphoma and leukemia. Other reported conditions include asthma, bronchitis, sleep apnea, chronic coughs, allergy-like symptoms and heart problems.
Defense officials say that health effects as a result of exposure to burn pit smoke are likely to be "temporary" and should "clear-up" once troops return home. Shinseki concurred, "Most toxic materials from burn pits may be eliminated from the bodies of exposed veterans in a matter of days or weeks."
If burn pit smoke is so harmless, then I invite VA Secretary Shinseki and DoD officials to take their kids to Talil, Iraq this summer instead of Disney World ... and let them run amok building sand castles. If they expect other parents to give their blessings to deployed children who are exposed to this "easily assimilated toxic smoke" -- then they shouldn't have any reservations.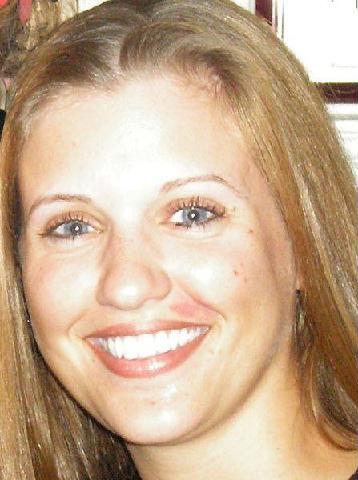 Army SGT. Amanda Older from San Antonio, Texas deployed with the 525th Battlefield Surveillance Brigade [BfSB] out of Fort Bragg, North Carolina September 2007 for Baghdad, Iraq. "My Camp Rustamiyah was located within walking distance of a factory which regularly burned feces. My suspicions are that's where they dumped the port-a- john's we used. The stench was so vile twice a day -- you did not even want to walk outside," remembered the 23 year-old who was in perfect health prior to deployment.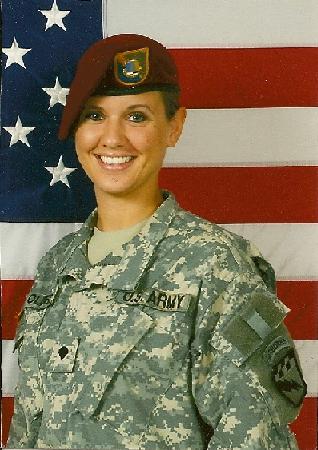 Environmental toxins weren't what the former JROTC drill team member had in mind when she joined the military around Mothers Day of 2005 at the age of 18. "Initially I joined for a challenge, and for something to do. I wanted to see if I could handle the physical training, and when I graduated I felt a sense of pride," SGT. Older shared. "It's not that I was patriotic, or had love of country -- that developed after joining."
While undergoing two months of Basic Training at Fort Jackson, South Carolina she lived in the barracks and cooked only using microwaves. It was then she decided when her term was up that she'd attend Culinary School and become a chef. "There wasn't any particular cuisine in mind, just be skilled enough to be a professional chef." Besides a career -- a bright future with marriage and children were undoubtedly on the young beauty's horizon.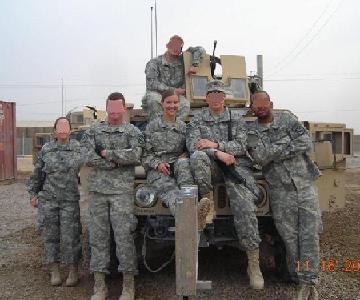 SGT. Older, a Human Intelligence Collector specialized in interrogations on detainees. "I had to be verbally aggressive -- water boarding was strictly prohibited," she informed. The former league bowler was healthy through her entire 15-month deployment, which came to an end December 2008. And by March she started to experience 30 pounds of weight gain, a deterioration of her muscles, high blood pressure, acne, "moon-face," and facial hair. "I went from being able to do 93 sit-ups in two minutes to not even one sit-up without assistance," she heartbreakingly recalled. "Although initially, I didn't see a doctor until about six months after my return due to the stigma of going to the medics," she confessed. Explaining, "There's a lot of soldiers using the Troop Medical Center [TMC] to get out of doing something physical like PT, marches, rifle training or cleaning the HMMVW [HumVee]."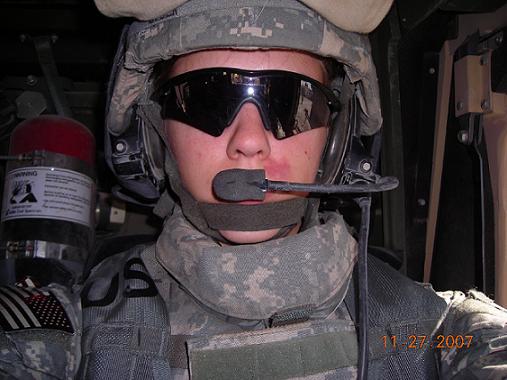 "By June 2009 I had seen at least a half dozen Physician Assistant's at Ft. Bragg, but never the same one. It was never my Primary Care Provider. I don't think I ever even met my Primary Care Provider," she recollected. "The doctors at Ft. Bragg insisted my blood pressure was high and I was gaining weight due to stress and possibly developing Post Traumatic Stress Disorder (PTSD). Actually, my uncle Dr. Steven Older informally diagnosed me with Cushing's Disease."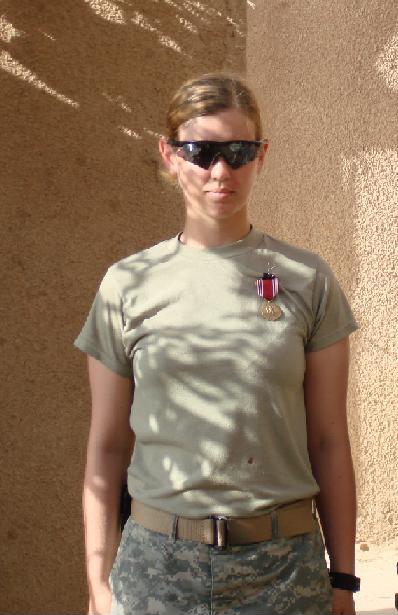 "The Ft. Bragg doctors recommended I see a nutritionist, as they believed if I lost weight my blood pressure would go down. Then once I transferred to the Presidio of Monterey in Monterey, California I was fortunate enough to have an Internist who immediately recognized something bigger was occurring. He didn't make any assumptions, he just ran tests until he figured it out. And that to have such high blood pressure at such a young age, was probably not just my bad genes."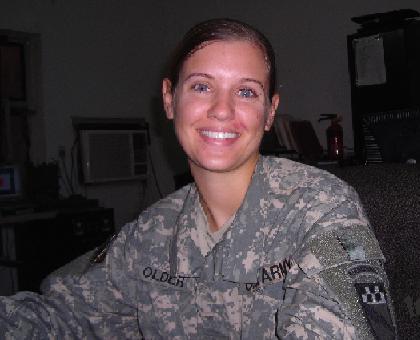 Then on September 11, 2009 everything changed when he informed her of the diagnosis,
Stage III Adrenal Cortical Carcinoma -- Cancer of the adrenal gland. According to The Transational Genomics Research Institute, it's a rare, non-gender specific cancer that affects only 1 in every 1.7 million.
"My initial reaction was disbelief ... shock -- then fear," SGT. Older confided. "It took me a couple of days before I was able to grasp the concept of "cancer." Then I was pained. My heart hurt. I felt like I was letting my family down by getting sick, and I felt like less of a soldier for having to be at the doctor's so much. Prior to diagnosis (at the Presidio TMC while the doctors were still trying to troubleshoot the illness), my chain of command couldn't understand why I wasn't "trying harder" during Physical Training. I was seen as weak and was stereotyped as "one of those soldiers." "
And within four days after diagnosis the courageous soldier underwent surgery, an
adrenalectomy to remove the 9 cm. tumor on her left adrenal gland and began an oral chemotherapy treatment. Soon after SGT. Older was transferred to a Warrior Transition Unit [WTU] at Brooke Army Medical Center in San Antonio, Texas. "Most soldiers there are burn victims or awaiting prosthetics, so I was looked at as if nothing was wrong. My supervisor was very understanding and did all he could to get me transferred to Florida as quickly as possible." And by the end of 2009 she was finally moved to the Community Based WTU in Florida.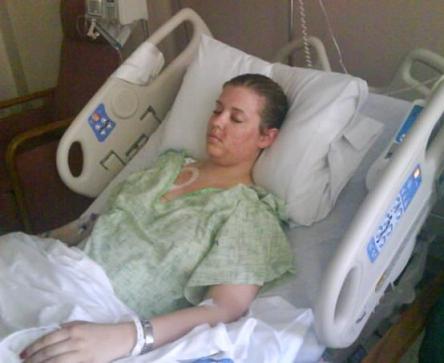 Within three months after the diagnosis a CT Scan was ordered, only to discover the cancer had spread to a stage IV, including her lungs, liver, and abdominal lymph nodes. Immediately, an IV form of chemo was administered. SGT. Older has completed three of six rounds of chemo, and faces her 4th round the beginning of this month. When finished she'll revert to the oral chemotherapy for the next two years.
"SGT. Amanda Older is a true solider," her father Wayne and step-mother Faye said lovingly. "She went from fighting the enemy to fighting a cancer that may be a direct result of that combat. She is still a true solider battling this disease with everything she has. She has a great spirit and great attitude, and with this kind of challenge that is the kind of ammunition she needs, And if she runs out, she has her family and friends who will give everything they have. We love her and are very proud of her."
Not only does she have a combined family of six siblings lovingly rallying around her she is also receiving much needed emotional support from the military. "Since moving here the new chain of command has been very supportive. My First Sergeant and Case Manager drove down to Miami to visit me during my first treatment, and is currently working to get TRICARE [insurance] to finance a wig for me. My Platoon Sergeant has made it clear that no matter what I need they are only a phone call away."
With health care failing on so many levels, none more so than medical treatment for the military and Veteran's, SGT. Older commends the doctors and RN's at the University of Miami Sylvester Cancer Center. "The care I have received since moving to Florida has been phenomenal. The doctors are top notch. Everyone is passionate about what they do and actually take the time to get to know their patients."
No matter what the circumstances, SGT. Older remains a soldier at heart -- ever faithful to her military service, but still questioning "what" caused the rare, aggressive cancer. "I wonder every single day why this has happened to me. I know God has a reason for everything but I have been racking my brain trying to figure out what the reason is. I suppose in His time I will figure it out. But I believe a number of things contributed to my condition. I was exposed to many burn pits; burning feces, plastics, metals, trash, and even animals. And while out on missions even explosions, as well as a series of anthrax vaccines before and during deployment."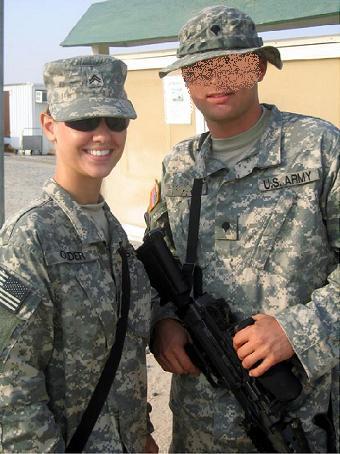 "As fast as my cancer is spreading, I wonder every day whether or not I'll live to see my younger brother get married," she bravely admits. "I'm still scared and embarrassed of my bald head. It brings me to tears every morning looking at it in the mirror. I don't even let my family see me without wearing a wig or scarf. I have a very hard time accepting the fact that I actually have cancer. Some days I wish it had been an Improvised Explosive Device (IED) or bullet that had wounded me instead of this disease...at least then I could see and feel the damage. The only way I know the cancer is there is by the nausea and lack of energy I have from treatments."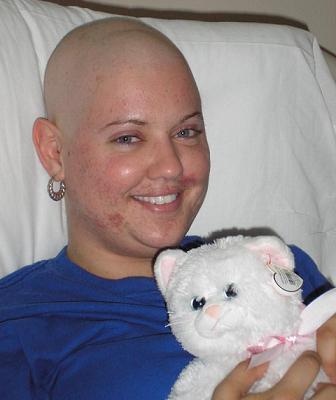 After her first term in the Army, SGT. Older's unwavering dedication to military service has not waned. "My wish is to survive this. I have so much I still want to accomplish. I want to visit Rome, buy a house, have a child, go to Culinary Arts school ... but more than anything I want to return to active duty -- though not in that particular order. Being a soldier is all I know, and everything I love, and I want that life back," she grieved. "I feel like so much has been ripped out from under me by this disease. I hope to figure out what caused this and then spread the word to prevent it."
Her mother Karen mourned, "I have watched my daughter go through so much in the past eight months. I saw Amanda in May 2009 for her birthday and I knew then something was terribly wrong with her health. How the doctors at Ft. Bragg could not see this is beyond me. If someone would have taken the time to run some basic tests, maybe just maybe, the cancer would have been caught before it reached stage IV."
"I find it appalling that the military will not acknowledge cancer as a war related injury, when a completely healthy soldier developed it while in Iraq," her mother said angrily. "However, because cancer cannot be seen from the outside, people just assume there are no injuries. Adrenal Cortical Carcinoma is an extremely rare and aggressive cancer. And I believe in my heart that the cancer is a by-product of when my daughter was exposed to depleted Uranium in Iraq."
"To use our soldiers as guinea pigs physically makes me sick," her enraged mother stated. "This is not what my daughter signed up for and I will not allow her to suffer in vain. I will continue to write State senators, newspapers, until someone takes notice."
"Our American Soldiers need a voice. They deserve to be heard and recognized for their sacrifices," she begged. "I am so proud of each and every one of them. I pray that God will not let their pain and suffering be in vain."