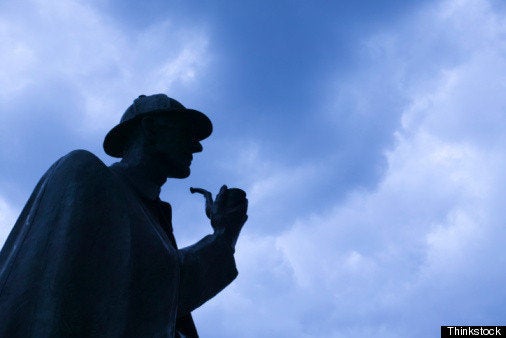 Every lover of mystery stories labors under three delusions: First, that he can write a mystery story. Second, that she has learned enough from fiction to solve a real life mystery. And third, that he understands his beloved detective better than the characters in the book, or even than the writer himself. There is a moderately deranged part of me that thinks I know Nero Wolfe better than Archie Goodwin, and surely better than Rex Stout, who merely created him. Classic or modern, we love our detectives, and reading the best of them, from Poirot and Wimsey in the last century to Harry Bosch and Harry Hole today, they belong to us.
When these three delusions are operating at full tilt in a book with snappy writing, intricate plotting and striking ambition, you end up with a truly terrific mystery. The Sherlockian is a superb entertainment about the creator and acolytes of the greatest detective of them all. Both disciples and Holmes' creator solve mysteries in different centuries with techniques worthy of the master. But the murder and deduction is leavened with a genuine feeling for the sometimes trapped lives of writers and those who love them.
The orchestrator of this slightly melancholy mayhem is Graham Moore, who is dispiritingly or hearteningly young (28) to have written such an accomplished book. The Sherlockian alternates between two mysteries ingeniously tied together at the end. One involves a Baker Street Irregular (the club of avid Sherlock Holmes disciples and scholars) named Harold White who becomes involved in the search for the holy grail of Sherlockian studies - the missing diary volume of Arthur Conan Doyle. What was in the diary, and what can it tell us about why, after a long hiatus, did Doyle decided to revive Holmes - allowing him to survive the presumably fatal pitch over Reichenbach falls? Along the way, amidst the paraphernalia of modern life like elevators, answering machines and cell phones, death inevitably ensues and Harold uses Holmesian deductions to unravel the mystery.
The second story is of Doyle himself. The real Doyle did some consulting for Scotland Yard, and in Moore's pages he is working with the Yard and his friend Bram Stoker (of "Dracula" fame) to solve a murder linked with the suffragists.
What gives the book its particular charm is that it is a fiction about ostensibly real people (Doyle yes, Harold White, not) whose lives are dominated by a fiction that feels more lasting and vivid than life. Holmes lives in the minds of his readers in a way few real people do. From the time you pick up your first Holmes story (I was 13) if you are susceptible to the magic, he is a steady, radiantly brilliant presence in one's life. This book is witty and breezy, yet manages to explore the toll taken on Doyle by having created a character so beloved that the creation obscures the creator. Doyle was aggrieved that his other writing was forever in the shadow of the iconic team of Watson and Holmes.
Moore's book has some patches of workmanlike writing among the flashes of genuine flair and skill. Nonetheless, for a first book - actually, for any book - this is impressive. Among its virtues is a feel for the gas-lamp Victorian world. As we read, we understand Doyle's impatience with his world as well as White's yearning to return to it. The alternating perspectives put one in mind of the wistful, lovely poem that Moore quotes, a classic Sherlockian verse from Vincent Starrett:

221B
Here dwell together still two men of note
Who never lived and so can never die:
How very near they seem, yet how remote
That age before the world went all awry...
Here, though the world explode, these two survive,
And it is always eighteen ninety-five.
At the end, Moore discusses what we actually know of the mysteries he has fictionalized for the book. The Escher like patterning of real life on fictional reconstruction, complete with murder, related riddles and tentative love story all come off without a hitch. For mystery lovers, this book is a treat. For Sherlock Holmes lovers, it is indispensible.