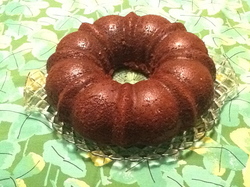 This year the birthday of the world deserves a great cake. This iconic, cocoa-based, richly iced, Israeli birthday cake known as Ugat Yomledet (birthday cake) is a perfect treat for the Jewish New Year, Rosh Hashanah, which begins Wednesday evening, Sept. 24.
This Rosh Hashanah, according to ancient rabbinic tradition, commemorates 5775 years since the creation of the world. Even if most Jews do not take the world's age literally, Rosh Hashanah's sweet themes of personal and communal renewal and re-creation, deserve this delicacy.
I have also prepared it for celebrations of a newborn baby. Israeli-born Yigal Ben Aderet remembers his Turkish mother mixing up this "big deal," spongy, moist, chocolaty cake, sometimes frosted, sometimes with whipped cream. It was eaten with milk and/or dunked in milk. Yigal Rechtman recalls that the kibbutz class mothers responsible for the treats for special occasions who were expert bakers made the very dark, unfrosted, somewhat coarse, round cake with a hole in the middle.
This Israeli birthday cake will be a celebratory addition to our festive table, minus the 5775 candles.
Ingredients:
CAKE: (modified from Al Hashulchan-- A Gastronomic Monthly)
1 cup milk
4 large eggs, lightly beaten
12 ounces butter, melted
1 teaspoon vanilla extract
3 cups flour
2 teaspoons baking powder
1 teaspoon baking soda
1⁄2 teaspoon salt
2 cups sugar
1 cup boiling water (optional: 1⁄4 cup instant coffee for additional flavor)
3⁄4 cup unsweetened cocoa powder
FROSTING:
1⁄2 cup whipping cream (optional: add 1 tablespoon instant coffee)
41⁄2 ounces dark chocolate, crumbled
Sprinkles, for decoration (optional) 
Instructions:
FOR THE CAKE: Preheat the oven to 320ºF. Lightly grease a 10-inch springform pan or Bundt pan, or line a cake pan with parchment paper. Mix together the milk, eggs, melted butter, and vanilla. In a separate bowl, sift the flour with the baking powder, baking soda, and salt. Add the sugar and mix. Fold the milk mixture slowly into the dry ingredients. Mix the boiling water with the cocoa; stir into the batter. Pour the batter into the prepared cake pan. Bake for 40-45 minutes. Check with a toothpick to see how firm it is; bake until it is firm inside, perhaps another 20-30 minutes. Cool completely in the pan. Remove when cool.
FOR THE FROSTING: Warm the cream in a large heatproof bowl set over a pan of simmering water; do not let it boil. Add the chocolate and stir until melted. If you prefer to cover the entire the cake with frosting, double or triple the recipe. Once the frosting has cooled, apply it to the cake. Decorate with sprinkles. Quantity: 10-15 servings
Rabbi Deborah R. Prinz lectures about chocolate and Jews around the world. Her book, On the Chocolate Trail: A Delicious Adventure Connecting Jews, Religions, History, Travel, Rituals and Recipes to the Magic of Cacao, was published in 2013 by Jewish Lights and is in its second printing. The book is used in adult study, classroom settings, book clubs and chocolate tastings. Prinz writes for On the Chocolate Trail, Reform Judaism, The Jew and the Carrot, and elsewhere.
Free download: Lesson plans for use in schools on chocolate related topics such as Sephardi North American Colonial traders, Hanukkah, Passover, Jewish history, blessings, and more.
An earlier version of this posted at The Jewish Journal .