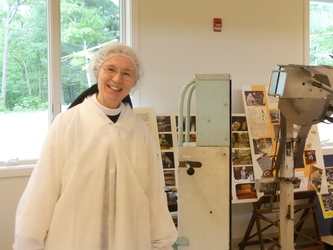 The Trappistine nun appeared to levitate as she welcomed us at the factory door with urgent questions about how to market chocolate for Father's Day, about aspects of kosher certification and about increasing their Chanukah sales. Sister Christa-Maria, in her Bavarian tinged English, broke the Benedictine prohibition against speaking to give us a tour of Trappistine Quality Candy at Mount St. Mary's Abbey, sequestered deep in the woods of Wrentham, Mass. The candy business fits into a long tradition of the chocolate interests of earlier Cistercian (Order of Cistercians of the Strict Observance, more commonly known as Trappistine) monks in Spain, which included their chocolate room at the Monastery at Poblet.
Sister Christa-Maria extolled the benefits of their chocolate business identifying something very feminine about chocolate, something specific to the taste, something about the look. It fits better with women, she thinks. It also conforms to Benedictine teachings and the requirements that the labor of their hands be repetitive and meditative. For Mount St. Mary's it was at first a dairy farm. When that became too difficult, other considerations included cheese, chocolate, wine, beer, or bread.
There happened to be a sister in the 1950s whose life and prayer was chocolate. Sister Damian's passion brought life into the candy business. She gleaned much from the instruction of John Crand, a Connecticut candy maker who also donated some equipment and supplies. She also made truffles, all pure handcraft requiring endless patience. The sisters sometimes enjoyed the treats, however, the Mother Abbess discouraged this departure from their required plain diet. Then caramel became too laborious and summer's heat limited the market, so they gave their caramel machinery to a daughter Abbey. There had always been chocolate and they decided that would be easier. Not to make them rich. Just to cover their life. Back in the days when Sr. Damian was learning the business, the women were not allowed to travel. The current chocolate expert, Sister Bonitas, attended chocolate school in Chicago. Ten of the 40 sisters now living at the Abbey work full time in the factory all year. Five hours a day. Five days a week. They compress what would be comparable to a 40-hour week. At the busy Christmas season others pitch in as often as possible, in addition to their regular jobs.
A few years ago the local food inspectors began noting that "the old candy house," which had been cheaply built in 1956, was not up to code. A good cleaning did not quite do, so a committee determined to continue with the candy. Lacking the money for a new candy factory, they discussed whether to renovate or build new and decided on a "contemplative, fundraising campaign" which was successful from the start. Their architect proposed a few options and they decided to build bigger than needed to anticipate future growth, outvoting Sister Christa-Maria, she admitted to us. Though the sisters are to live within a strict enclosure, with no one coming in and no one going out, in this case they had to go out of that enclosure. They are grateful for all who helped. Advised by a retired fundraiser, they ran a relatively soft campaign. In a short time, it made them known to the vicinity. They gave concerts and ran auctions. People were extremely generous and laypeople formed a group to support the Abbey. The borders were a little more down. People had known of the candy but did not know who made it. They knew of the Abbey but did not know the sisters. The drive started in September of 2007 and finished in March of 2011. People could come and see them and became active in the cause. Once the campaign ended, the enclosure went back to the normalcy of their bounded life. They had started speaking much more than usual. It was necessary. Then Abbess Maureen told them they had to take up their quiet life again. The outside world knows them now and contacts them in new ways. They receive emails from seekers needing spiritual direction and guidance. Outside guests come to visit the church more often. Their ministry changed a little bit to be more open to the outside. It had become successful, both a giving and taking campaign.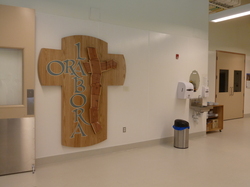 The layout of the new factory put the chapel immediately adjacent to the main entrance of the workplace, allowing the sisters to stop to pray on the way into the factory and then again when going out, to recite a personal prayer, to bless the process, that the chocolate should be good, that the work should be good, and of course to bless God. Once inside they stop at the sink to wash their hands and pause at the hand carved crucifix inscribed Labora (labor) and Ora (prayer) to honor God as they labor in the chocolate factory. PHOTO A windowed wall of the factory connects them with nature, another important aspect of the Rule of St. Benedict. As the sisters pack the Butternut Munch into trays or paste labels onto boxes, or monitor the line of Almond Bark, they may spontaneously pray the Rosary or Our Father, litanies easily recited by heart. This fulfills the promise at the website, "that our Trappistine Quality Candy is made with love and prayers." Their Benedictine diet restrains them from nibbling on any broken pieces. They use Belgian Barry Callebaut chocolate, selecting it for its price point and because "To the best of our knowledge the company has never been cited as a company that is associated with human rights violations."
Sr. Christa Maria confessed that she admires people who appreciate such a lovely and beautiful product as chocolate. The sisters fabricate their confections with reverence. And, we eat those delicacies with gratitude.
About Rabbi Deborah Prinz
Deborah R. Prinz's book, On the Chocolate Trail: A Delicious Adventure Connecting Jews, Religions, History, Travel, Rituals and Recipes to the Magic of Cacao, was published in 2013 and is in its second printing. Rabbi Prinz lectures about chocolate and religion around the world. The book is used in adult study, classroom settings, book clubs and chocolate tastings.