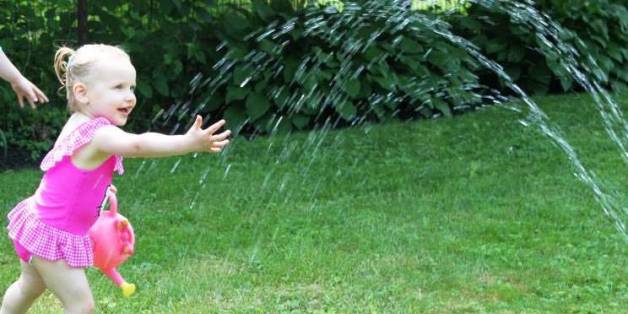 Dinnertime to my toddler, I've often noted, is not stop at the supermarket time. It's not try to find a birthday card at Target time. It's not buy paint time. It's not wait for your prescription time. But as a working parent, sometimes it is the only time.
And sometimes my daughter's internal clock will sound, reverberate through her tiny mouth with such force that everyone in our aisle will freeze. They will stare, watch my girl wail as she clings to me or retracts, grabs at cards or paint samples, reaches for eggs and bread and toothpaste tiered on shelves.
I would love to tell them that she is just hungry and likely tired. And 2. That I'm doing the best I can as I help her through her emotions, redirect and distract her. That their annoyed expressions aren't helping anyone.
That minutes ago she was singing songs, waving hello to strangers. That she has the best laugh, the sweetest voice. That she is so very dear, charming and bright.
Oftentimes people will watch me hold Tegan close, watch me as I guide my cart one-handed. They will look away if I have trouble steering, if Tegan tries to shimmy out of my grasp.
But then sometimes there's still a village. People who walk up smiling, make Tegan laugh, ask her toddler-friendly questions. People who help me pick up what's scattered, tell me about their grandkids, how they have a niece or nephew Tegan's age. People who help me take my groceries to my car, take my empty cart off my hands. People who tell me I'm going a good job, that my daughter is beautiful.
One time a woman, seeing me try to lift Tegan (who was stuck, panicked and crying) from my cart, walked over and gently freed Tegan's feet. I looked at the woman in silent, wide-eyed thanks, and she smiled in a way that seemed to say, "I've been there, too."
We're all capable of being a part of this village, the village it takes to raise a child. We can all offer an encouraging look, a kind word, a helpful gesture. We can teach kids, show parents, that others care, that we're in this together. That we're helping to raise the next generation. Even the smallest impressions are lasting.
And after dinnertime, after the tears have dried, when twilight is near, as I run barefoot with Tegan through our yard, I watch her feet dance as she smiles at my husband and me, at our neighbors who are waving, waiting to ask her about her day.
And I feel thankful that, even if for a moment, "sometimes" is "always."