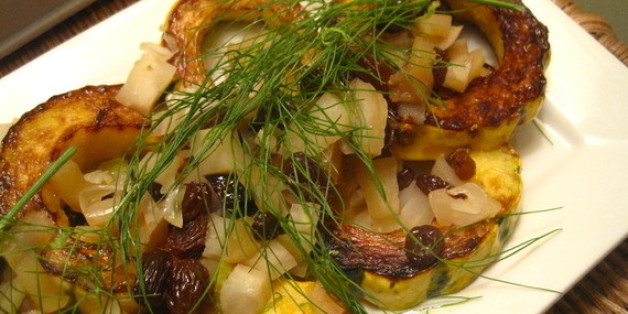 With a giant butternut squash tucked under my left arm and a football-sized spaghetti squash under my right, I am hands down the most ungraceful person exiting the Saturday Greenmarket; cursing my feeble biceps for their lack of muscle memory despite a regular 3 lb. weight routine at the gym. Staggering glacially down the street, I might as well be carrying two bowling balls.
The cucurbita-carrying quandary is unique to only the most ardent squash enthusiasts. We know that lugging these toddler-sized squash home is just the first leg of the journey; back in the kitchen, the real work--peeling, seeding, chopping, and roasting--awaits. We accept the squash's hour-minimum cooking requirement; the inevitable peeler nicks and finger cuts. Call it the locavore's lament: tireless toil to attain epicurean transcendence into the purest flavors of fall.
This locavore, though, has finally raised her hand in protest to the tedious travail. (Metaphorically that is, my arm is still sore from last weekend's squash-schlepping.) There must be an easier way to achieve gourdtopia besides succumbing to the overpriced pre-cut Whole Foods container! The answer, as luck would have it, turned out to be right in front of me the entire time: delicata squash, hidden in the shadow (literally) of its gargantuan cousins butternut, spaghetti, and kabocha. Enter the game-changer.
The same size as a Kirby cucumber, delicata's looks are humble: a pale yellow body vertically lined with slender, evergreen pinstripes. Superficially, it appears to be of no more use than a decorative gourd. But delegating the delicata to a harvest porch display is a serious mistake. This squash variety doesn't just belong in the kitchen--it's a culinary cabochon worthy of a seat at the Thanksgiving table.
On the chopping board, the delicata blooms. It's cylinder shape slices into rounds, boasting delicate, scalloped edges thanks to its dimpled exterior. (The skin is edible, so no peeling required.) After scooping out the seeds, the hollowed disk appears framed with petals, like a sunflower. It is a delicata ring, and a most aesthetic one at that.
Couple the delicata's petite size with the truncated height of each ring, and you are granted the luxury of pan-sautéing your squash to cook it through. Half-inch rounds take approximately two minutes to cook on each side--a whopping four minutes total of prep time. The outcome is flawlessly blistered and golden-bronzed, imploring irresistibly to be eaten now.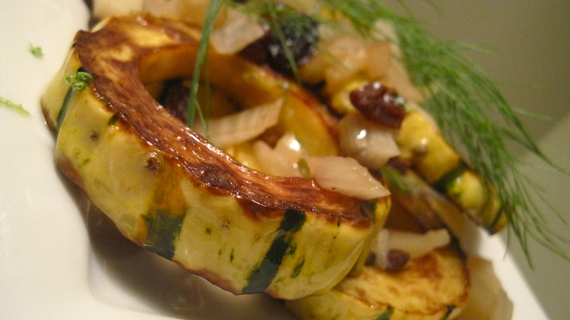 So this Thanksgiving, put a ring on it! (Your table of side dishes, that is.) With sophisticated flavors and stunning presentation, this recipe for Crispy Delicata Rings with Currant, Fennel, and Apple Relish brims with accolades worthy of your holiday table, yet is surprisingly simple to prepare. Scoop up supporting ingredients apple, fennel, and apple cider alongside the delicata at your local farmer's market for proper due diligence to a seasonal feast.
This dish is truly characterized as the sum of its parts: each ingredient builds, layer by layer, a mellifluous structure of phenomenal tastes. Grounding the dish is the delicata, earthy and firm, topped with a thick, jammy apple relish warmed with notes of licorice and fruit. Tangy lime and zest add piquant punch, and delicate fennel fronds finish with whimsical wisp.
The crispy rings are elegant yet approachable; familiar yet avant-garde. At a feast foremost defined by tradition, here's to the diffident delicata for circling in on something new.

Crispy Delicata Rings with Currant, Fennel, and Apple Relish
(By TheWimpyVegetarian)
Serves 4
Crispy Delicata Rings:
2 delicata squash
salt
olive oil
1 lime
1. Slice the ends off of the squash. Slice into ½" rings and remove the seeds with a spoon. Reserve the seeds for another use or roast them with some cayenne pepper, salt, and cumin and sprinkle over the finished dish.
2. Lightly salt the squash and let sit for 30 minutes. Completely dry off with paper towels, removing the salt. Heat enough oil to coat a sauté pan over medium high heat. Lightly salt the squash rings with fresh salt and add them to the pan. They should sizzle the moment they hit the pan. Don't crowd them or they'll steam more than they'll brown. Sauté until lightly browned (about 2 minutes per side).
3. Remove to a plate and add lime zest and juice (use grate and juice of ½ lime per each delicata).
4. Top with the Currant, Fennel and Apple Relish and serve warm. Optional: add spiced roasted squash seeds or fennel fronds.
Currant, Fennel and Apple Relish:
½ cup dried currants (can substitute raisins)
½ crisp apple, peeled, seeded, finely diced (e.g. Pink Lady)
1 fennel bulb, outer layer removed, finely diced
1 cup apple cider
1 tablespoon Calvados (can substitute regular brandy)
1. Combine all ingredients in a small pot and simmer over medium low heat until the cider is reduced by half. Strain and sprinkle over the Crispy Delicata Rings.