"... They come through you but not from you. You may give them your love, but not your thoughts... " -- Khalil Gibran

Being a working mother, a single mother of two, I'm often asked about how I do it all. Does anyone ever do it all? Or on the days we try our best, do we hit it right from time to time? My staff and I constantly ask each other, "How are you doing it?" From sharing personal experiences with my staff and friends, I'm constantly on the search for the tools in life that will help me get it right with my children more than I get it wrong. I have gained insight and a few tips that help me strive for what I crave: balance.

Raising children is both challenging and rewarding -- and as my girls have grown, I've always tried to instill in their heart, mind, body and soul, the lessons I learned from my parents as well as the lessons I WISH I learned from my parents. Watching my girls grow into individuals with a foundation of: 1) tools that will get them through tough patches 2) values that will ensure they are good citizens of the world and 3) experiences that make them empathic individuals and knowing they will be happy strong women that can care for themselves with or with out me -- is what gives me the courage to keep teaching them through example, even in my most exhausted of times.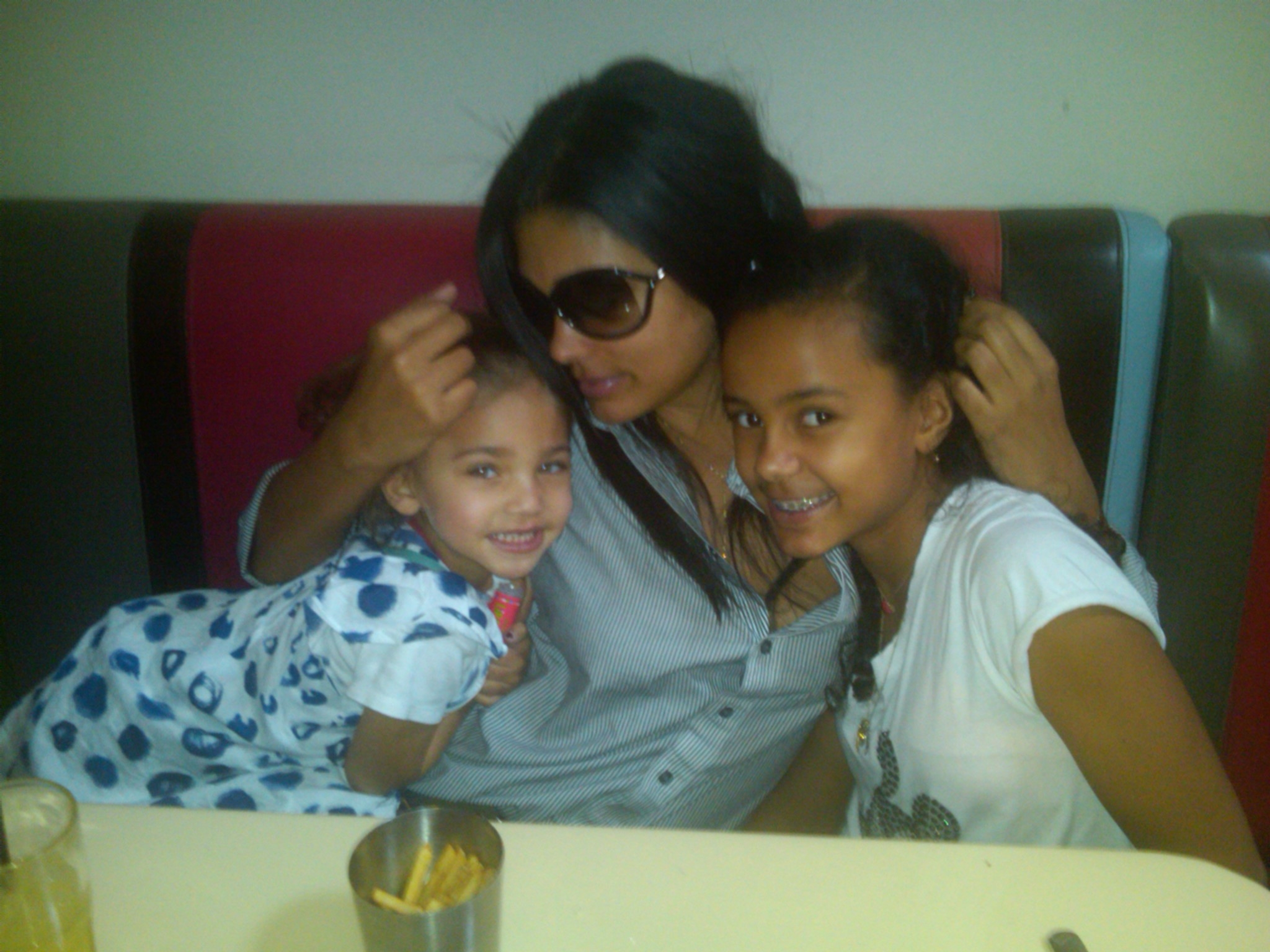 Here are some of the principles I focus on, in hopes of teaching my girls how to have the best quality of life possible:

"Create the life you wish to have through intention and conscious choices and then share that power of happiness by teaching someone else the power of intent."
TRAVEL the world. Traveling is one of the quickest ways to learn in mere seconds that we are all connected, we are all one, we all have the same desires. My goal is to fill my daughter's passports to the brim, so I try to take them on as many business trips as I can, as well as personal trips to learn through the classroom of life. You learn so much more by experiencing and seeing other cultures first hand, than you do sitting in a classroom. Travel doesn't have to be around the world -- travel in the movies or through a book or pick a spot in your city that you've never been to and have an adventure with your kids. I keep a map on the back of the girls' bedroom door and we put tacks in the cities we have been to and a different color tack in the cities we wish to go to next. Once they understand on a cellular level that the world is so much larger then their tiny day to day lives, they will start to be caring citizens of the world that the universe needs more of.
OrphanAid Africa is very close to my heart and I traveled to Ghana to work with children that were abandoned through war, poverty or abusive and I brought Ava with me. It was an emotional trip for sure. I wanted Ava to experience and feel the stories of these children and families, to understand how they were living and how there is hope when people work together to change the situation of abuse. It was one of the best parenting tools I ever had. To this day, when Ava is feeling a bit sorry for herself, mentioning the children we met and the children she befriended brings it all into perspective -- we all want the same thing -- happiness -- no matter where we are in the world.

"Self esteem comes from being able to define the world in your own terms and refusing to abide by the judgment of others." -- OW
STAND UP AND OUT. I want my daughters to have the confidence to stand out in a crowd, and live as they believe is a right to be a leader not a follower. So I try to live my life this way. Wearing pajamas on the red carpet was just as much about showing my daughter's that taking a risk can be rewarding, as it was a pure fashion choice. I went home after the red carpet and read the fashion reviews with my 12 year-old -- some good, some bad, so she could see my reaction and that those that did not like my choice, merely did not have my taste and it was fine. Actions usually always make the better learning lesson for kids -- so... do as I do.

"Live a life where at the end of each day, you are happy with who you are."
THE LITTLE MOMENTS remind us of what is important about life. They mean as much if not more as the big ones. The beach has always been our oasis as it brings us joy and the utmost peace. My girls and I collect seashells but it only counts if we do the work of finding them ourselves. I have a fear of open water so each shell I find is a triumph and my girls cannot only watch me conquer a fear, but be a part of the process as they usually find the best ones, which we save and display in the house. It brings us together as a unit in a matter of seconds. I watch my 12 year-old melt back into my sweet happy baby the moment the sea air hits her face. And since we cannot always have that peace that the sea brings us, we collect and carry those shells as a remembrance of our time together. It is as much a lesson in life, that if you want something you have to work for it -- as it is a tradition that bonds the three of us. In tense times, I pull a shell out of my wallet and it brings a smile to their faces for all that that little shell represents. You create the life you want to have, and this is a lesson that I truly hope they understand.

Share how you are doing it all with your little ones on WWW.FACEBOOK.COM/RACHELROY or WWW.TWITTER.COM/RACHEL_ROY.