Quirky art configurations dot a vast, snowy plain: a giant silver cylinder curves upwards into the sky, a wooden ship tosses on an icy sea and long-winged insects cling to a pole.
In some ways, the Russian village of Nikola-Lenivets in December looks like Burning Man's creativity was copied and pasted onto the tundra. The eccentric art installations bring over 30,000 visitors to the tiny village and its surrounding territory each year, bolstering the still struggling economy. Formerly collective farmland, the territory experienced a massive loss of jobs following the fall of the Soviet Union.
The village -- situated on the vast Ugra National Park -- reigns in the most visitors during the summer, when thousands flock there for the two-day Archstoyanie Festival, an eight-year old sprawling exhibition of outdoor architecture and art created by Russian and international contemporary artists.
All the objects of Archstoyanie ("architectural standing"' in Russian) are crafted from natural materials such as logs, branches and twigs, and spread out among fields and riverbanks.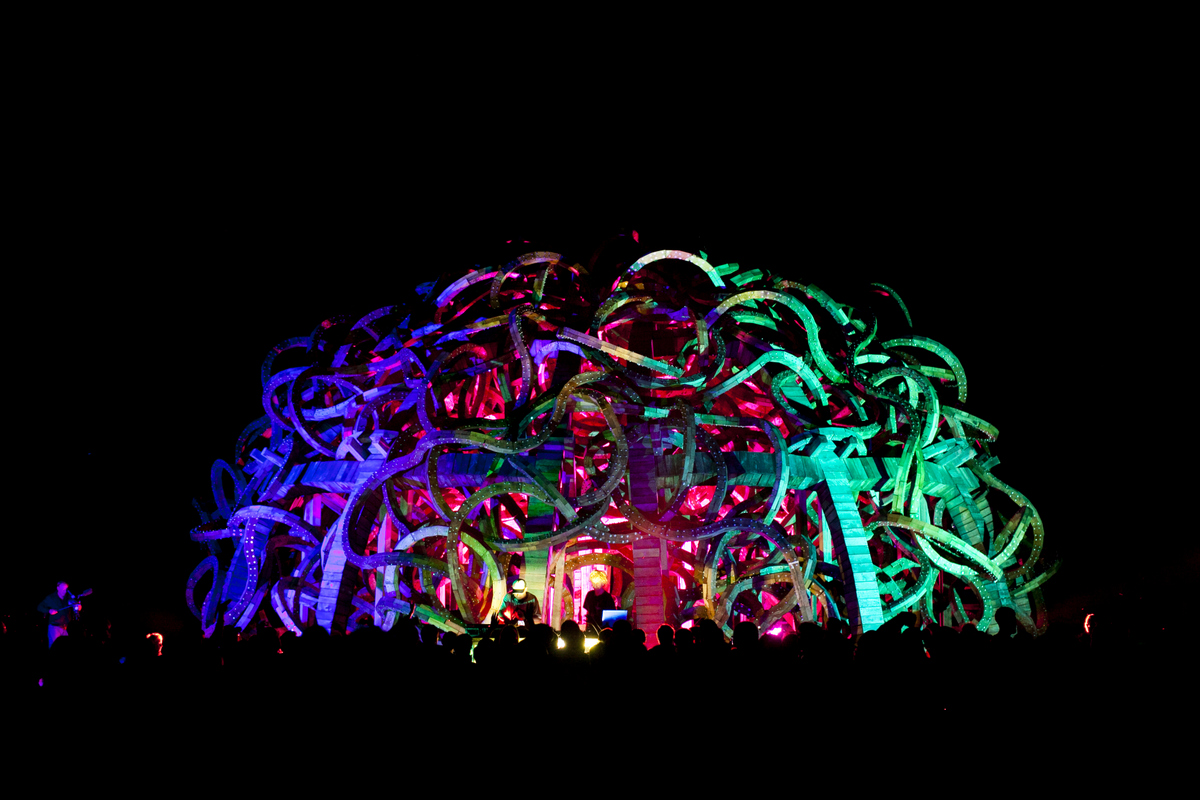 The Nikola-Lenivets Project began 20 years ago with the first large-scale innovations of Nikolay Polissky, one of the only "land artists" in modern Russian art. Originally from Moscow, Polissky ventured to Nikola-Lenivets as a painter and member of Mitki, an underground art collective that emerged in Leningrad.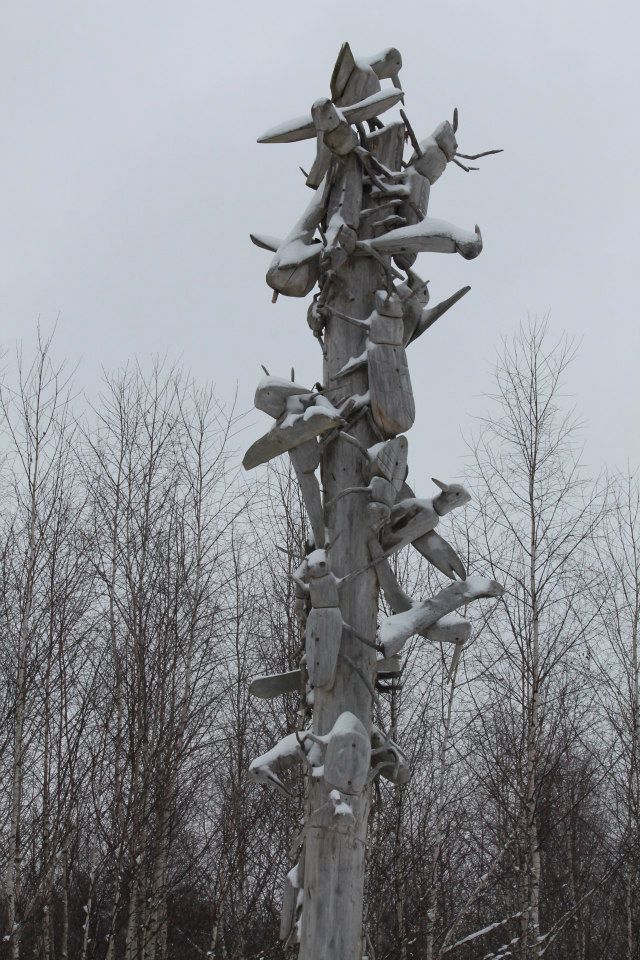 Today a number of famous architects, including Alexander Brodsky and Boris Bernaskoni, have created work there. Nikola-Lenivets recently reached out to the international community for submissions for a "Belvedere object" -- an observation deck to view the panoramic landscape -- and received 227 ideas from 35 countries, said Tuzmukhametov. There will be 100 artists from Russia and abroad crafting pieces for the 2013 festival, which will take place July 27 and 28.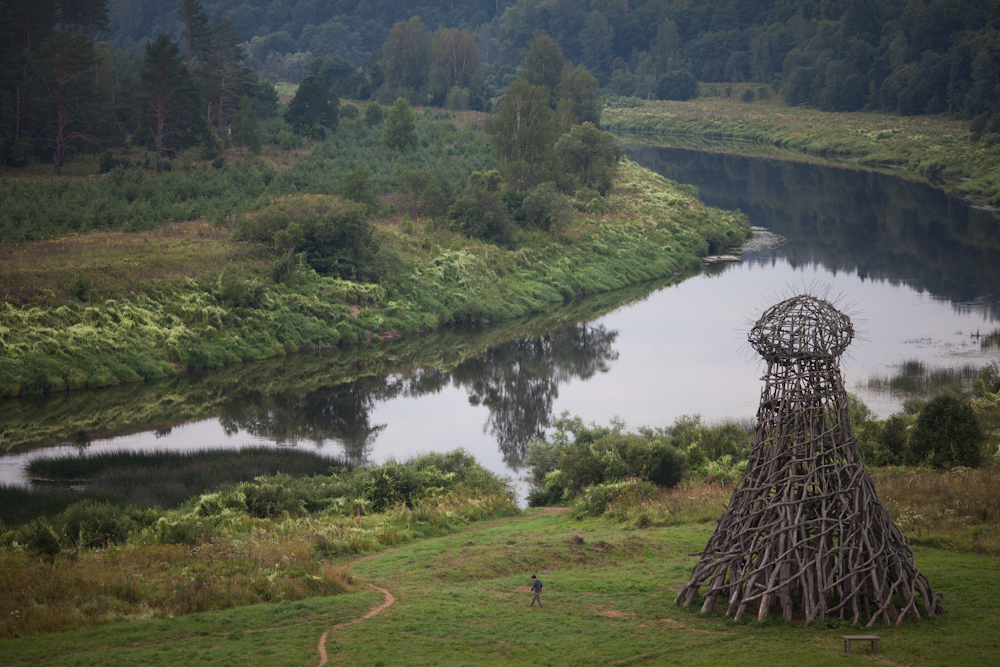 Creating Art, Jobs and Education
In five years the territory -- which also includes the villages of Zvizzhi, Koltsovo, and Shadeevo -- hopes to be economically self-sufficient, said Tuzmukhametov, attracting people to live in the area by creating work.
"Russian villages don't have jobs," said Tuzmukhametov. "We're trying to change people's minds about village life."
The Nikola-Lenivets Project organizers have invited more teachers to the local school of Zvizzhi and have hired staff to keep the territory safe and clean, said Tuzmukhametov.
The buzz generated by the area and its up-and-coming summer festival has allowed locals to turn into entrepreneurs, renting out their houses for visitors or opening cafes in the area. On a frigid December morning, one served blintzes with sour cream and jam, strong coffee and porridge.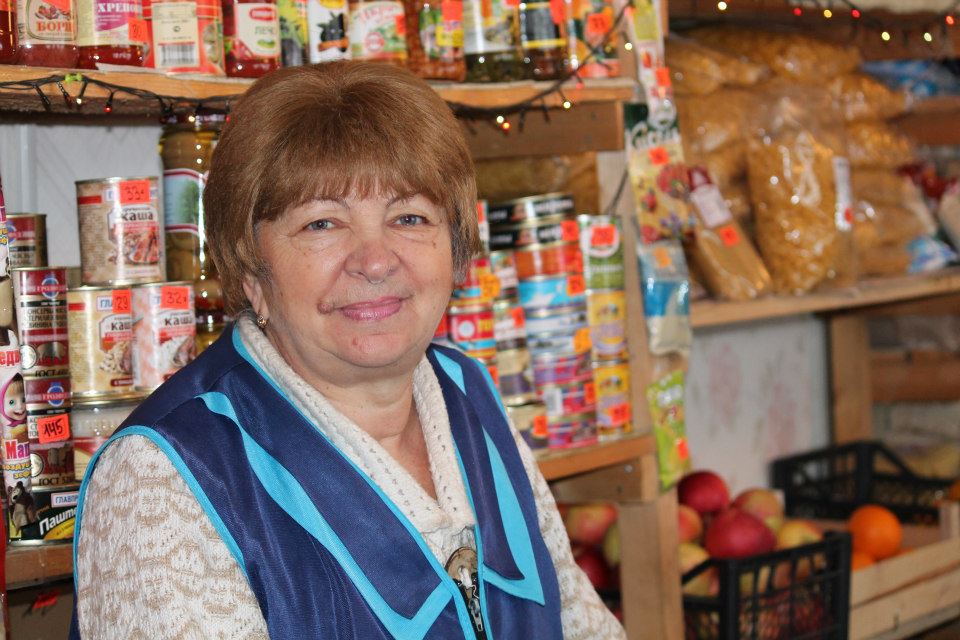 Many of the artists are working on projects that benefit the local community. Erez Mulay, a designer from Israel, came to Nikola-Lenivets to teach staff and children from surrounding villages to create small hand-made art objects that could be sold to visitors of the area.
Yvette Brackman, an American artist-in-residence at Archstoyanie in 2013, proposed creating permaculture cottages for the locals for her project.
"The possibilities are many as the area is large and beautiful and the distance from Moscow is not too great," said Brackman, who speaks fluent Russian and visited the territory with a group of artists in December.
"The challenges have to do with how to develop the area in such a way that protects its ecology, history and local population," she continued, "while simultaneously stimulating the economy and culture through new initiatives and infrastructure."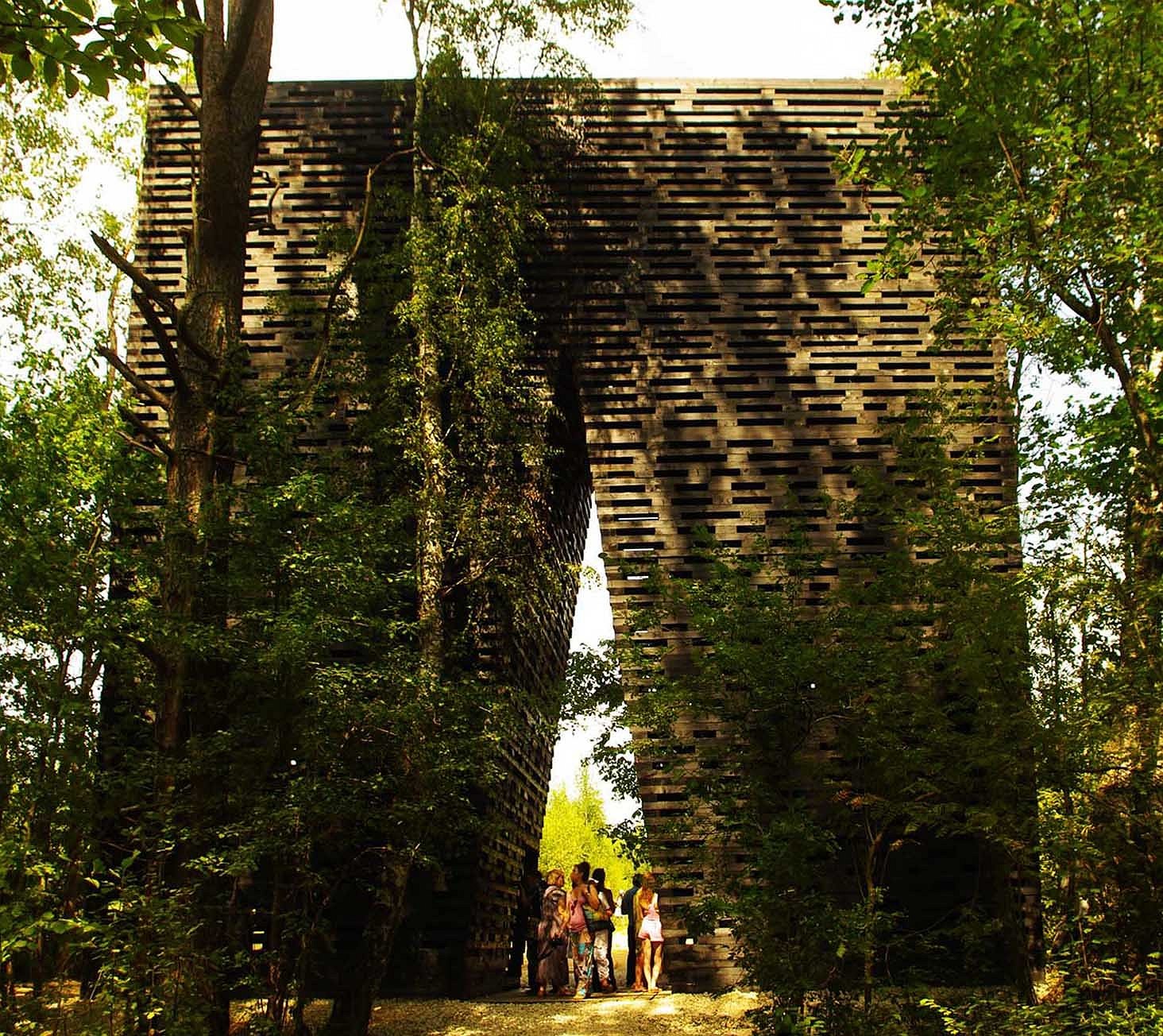 Interested in Attending Archstoyanie?
At Archstoyanie, even hospitality is a work of art: Large tents with beds made of hay are nestled into the landscape, and will be available for anyone to rent. There will also be smaller tents for rent, and places for guests to stake their own tents.
Located on the Ugra river, "ECO-CAMP" will offer a view, as well as yoga, meditation and a playground for children.
In the neighboring villages of Zvizzhi and Koltsovo, there are also several local houses for rent. Starting in the spring, booking will be available through nikola-lenivets.com.
Admission is 500 Rubles, or about $17. English is not widely spoken in Nikola-Lenivets, but that's not the case at Archstoyanie, which is becoming more international every year.
Photos: 1) Alexander Brodsky's "Rotunda" in Dec. 2012. Credit: Rachel Stern, 2) From "New Media Night 2012" when the "Universal Mind" by Nikolay Polissky was presented for the first time. The object will be on display again in 2013. Provided by Eldar Tuzmukhametov, 3) A piece of art by Polissky on display in December 2012. Credit: Rachel Stern 4) The Lighthouse by Nikolay Polissky. Provided by Eldar Tuzmukhametov, 5) A villager working in the food store poses for a picture. Credit: Rachel Stern, 6) "The Arch" by Boris Bernaskoni, created for Archstoyanie in 2012. Provided by Eldar Tuzmukhametov.