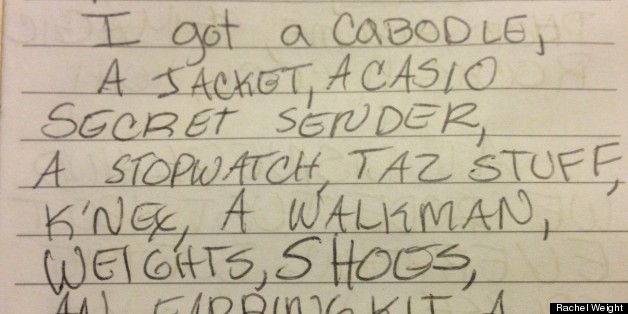 "I told a big lie to mean old mom about drinking the apple juice! She sent me to my room anyway."
"Gramma bought me a Nintendo for Christmas, I just know it."
"Janice told me I was her best friend in the whole third grade! Yes!"
"I think I know Will's classroom number. It starts with a P. I want to French kiss him so badly. Don't tell anyone."
"It's after midnight! I just turned the big 1-0! Double digits!!"
I'm moving out of my house in less than two weeks, and in an attempt to be organized for my move across the country, I am going through EVERYTHING.
It's terrible.
I have found some pretty awesome things: high school yearbooks I thought were lost; old pictures; college essays; and things my grandma made me (she passed away in September, so that was cool to see again).
It was really funny to find notes that were last passed around in middle school, and to see pictures of me from junior high and high school. It's funny how I didn't always recognize the friends beside me, but could recall the dress I wore, or the puka shell necklaces that I hope are buried properly somewhere.
A CD from the band my drummer boyfriend was in brought back a lot of memories of making out in minivans and thinking I was really cool. Then there was the garter from senior ball and the cringe-worthy flashbacks. Another box turned up a dog tag necklace from a favorite radio station, no longer in service, and brought back memories of dialing the house phone to request a Paula Abdul song.
In all this mess, I picked up an old diary, my first one. I can remember getting it as a back to school present. It had a lock and key, and I was VERY concerned that anyone might find it.
This is the first entry: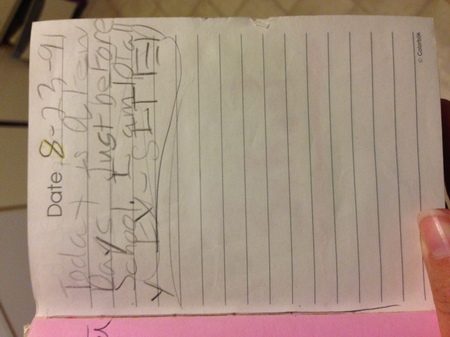 "Today is a few days just before school. I am totally ex-sited!"
I can remember scribbling away all kinds of feelings and memories in those pages, now hilarious to read, but there were parts that made me sad. There was a lot of hurt written on those lines. A lot of anger with my parents. I was constantly heart-broken over boys (hearts and stars around the names Luke, Jacob, Jake, Chris, etc.). Friends were mean. The usual.
But what hurt the most was reading how even at 11 years old, I already hated my body. There are days where I list everything I ate that day, and plotted how to lose 40 pounds in two years.
One entry reads:
"I hate myself. I am so ugly and fat. I weigh more than 100 pounds! That's like two of Kelly! Janice is right, my butt needs it's own zip code. I want to die before middle school."
I'd like to say I grew out of that pain, but I really never have. And the Janice in that entry? She also made me cry for saying I listened to country music, so I would never be cool. She was a real winner.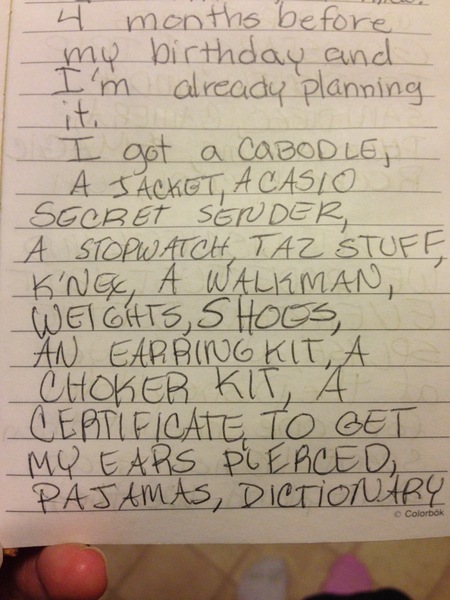 Best. List. EVER.
Those entries made me sad to relive the pain of that girl who wrote them. But I mostly laughed about the entries where I agonize over getting my ears pierced, or wishing I would get my period soon, or celebrated my Christmas haul from 1995. So I think I can toss this artifact into the trash, now that I've digested the funny stuff and reported to you (really to myself), for all of time.
(Never got that Nintendo, by the way. And I made out with Will on Thanksgiving break during college. Success!)