Congress adjourned for a five-week August recess -- and will return on Sept. 8. Senate Majority Leader Harry Reid has said that the Senate will then be in session straight through (including weekends) until Sept. 23, when they will adjourn again until after the Nov. election. The House is scheduled to be in session Sept. 8 - 19, and Sept. 29 - Oct. 2nd.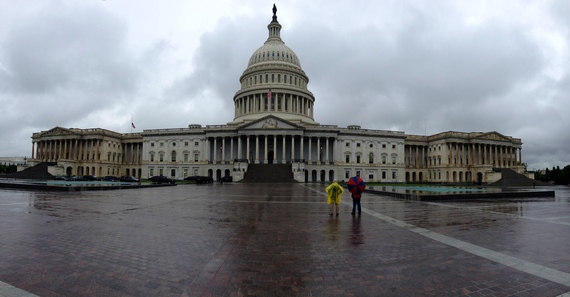 Here's a look at five issues still on the table for when Congress returns. Mark your calendars!
#1 Undocumented Children at the Border
With nearly 60,000 unaccompanied children at the border, the crisis continues to grow. Last week, the House passed a Supplemental Appropriations bill (HR 5230), a $694 million border proposal to address the "humanitarian crisis at our southern border," according to House Speaker John Boehner (R-OH). It includes:
$405 million for the Dept. of Homeland Security to boost border security and law enforcement activities.
$22 million to accelerate judicial proceedings for immigrants.
$35 million for National Guard border efforts.
$197 million for the Dept. of Health and Human Services to provide temporary housing and humanitarian assistance to unaccompanied minors.
$40 million in repatriation assistance to Guatemala, Honduras, and El Salvador.
(The funding in the legislation is fully offset through cuts and rescissions of existing funds within various federal agencies.)
President Obama opposes the House measure and has threatened to veto the bill. The President requested $3.7 billion to address the crisis, while the Senate's proposal (S 2648) -- which failed to advance to a vote -- provided $2.73 billion.
Last month, Congresswoman Kay Granger (R-TX), Chairwoman of the House Working Group to address the national security and humanitarian crisis at the southern border, announced the group's recommendations and solutions. The House bill includes several of these policy provisions.
#2 Reauthorizing the Ex-Im Bank
The Export-Import Bank is the official export credit agency of the United States. Its mission is to assist in financing the export of US goods and services to international markets. The Ex-Im Bank offers direct loans, loan guarantees, working capital guarantees and export credit insurance, as well as special financing programs. Congress must decide whether to reauthorize the bank by Sept. 30th.
The Ex-Im Bank has supported nearly 1.2 million private sector U.S. jobs since 2009, including 205,000 jobs in FY 2013 alone. It financed a total of $6 billion in small business exports, of which $5.2 billion was for the direct support of American small-business exporters last year. According to the Bank, it operates at no cost to the taxpayers -- and in FY2013, it generated more than $1 billion for U.S. taxpayers above operation costs and loan loss reserves, which goes toward deficit reduction. (Source: Ex-Im Bank's Chairman Fred Hochberg's testimony before the Senate Banking Committee.)
In a letter to the House and Senate leadership, 37 governors (including 15 Republicans) urged Congress to reauthorize the Ex-Im Bank. Majority Leader Kevin McCarthy (R-CA) and Whip Steve Scalise (R-LA) have both expressed opposition to reauthorizing the Bank. However, 41 Republican Representatives sent Speaker Boehner (R-OH) a letter in favor of reauthorization of the Bank.
More than 850 business organizations are urging Congress to reauthorize the Bank. In another open letter to Congress, they warned that "failure to reauthorize Ex-Im would amount to unilateral disarmament in the face of other governments' far more aggressive export credit programs...American companies would be put at a unique disadvantage in global markets, resulting immediately in lost sales and lost jobs."
#3 FY 2015 NDAA
Each year, the National Defense Authorization Act (NDAA) specifies the budget and expenditures of the U.S. Department of Defense. House and Senate staff from the Armed Services committees will be working during the recess to draft a compromise proposal in case the Senate is unable to pass a version of the bill.
NDAA in the Senate (S 2410): Provides $514 billion for national defense, including $496 billion for the Dept. of Defense base budget and $17.7 billion for national security programs. Specifically prohibits the U.S. Air Force from retiring A-10 aircraft for one year, and would improve the prospects of competition for military space launch and help move the Pentagon away from using taxpayer dollars to purchase rocket engines from Russia. (Source: Senator John McCain (R-AZ)
NDAA in the House (HR 4435): Authorizes $521.3 billion in spending for national defense and an additional $79.4 billion for Overseas Contingency Operations (OCO), primarily in Afghanistan. (The House passed its version in May.)
#4 Extending "Internet Tax Freedom"
The Internet Tax Freedom Act placed a moratorium on the ability of state and local governments to impose new taxes on Internet access or to impose multiple or discriminatory taxes on e-commerce, since it was first enacted in 1998. It's scheduled to expire on Nov. 1, unless Congress takes action.
The House passed the Permanent Internet Tax Freedom Act (HR 3086), a permanent extension on July 15th. Meanwhile, the Senate is considering whether to pass its version of the bill alone (S 1431) or as a legislative package for the Marketplace Fairness Act, which would allow states to collect sales tax for online purchases:
Marketplace and Internet Tax Fairness Act (S 2609): Would allow states to collect sales taxes from out-of-state retailers. (Currently, states cannot enforce the collection of sales tax from retailers that do not have a physical presence in the state.) And would extend the Internet Tax Freedom law for 10 years.
#5 Another Shutdown?
Remember last year's government shutdown? (YES!) Once again, Congress will have to pass a continuing resolution to fund programs and to keep the federal government operating past the end of this fiscal year, Sept. 30.
The Dec. 2013 budget deal set spending levels for the federal government at a little over $1 trillion. The appropriations process would require the House and Senate to divvy up that amount. However, to date, the House has passed seven of the 12 annual appropriations bills, while the Senate has yet to pass one. It's unlikely that the House and Senate will complete passage of the bills on time.
--
POPVOX is a neutral, nonpartisan way to connect with your lawmakers in Washington. Please keep in mind that highlighting a bill doesn't imply a POPVOX endorsement in any way. Rather, we're simply trying to offer one more way to stay informed of an overwhelmingly complex legislative system.