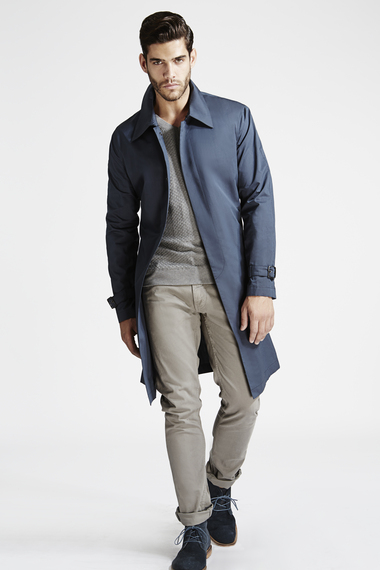 Following the evolution of a line is not solely about the refinement of the actual garments. Often that is an outcome of the designer's evolution. The life experiences, the attraction to new and varying aesthetics as well as the maturation of the designer all influence the growth of a collection. I am only excited when I witness a consistency in quality as well as a growth in expressing or articulating a designer's vision in a line.
In 2013, I introduced you to the Brett Johnson Collection. At that time I was impressed by Johnson's attention to detail and a clear understanding of his customer. With the launch of his pre-fall collection June 1st on NeimanMarcus.com and a trunk show on June 6th at the Mazza Gallerie Neiman's location , I see a progression of both the detail in his tailoring, materials selected as well as an expansion of his customer. It's obvious he has grown with his customer. When the collection first came on the scene his target was the urban sophisticate. This has now expanded to include the financier and the global citizen. I imagine there is much of himself in this collection which was inspired by Johnson's Abu Dhabi trip for the FIA (Formula One) race. Selecting a Persian Gulf inspired color palette of blues, sandy hues and blacks. Also, incorporating the ever popular Le Mans racing stripe. He also sites inspiration from 1970's silhouettes while still infusing a modern look and feel.
His choice of materials such as the 100% water proof tech material used for his bombers are carefully sourced from a mill in Limonta, Northern Italy. This material was selected with his versatile customer in mind. Always on the go, needing pieces that transition from one environment to the other, his customer was at the forefront when Johnson selected these materials. His main concern was to make pieces that men would actually wear. He's also incorporated a much slimmer silhouette with this collection which adds so much more dimension to the pieces. It really is not only about the garment but it is about the guy who is wearing the garment, it's a marriage between the two.
Though Johnson's process for creating pieces has stayed the same he has brought in a new addition to his team, merchandiser Nichole Alabi, who previously held a position at Calvin Klein. Her eye for what works well on store floors has kept Johnson focused on the editing process this go round. The BJC team is expanding and tightening up their process, it surely shows in the end product. When asked about his team expansion Johnson says, " I'm thrilled with growth of my entire team and how effectively we are working as a unit. When dealing with a startup you never know what the markets response is going to be but, if or when it takes off you must be fully prepared. The entire BJC team has responded to our early success with great poise and confidence that I feel we are able to tackle any obstacles that may arise."
For more of the Brett Johnson Collection please visit the site at www.brettjohnson.co and don't forget to visit NeimanMarcus.com for the launch of their pre-fall collection.
PHOTO GALLERY
Brett Johnson Pre-Fall '15 Collection