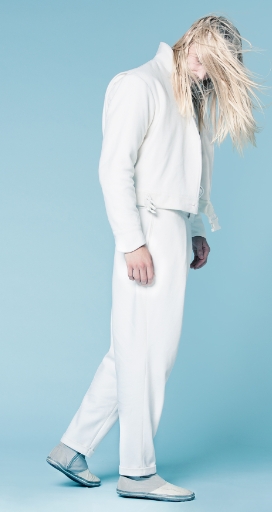 The idea that shapes and forms can remain present while materials change, a concept coined by German architect Gottfried Semper in the 19th century, may be a complex theory but, it served as the inspiration for the Fall 2013 capsule menswear collection by Bureau V. In partnership with Byco, architecture firm Bureau V successfully designed a minimalist inspired collection. Peter Zuspan, one third of the design team, states:
We took a lot of extreme sportswear like bibbed shorts for cycling and fishing waders and changed the materials to make them formal.
The ecru palette of the line allows the eye to focus on the interesting mix of materials and textures throughout the collection. Quilted, thermal, tweed, felt and flannel textures seamlessly flowed together creating a synergy that each element alone could not.
The presentation of the capsule collection felt reminiscent of a performance art installation. Taking place among art pieces within the Dillon Galleries, Bureau V and Byco created a sensory stimulating experience for its audience in addition to presenting their line.
If this capsule collection is any indication of the outcome of innovative designers partnerships with Byco, I am looking forward to more from Byco and their designer relationships.