One outfit. Two looks.
The key to transitioning from day to night: simple, yet transitional pieces
You're supposed to meet the girls for drinks after work at a swanky bar and you have no time (or space) to bring a change of clothes. What do you do?
Wear your night outfit to work... of course!
Easier said than done, right? Depending on where you work (or who you work for) your work outfit might have to be more conservative than you would like. However, that doesn't mean that when you're off work you still shouldn't be able to SHINE and show what ya momma gave ya. Here's some super easy advice (and inspiration) for taking ONE outfit from DAY to NIGHT.
DAY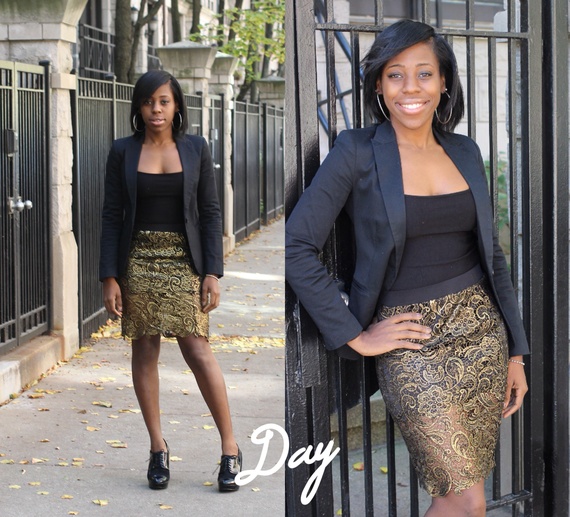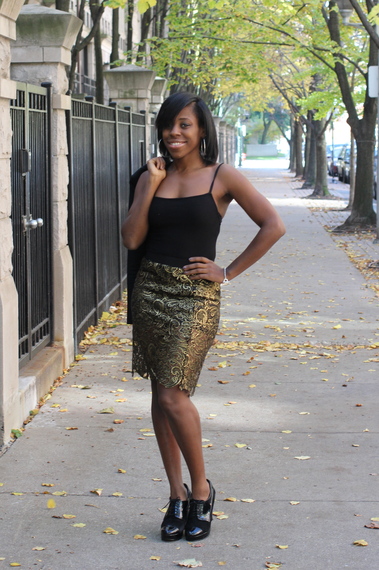 Outfit Details: Fitted Black Blazer (Zara), Black Caged Bodysuit (Simplicity), Gold Crochet Mini Skirt (Simplicity), and Chunky- Heeled Oxfords (Nine West).
This look is pretty safe for work. The blazer gives it a professional touch and the lace crochet skirt gives the outfit personality yet classiness.
Night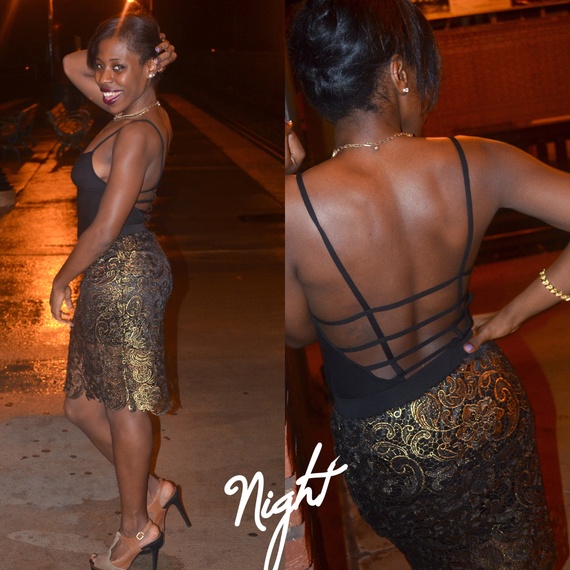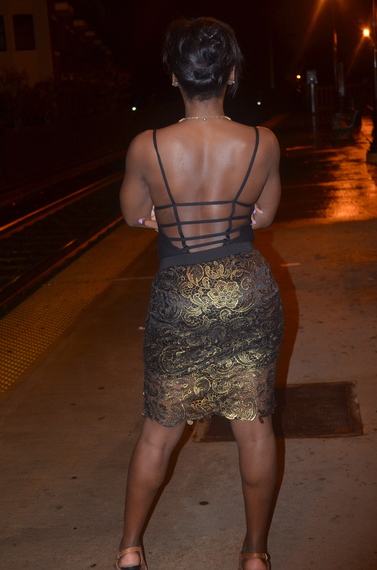 Outfit Details: Fitted Black Blazer (Zara), Black Caged Bodysuit (Simplicity), Gold Crochet Mini Skirt (Simplicity), and Strappy Sandals (Jessica Simpson).

RELATED: Click here to learn more about Simplicity Line and how Landra Dulin started the fashion site.
Here's 4 easy tips to follow the next time you want to take your outfit from day-to-night:
1. Invest in staple "classic" pieces such as a well-fitted blazer.
The blazer was a perfect way to give the look a "ready-for-work appeal." It hid the spaghetti straps of the bodysuit and also covered up the exposed back. it also was very well fitting and complemented the skirt's structure and detail.
2. Keep an eye out for simple, yet edgy and transitional tops (or bottoms.)
The key to this outfit for transitioning from day to night was the bodysuit. Its simple front- facing design worked well for the day look, while the open back design was a perfect transition for something sexier and more eye-catching for the night. Tops (or bottoms) that can be used as "statement pieces" are perfect options for creating day to night looks. The focus of the night outfit was defintely my back, so I made sure to show it off.
3. Always keep a bold lip color in your work bag.
For the day look, I went for a fresh, neutral look. I simply wore a little foundation, black eyeliner, and light nude gloss. In order to spice up the night look, I added a bold berry lip in Panther from Black Radiance.
4. Accessorize smartly.
For the evening outfit, I wore a pair of cheap faux diamond studs , vintage gold choker, and a gold link bracelet. Don't over-do it with the jewelry. When going from day to night, figure out what you want to highlight and stick to it. For this look, showing off the bodysuit's back details was my focus, so I made sure my night accessories weren't overpowering. For the day look, I also kept the jewelry simply and opted for slim (but big) silver hoop earrings.
For FULL outfit details and a special discount if you want to buy any of these items, visit: http://ranacampbell.com/2014/10/21/take-work-outfit-day-night/
Connect with me on Twitter, LinkedIn, Facebook or Instagram.
Read more at ranacampbell.com.
To get more of my articles and advice delivered straight to your inbox, click here.