The coasts of the six New England states of Maine, New Hampshire, Vermont, Massachusetts, Rhode Island, and Connecticut are well known for their summertime clam bakes. But you don't need an east coast beach to enjoy one. All you need is fresh seafood, a bunch of friends, and a great big pot to put on the grill.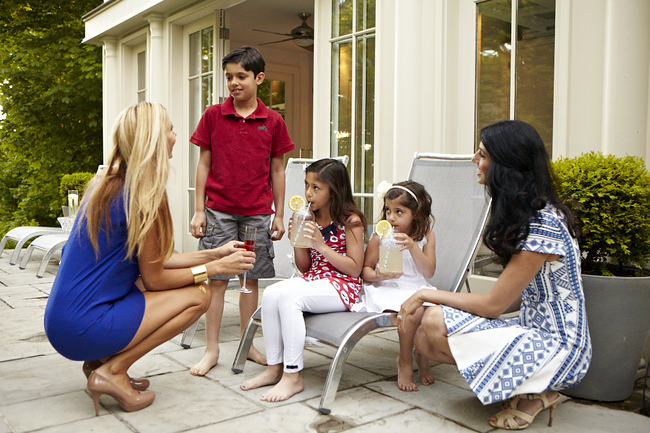 Dig into the best ingredients that summer supplies -- little neck clams, cherry stone clams, shrimp, lobsters, mussels, corn on the cob, Andouille sausage -- without having to dig a fire pit or do any heavy lifting.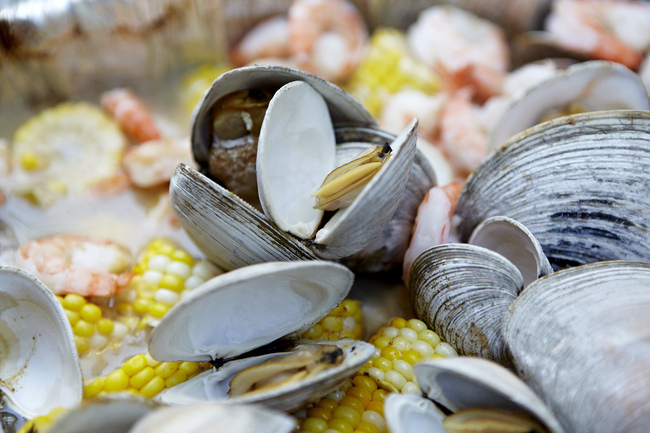 The prep and cooking are quick and easy. Spread all the yummy food across one big table and instantly your summertime party is a blast. For an upscale twist, start the evening with seafood martinis filled with mussels, king crab legs, jumbo shrimp with cocktail sauce, scallop and white fish ceviche, and lobster claws with Marie Rose sauce garnished with frisse and corn sprouts.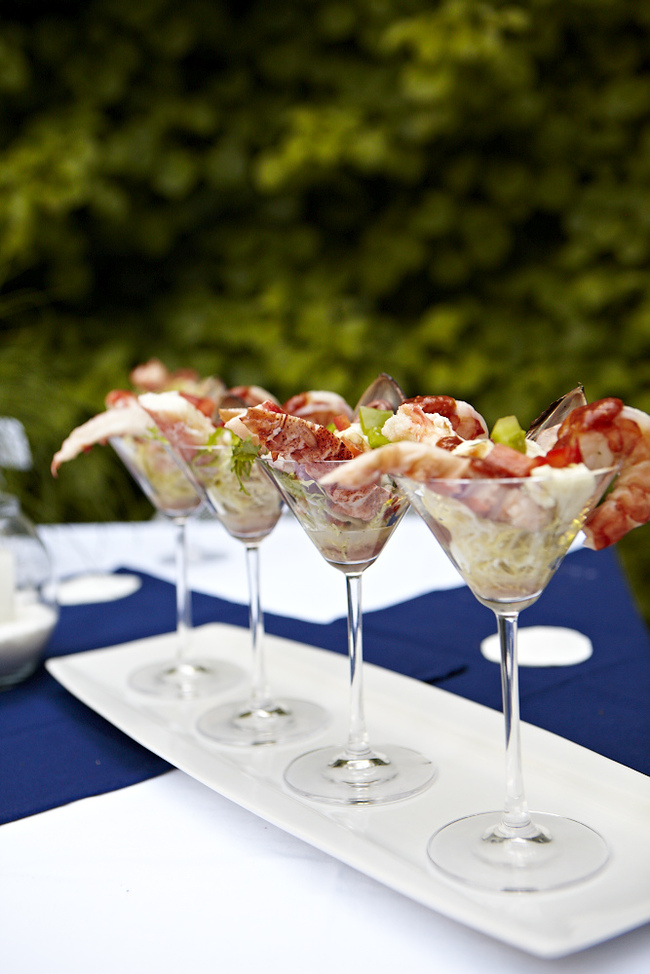 On the side, serve a fresh summer salad such as mixed greens Marché with frisse, arugula, sliced strawberries and red onion.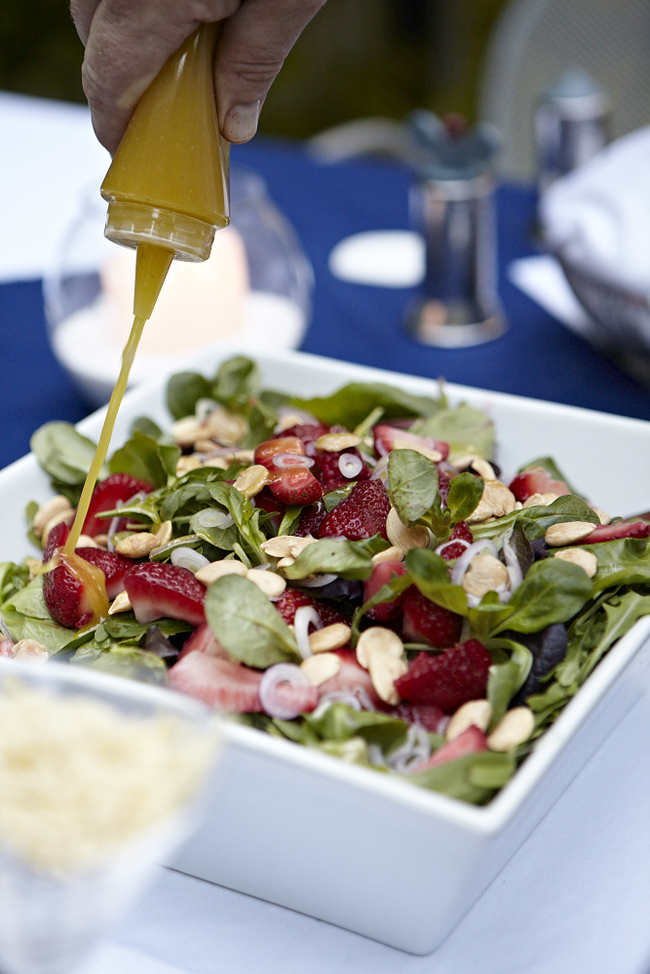 A rhubarb and strawberry cobbler and some fun cupcakes decorated with clams and marina anchors make the perfect dessert.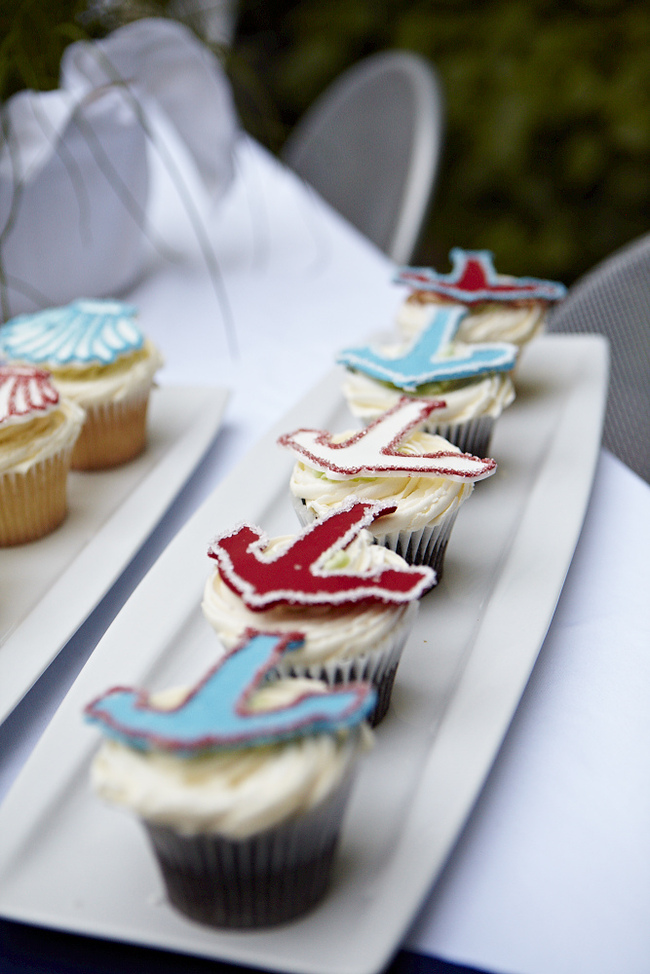 Delightfully decorative, and divinely delicious edibles by Eat My Words.
Recipes by: Neil Noseworthy at TasteWorthy Cuisine
East Coast Clam Bake on the Grill
• 1 large celeriac
• 4 pounds small new yellow potatoes (Yukon)
• 1 pound andouille sausage, sliced into bite-size pieces (4 sausages)
• 1 (50 count) bag littleneck clams
• 2 (1 pound) bags steamer clams
• 2 pounds of 21/25 peeled and deveined tail off raw shrimp (about 45 count)
• 1 small lobster tail per person left whole or cut into pieces (optional)
• 1 lemon, cut into rounds
• 5 cloves garlic, smashed and peeled
• 1 bunch fresh thyme
• 4 ears corn, cut into 4 pieces each to make wheels
• Melted butter, for serving
• Old Bay, added to stock for serving
Preparation
Prep: 20-30 mins | Cook: 30-40 mins

1. Preheat grill to high heat.
2. Combine potatoes, sausage, celeriac and 4 cups water in an 18-inch roasting pan set on the grill. Bring liquid to a boil with the grill lid closed, then add clams, lemon, garlic, and thyme. Cover roasting pan with foil, close grill again, and cook for 15 minutes.
3. After 15 minutes has passed, open the foil and add shrimp and corn. Reseal the foil and cover the grill again. Cook for another 15 minutes, or until clams have opened. Then continue until clams are completely cooked approximately 15 minutes
4. Serve shellfish, sausage, and vegetables on a platter and broth in individual bowls for dipping, with butter, lemon wedges, additional Old Bay(R) seasoning, if desired.
Watch Creative Entertaining:

See full photo gallery for design and decor tips:
Photo Credit: Mark Luciani
PHOTO GALLERY
New England Clam Bake