Rizzoli. Roseland. Renato. The three R's of historic New York City landmarks, recognizable in one word. No prefix necessary. Kinda like Bogart and Brando.
No matter what happened in our daily, up and down lives, we could always shut out the world in Rizzoli's bookstore, browsing through coffee table books on Alfa Romeos, listening to Italian madrigal CDs or reading newspapers like Il Messagero.
No matter how stressful our 9-to-5 day job was, we could swing the night away at Roseland ballroom, foxtrotting to big bands or discoing to the hustle.
And, no matter how depressed we felt about global affairs or Manhattan high rents, we could always conquer the mean reds by going to see Renato.
Whenever I felt blue, I'd saunter over to Hudson and Jane Street, a few blocks from my Greenwich Village apartment, and hang out at Piccolo Angolo, the family run restaurant for 22 years, where the omnipresent persona of Renato Migliorini would be sitting outside the restaurant, hanging out in his white apron, observing the passers-by. Or else he'd be prancing around the kitchen, gathering ingredients or reservations for the evening meal. He'd always stop his pacing, flash his big grin and chat with me for a few minutes, always making me feel welcome, telling me that the eggplant was too expensive that week to make my favorite vegetable lasagna, insisting I come back, promising me that he'd make it next week.
Renato always made you feel like you were at home, eating portobello mushrooms, fettucini alfredo, gnocchi marinara or bottomless minestrone soup. In a crowded, hilarious, hug family eating, Renato was a blur of white apron and red-checked cloths, table-hopping to say hello to regulars or introduce himself to first-timers.
Just like Romeo, Rocky and Rihanna, Renato was a one-name force of nature. He was the King of Multi-Tasking 50 years ahead of his time, washing off a placemat, watching a bella regazza across the street, talking to a curly-topped village kid, explaining details to his devoted staffers Fernando and Luis, his chef/brother Mario, or his charming kids Peter and Maria. He was old school: an unstoppable host/receptionist/restaurateur, answering the non-stop ringing phone, pacing the floor, remembering a thought mid-sentence, forgetting, then remembering again.
Every Christmas I wandered into Piccolo Angolo with my satchel of gifts for the whole crew: Renato, his son and daughter, the waiter, and the chef. I'd always get happily ensconced in a molto vivace conversation with Renato, who was over-the-top busy, yet never too busy for a hug. And still, I could never leave the restaurant without Renato insisting on pressing a holiday panettone into my hands or an Italian chianti.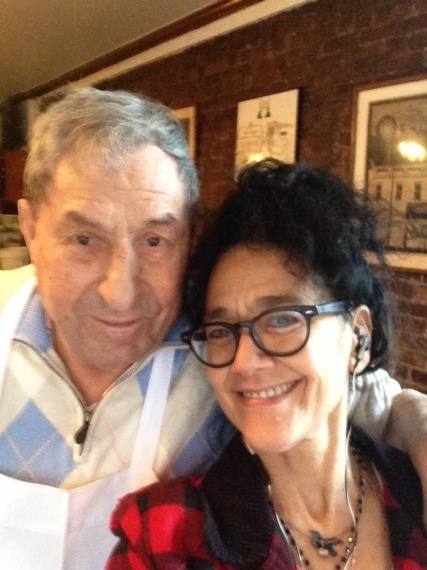 Dragging home from the subway, I'd often make a detour to stop by, knowing I'd always get a lift from Renato's inner glow and charming chatter. Sometimes in the middle of a hectic work week, dealing with quarterly financials and Excel spreadsheets, an Italian voice would pop into my head, and I'd find myself dialing up Piccolo Angolo, asking Renato to please hold a portion of gnocchi pesto for me. When I showed up around 6:30 to claim my prize pasta, he parted the Red (Marinara) Seas in a packed house, barreling down the skinny aisle just to give me a hug, and welcome me with his exuberant "Ciao, Mia." Nothing felt so great as Renato pausing in his recitation of the night's specials to give me a kiss hello. I always felt special amidst the crowd of dining out-ers.
A few months ago, I was rushing down a West Village street to get home, and some out-of- towners stopped to ask where Piccolo Angolo was. They were thrilled to hear that I knew the place, knew the owner, and knew how to direct them there. I told them to tell Renato that Mia sent them. They texted me when they landed back home in California: "We loved it. They love you, Mia." I had done my good deed and spread the Renato word cross country.
Perhaps it's because his mother was named Anna, just like mine. Perhaps it's because he was the same age as my Dad before he died. Perhaps it's because I realize how much he resembled my own father in grit, gusto and goodness. Perhaps it's because whenever I wandered in I felt completely connected to another happy soul.
Whatever the reason, Renato of Frisolino was one-of-a-kind. Rizzoli can relocate. Roseland can rebuild or not. Pearl Paint can spatter its spectrum of colors elsewhere. But unlike those other historic New York City landmarks, Renato is irreplaceable.