Where longevity is continually affirmed, one expects to find the unexpected. Hence, "Reversible Destiny Lofts" in Toyko, Japan offer a marvelously innovative and functionally foolish way to live your days.
As the title presupposes, the housing itself is meant to cultivate an "oh, to be 4 again" reversal, or at least postpone the physical and cognitive changes that often vex those in a later life span position by making you defend yourself against them. The living space has color, texture, and floor plans that keep residents vibrant by challenging them. Floors in some rooms are grainy, textured, and concave (think pebble paths and undulating floor tiles). The door leading to the terrace is deliberately so low "eldsters" must stoop to go out on the terrace, and electric switches/knobs are intentionally placed in unexpected spots and can even be repositioned to other locations, so feeling around for them and breaking a habit becomes norm.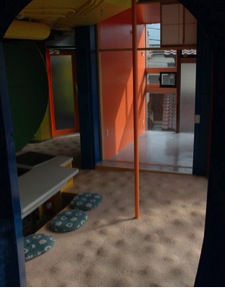 The unevenness of the floor is intended to invite more imaginative ways to move about (and play), and to encourage an all-inclusive vitality of engagement with enticing possibilities for body balance stimulation between "wee-sters" and eldsters, integrated in "equal" footing over the course of daily routine. This can have profound psychological effects on feelings of vibrancy and vitality.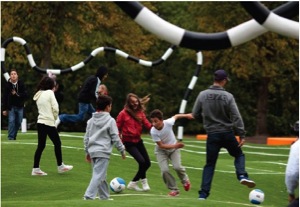 Translated to a nearby sports field (or a garden setting), a natural, "lopey" style of movement -- on a field of undulating play -- also encourages an all-inclusive sport with limitless possibilities for play between girls and boys, old and young, skilled against unskilled, on equal footings, challenging the mindset of most purposeful sporting activities. (See: "Structure Is Freedom (Except When It's Not.")
This is something I practice in a restorative tai chi-based technique (ancient walking to primal rhythms) that combines unfocused eye movement with balance center integration as participants move across irregular surfaces. It serves, especially well, a population that also struggles with confidence and movement: those subjected to a condition known as Parkinson's.
Paradoxical Footwork Technique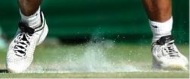 Yet, I have seen some Parkinson's clients apply naturally-balancing footwork without knowing it. That is, they rediscovered it intuitively -- without needing to be taught again. Frequently, this is the case when they arrive at my facility from a rich movement or athletic background that helped them hone a natural expression of body intelligence.
What Is Ancient Walking to Primal Rhythms (AWPR)?
It is a fusion of specific acupressure stimulation that follows well-established pilates/gyrotonic principles and martial arts (as done in tai chi) and is generally taught in a one-hour class in indoor/outdoor settings of health, fitness and wellness centers and spas.
Photos used with permission.
The Foot Whisperer is a balance and movement disorder specialist. He has a number of programs that work with all ages, but are particular to two target populations: young children and "experienced" senior adults with respect to improving mobility and balance.
For more by Randy Eady, click here.
For more on personal health, click here.