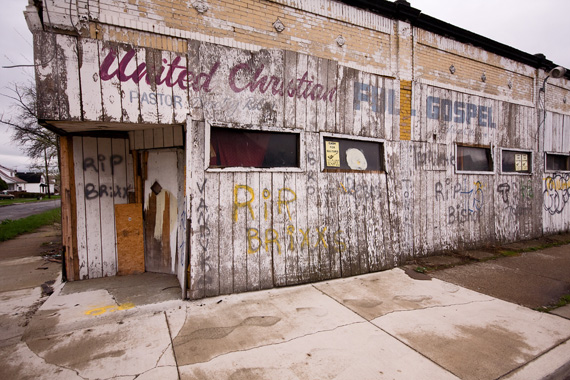 United Christian Full Gospel, Detroit, MI
In many of the struggling inner cities of the Rust Belt, the make-shift storefront church is a common sight. In the decaying, desperate and fading old business districts of former economic powerhouses like Buffalo, Detroit and Cleveland, salvation is in short supply, but luckily there are many prophets, prophetesses, reverends, brothers, sisters and high priests ready to offer it up for the taking.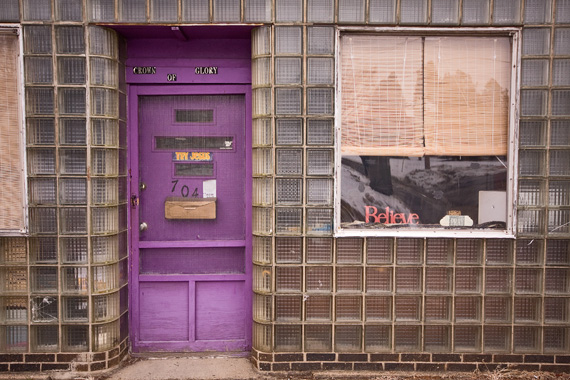 Crown of Glory, Farrell, PA
I've literally photographed hundreds of these institutions, and most seemed to have opened and shut rather quickly. Many of these churches were opened in rapidly failing buildings that give the appearance of being barely sustainable. Yet, time was taken to plaster words of fire and brimstone, along with promises of deliverance, on the crumbling walls of these blighted temples. Often times, there are faded, crooked pictures of the church leader or some even-more-holy individual that are now left to peer out on to the streets, as they bake in the sun and sustain water damage.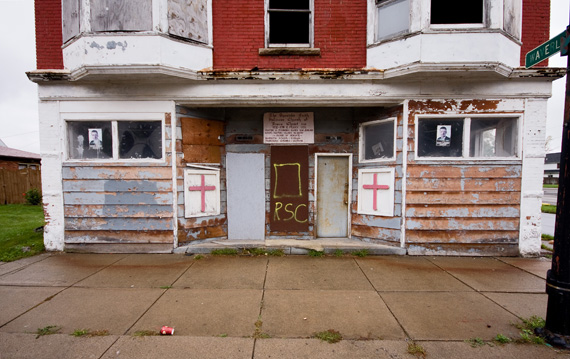 The Apostolic Faith Holiness Church of Jesus Christ Inc., Buffalo, NY
In many of these dilapidated environments, only the businesses that offer the absolute necessities have a chance; with that being the case, the storefront church doesn't seem to be threatening the empires of liquor stores, check cashing businesses or Dollar Generals.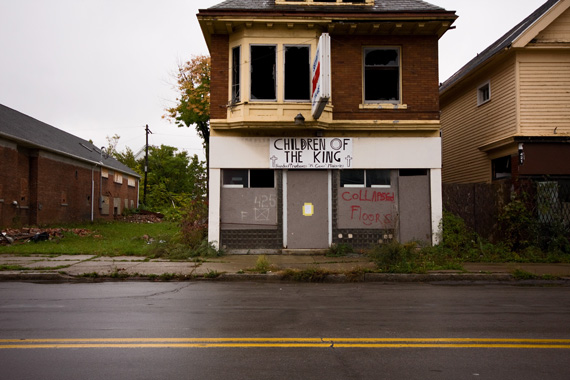 Children of the King, Buffalo, NY

I've often fantasized about being a fly on the wall during the services in some of these sites of salvation. I've wondered about the pageantry, the music and whether the walls shake -- or whether anyone shows up at all. Some of the exteriors are so outright creepy that it's difficult to imagine those but the most daring or desperate even venturing in. Maybe they wander in hoping, at least, for a warm cup of coffee or a smattering of small change. In less cynical fashion, maybe they walk in, hoping to be infused by the Holy Spirit.
And by God, I hope they are.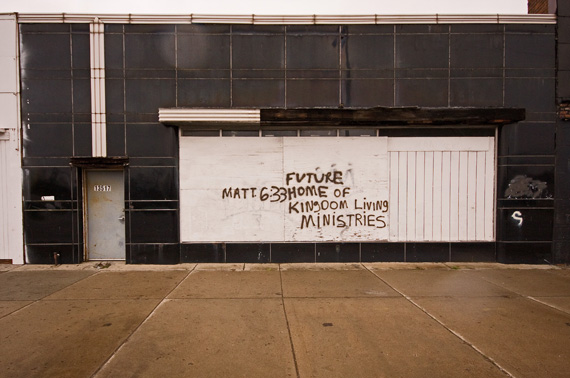 Future Home of Kingdom Living Ministries, Detroit, MI
For more photos from the Rust Belt, please visit my website and to see the work of and read about photographers, famous and not so famous, who are doing important work in this vein, visit American Elegy.