"Don't save your bag, save yourself"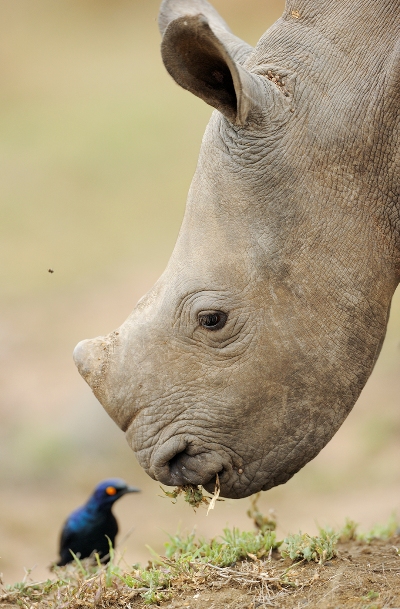 Harmony to stay?
We pay a visit to Hluhluwe-uMfolozi http://www.kznwildlife.com/, the core habitat of the African rhino, in South Africa's KwaZuluNatal. We are joining Jabulani Ngubane, Ezemvelo Wildlife Rhino Security Intervention Coordinator, on a patrol with his anti-poaching unit. "Any home market for this kind of product," he tells us, "does simply not exist. Rhino horn is of no use to us. What Ngubane is involved in is a veritable war against organized crime." It all starts with an order from a client in China or Vietnam, and then results in a chain of events, ending up with a dead, de-horned rhino in front of me.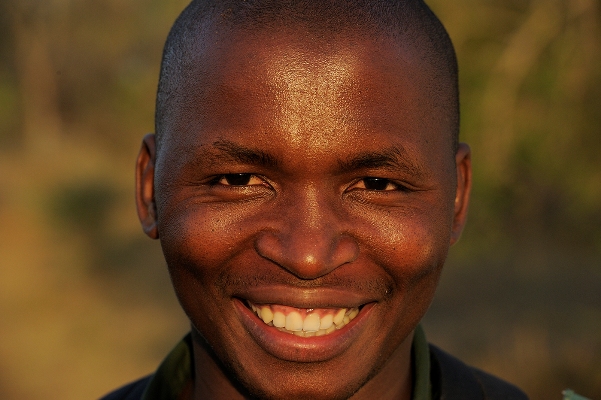 Jabulani Ngubane in close-up.
Ngubane is a neat, fit and no-nonsense-looking young officer. He is coordinating a new strategy of dealing with poaching, aiming at standardizing procedures all over the country, in order to cope with the increasing threats from the very professionally equipped teams of poachers, who use light aircrafts, helicopters, tranquilizer guns, assault weapons and night vision goggles. Ngubane, on the other hand, runs a small elite task force of seven soldiers, all carefully selected for their outstanding bush skills. If there is an incident out in the field, Ngubane's "hit squad" intervenes. It is like a military unit, Ngubane explains, always ready for action.
Action in this case means risking lives during every single patrol. If a suspected poacher is found, the chances are good he will be shot on the spot. Six weeks earlier, one member of Ngubane's team was shot dead during a fight between poachers and rangers. Then again, the anti-poaching unit shot and killed seven poachers during 2011.

(See some poaching statistics here.)
Joining the patrol in the field, surrounded by wildlife, we do need to obey some strict rules:
- Don't save your bag, save yourself.
- If I ask you to climb a tree, I mean it.
- If you can't outrun a dangerous animal, lie down.
- If you hear a clicking sound, stop at once.
- Keep silent, in order to be ready at any critical moment.
Walking for hours in silence and in a single file through the bush, crossing rivers, in sizzling heat, tracking spoors, always watching out for danger, makes it easy to reflect on the work situation these officers wake up to on a day of "action." Every time, this anti-poaching unit gets dressed with their assault rifles, knives, revolvers and body armor vests. Being prepared to die is part of these men's modestly compensated working contract.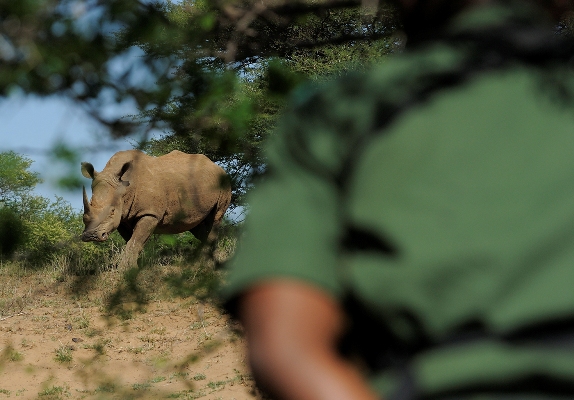 Sudden encounters.
By a riverbed, where we stop to observe a rhino mother with calf, there is finally time for some whispering questions.

"Mr. Ngubane, your job is very dangerous. What makes you want to do it?"
"Basically, I am passionate about what I am doing. Out here, I don't think about
danger. From boyhood this is the kind of work I always looked for. This is my time to contribute to conservation."
Then he explains how it all works. There are 5 levels. Level 1 is the guy who poaches the animal. He hands the horn over to level 2, who simply coordinates at a local level, taking the horn to Johannesburg. There he will be met by level 3, who deals with different groups abroad. He waits for a call. Then somebody at level 4 -- usually a foreigner -- appears, who ships the horn abroad, often through transit countries liker Thailand or Malaysia. This is a professional smuggler, familiar both with South Africa and with the receiving country. The end user in the far East, who actually consumes the product, is level 5. This is the one who places the order in the first place. Then it works backward down the system.
Meaning, by the time level 1 goes out to hunt, there is already a buyer and a specific order. Ngubane is optimistic for the future. He does not linger with frustrating facts like bribed court officials, criminals buying themselves out of jail with poaching money, black markets booming -- or even the sad fact of casualties among the Wildlife officers. He does admit to a great challenge, though: Low budgets and the lack of relevant equipment. The task force works with handheld weapons, a number of vehicles, boots on the ground -- and plenty of human determination. What they might need in addition is far out of their economical reach -- like small, unmanned spotter-aircrafts that could do 24 hour surveillance, all followed on computer screens at headquarters. Those could make the anti-poaching unit a more equal adversary in a very unequal battle.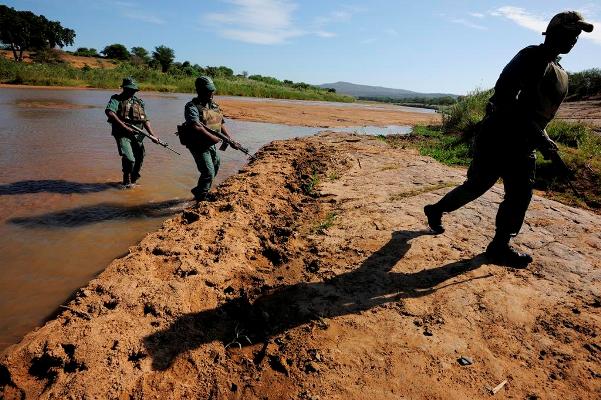 Tracking in iMfolozi.
All photos: Staffan Widstrand.