She is almost 70-years-old, weighs close to 300 pounds, and stands no taller than 5 feet high. She has limited facial expressions and moves in slow motion, both on and off the stage. But when she sings, it's like the roar of a lion. She immediately captures your attention. Her name is Paquita La Del Barrio. In other words, Paquita From The Hood, and one of the most popular Hispanic music stars around today.
During last month's "Premio Lo Nuestro," the Spanish equivalent of the American Music Awards, and the longest running music awards show on Spanish television, she out-sung even the hottest, youngest singing sensations. She appeals to men and women equally.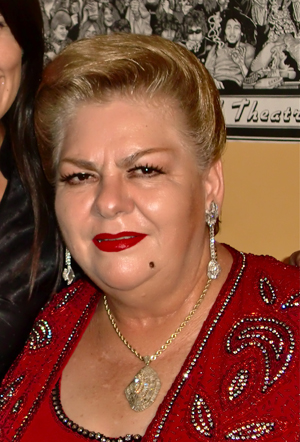 Her songs and lyrics reflect her life story. A woman of very humble beginnings, who suffered abuse and betrayal at the hands of the men in her life, she has made a career out of singing about who those men really are. Her most famous song -- "Rata de dos Patas" -- (Two Legged Rat) is sung in this country thousands of times a day.
Right now Paquita is embroiled in a major controversy. In her native country of Mexico, a law recently went into effect permitting gay marriage. Last month, during a rare interview, Paquita was asked whether gay couples should be allowed to adopt. Her response was unexpected and categorical - no. The press had a field day.
After being widely condemned for her comments on television, radio and in print, there came an unexpected twist. When Univision.com, the largest and most influential website for Hispanics in America, conducted a survey on the issue, the answer was unanimous. Over 80% of those asked agreed with Paquita.
During another interview a few days later, a reporter in Los Angeles took it one step further, asking Paquita if she would prefer that a child die of hunger, or be adopted by a gay couple. Her stunning response? "I'd prefer that the child die". The backlash was so severe that Paquita went into hiding, at her ranch near Veracruz, Mexico.
After a few weeks of reflection, Paquita held a press conference in Mexico City.
I flew in for an exclusive interview with her the day before. Paquita entered Mexico City's Four Seasons Hotel through an underground parking garage which took her directly to a suite where I was waiting for her. The cameras were rolling, Paquita seemed nervous.
For the majority of the interview the grandmother of seven cried and cried, asking for forgiveness. When I asked how she would feel if one of her children were gay, she replied that she would still love them very much. She told me she had been so upset by the episode that she had contemplated committing suicide.
The next day during the press conference, held in a gay bar, she sang and danced for the press and her enthusiastic fans. Over a hundred reporters, photographers and cameramen were present. After asking a few lackluster questions about the incident, someone asked a seemingly more pressing question; had the fans been charged for admission. This coming from a reporter at a press conference held to subject Paquita to intense public and media scrutiny. The point of the press conference rendered obsolete, after ten minutes of yelling about ticket sales, Paquita was escorted out the back door.
After my interview aired, giving 'El Gordo y La Flaca' its highest ratings in three months, Univision.com conducted another survey. This one asked if people believed Paquita's apology was genuine. Once again, the Hispanic population in America gave Paquita a vote of confidence, with a whopping 82 % approval rating.
Was this the Hispanic version of "don't ask, don't tell"? Whatever it was - Paquita's rampant popularity remains intact.
Could this happen in America? It did.