Good nutrition has always been a focus of Head Start, but many of the children don't have access to fresh, local foods at home. Discussing this fact a couple of years ago, Dr. Betty Izumi of Portland State University and Dawn Barberis of Mt. Hood Community College's Head Start program came up with the idea for the Harvest for Healthy Kids project.
Based on farm-to-school food programs that were being piloted around the country, it would not only bring healthier foods into the Head Start food service program, it would educate children about fresh fruits and vegetables by engaging the children in activities centered around a featured food.
Izumi says it's been a rewarding experience and one that reaffirms her belief that exposing children to fresh foods early in life can have ripple effects that will benefit them and their families well into the future.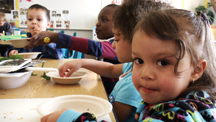 "Children really do like fruits and vegetables," she said. "They want to eat them. But they need to taste good and they need to be fresh and they need to be presented in a way that looks appetizing."
To read the entire post, please visit Cooking Up a Story. Video originally published on Food.Farmer.Earth.