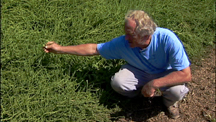 In an ongoing David versus Goliath legal battle, Frank Morton, an organic seed breeder in Philomath, Oregon, along with the plaintiffs listed in this lawsuit, have successfully sued the USDA and its Animal and Plant Health Inspection Service (APHIS), for failure to require an environmental impact statement (EIS) prior to deregulation of Monsanto"s Roundup Ready sugar beet plant. In the United States District Court for the Northern District of California, Judge Jeffrey S. White ruled on September 21, 2009 in favor of the plaintiffs-- Center for Food Safety, Organic Seed Alliance, Sierra Club, and High Mowing Organic Seeds-- requiring that APHIS prepare an environmental impact statement, and setting in place the remedy phase of the trial, scheduled to begin today (December 4) to decide the fate of next year's transgenic sugar beet crop.

This interview took place this summer prior to Judge White's September ruling in favor of Frank Morton, and the other plaintiffs.
To read more, go to Cooking Up a Story.