"What's a pop-up?"
It's the question that Kathryn LaSusa Yeomans gets asked the most about her recent venture. A seasoned chef who early in her career trained with the likes of Lidia Bastianich and Diana Kennedy, Yeomans worked in restaurants in her home state of New York and in her adopted home in Portland, Oregon.
The dinners attracted customers by the dozens. One of those was Alan Richman, a food writer for GQ magazine, who was passing through town and happened to pick up a flyer for Yeomans' first pop-up brunch happening the next day.
"It wasn't just Portland food," he said of Yeomans' menu. "This was idealized Portland food, the kind I thought I would find in every restaurant but did not. This was a glorification of farm, field, woods, and wild."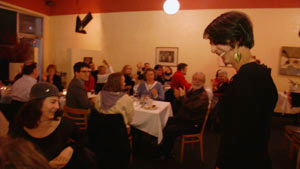 Most chefs could open a restaurant on that kind of rave from a nationally renowned critic, but Yeomans isn't sure that's what she wants for her next venture.
"There is no grand plan--it's just happening" she said, though she admitted she does have a goal in mind. "I want my own kitchen and a space where I could teach, a teaching kitchen where we have dinners."
As Robert Frost said in his poem of the road not taken, "I took the one less traveled by, and that has made all the difference."

To read the entire post, including the menu from the night's dinner, please visit Cooking Up a Story. To watch more videos, visit Food.Farmer.Earth.