It's a national landmark and the only working hydro-powered grist mill in Washington State. Built in 1876, The Cedar Creek Grist Mill, located in southwestern Washington, just outside the town of Woodland is situated above the banks of the Cedar Creek. The mill offers visitors a unique view into a by-gone era of community mills that once formed the foundation for local farm communities throughout the country.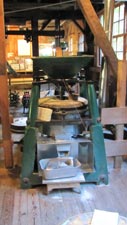 Since the mill was restored to working order by "The Friends of the Cedar Creek Mill" during the 1980s, the grist mill has become a working museum, supported entirely by visitor donations, and volunteers who run the mill for area schoo lkids and a regular flow of visitors who come from all over the world to see how an old-fashioned mill turns grain into flour. Unfortunately many of these mills have closed over time.
To read the entire post, please visit Cooking Up a Story. Video originally published on Food.Farmer.Earth.