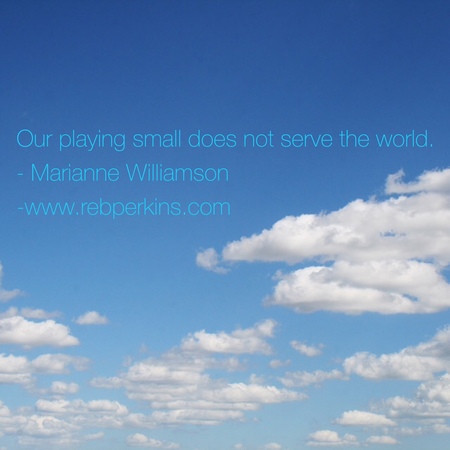 Self sabotage is a dream stealer.
Self sabotage leads us to eat another piece of cake.
Self sabotage urges us to open the bottle of wine.
Self sabotage chooses rotten partners for us.
Self sabotage says it's too cold and wet and dark to go to the gym.
Self sabotage stops us applying for that dream job.
Ladies and gentlemen, self sabotage is a b*tch. It keeps us trapped within our comfort zone. It prevents us from living a fulfilled life.
Why?
I remember a number of years ago listening to the pop star Robbie Williams being interviewed on a talk show. I think had just come back from the edge of self destruction. He was asked,
"Why do you do it? Why do you go from seemingly having it all to self destruction?"
His response shocked me in its honesty.
"Because I don't deserve it. Because I'm not worth it."
I remember nothing else from that interview. I'd heard all I needed to. Self sabotage made public.
Victim in life or Hero? Which do you choose?
Why do we allow this gremlin to prevent us from doing what we want to do?
What frightens us? What is the reason behind self sabotage that causes us to retreat into our shell, to play small? Are we fearful of success perhaps? Fearful that life might actually turn out really well?
Are we afraid of having what we really really want in life?
I know self sabotage well, I am a past expert. Today I know the signs and step in before the demons take hold... most of the time.
Self sabotage used to manifest itself by opening the fridge to pour a glass of wine because 'I need to unwind' (even though I'd committed to myself that I wouldn't do it).
Self sabotage manifested itself in making all sorts of excuses not to go to the gym or out for a run even though I knew how good I felt after the burn.
Self sabotage still manifests itself in procrastination... somehow the ironing or Facebook has more appeal than writing the next piece of work or starting my next book as each thing I write stretches me.
Self sabotage still manifests itself in my over-analyzing a text from my man rather than enjoying the relationship.
Self sabotage keeps us small and living unfulfilled lives.
What are you prepared to do about it? It's a battle yet it's a battle worth fighting. Each and every day if necessary.
I often turn to one of my heroes, Marianne Williamson, for inspiration:
"Our deepest fear is not that we are inadequate. Our deepest fear is that we are powerful beyond measure. It is our light, not our darkness that most frightens us. We ask ourselves, Who am I to be brilliant, gorgeous, talented, fabulous? Actually, who are you not to be? You are a child of God. Your playing small does not serve the world. There is nothing enlightened about shrinking so that other people won't feel insecure around you. We are all meant to shine, as children do. We were born to make manifest the glory of God that is within us. It's not just in some of us; it's in everyone. And as we let our own light shine, we unconsciously give other people permission to do the same. As we are liberated from our own fear, our presence automatically liberates others."
We tackle self-sabotage one moment at a time:
Learning to identify self-sabotaging behaviour is a great place to start.
Become aware of decisions you are making on a daily basis, learn to recognise those which are holding you back.
Learn to replace those decisions and behaviours with healthy, life-affirming ones.
Ask yourself, "what would be a better way to respond?"
How does self-sabotage show up in your life?