Note: Do not read on if you haven't seen Season 3, Episode 15 of Bravo's "The Real Housewives of Beverly Hills," titled "The Real Housewives Of Paris, Part Un."
Before we discuss tonight's episode, we must take a moment to discuss Brandi's dress -- or lack thereof -- at the Oscars Sunday night.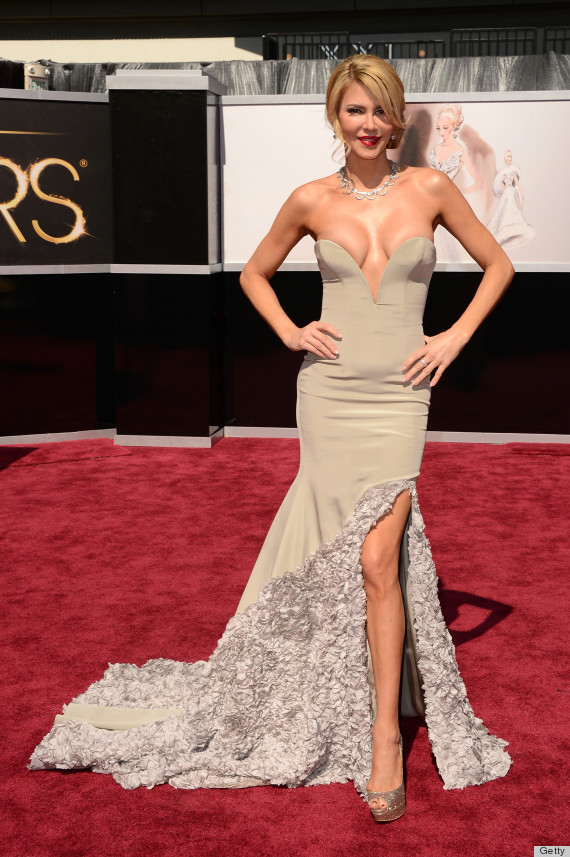 So I think the issue here is quite basic: the dress simply didn't fit. I fear that Brandi thinks she can wear any style dress in the smallest size available because she is so insanely thin. But that's really not the case - she still must account for proportions (like the fact that she is very tall and has ginormous boobs). I am genuinely disappointed in her selection. As Sarah Jessica Parker said in a "Sex and the City" episode, "This is Vogue! Show some respect!" Well Brandi, you were at the Vogue of all award shows Sunday night and you did not show that red carpet any respect. Yikes.
Tonight's episode focused on getting the ladies from Los Angeles to Paris for the season's requisite group trip by way of air travel. I'm sure we all remember last year when Kyle arranged a Hawaiian getaway for Mauricio's birthday that shined the biggest light on Kim's serious addiction and horrendous taste in men. But Kim went through rehab and has been touting her sobriety (and her complimentary nose job) all over town, so now we have a new alcoholic to focus on: Taylor.
While the episode was not filled with any seriously dramatic moments or tension-filled scenes, it was entertaining in that it reminded me of the series' first season. Before there were fights about Radar Online and surrogacies (arguments that only occur because the ladies exist on a reality show that turns them into tabloid fodder), audiences simply witnessed the insanely excessive, totally absurd lives these ladies claimed to lead. As we move into new seasons, "Real Housewives" episodes inevitably feel more like you're on safari waiting to see a kill. But tonight's episode was reminiscent of the early days -- when watching these women was more like going to the zoo to observe animals in their faux-natural habitats. I'm not going to go as far as saying the ladies acted like mature adults; however, they were not as catty as high schoolers so there is no poll to accompany this episode. But let's take a look at what happened.
Kim opened the episode by articulating her concern for Taylor's drinking problem. As my distinguished colleague aptly put it -- you know it's bad if Kim Richards is the one staging an intervention. Taylor was strangely receptive to the conversation but witnessing Kim discuss her addiction and kind of make sense was so unnerving that I had to rewind the scene multiple times to digest the situation. Taylor seemed to take Kim's concern seriously and decided against going to Paris with the girls so she could stay in Beverly Hills and sort herself out -- and probably drink in privacy without fear of judgement. She's no fool!
Before moving on, I must take a moment to simply write down that Kyle's living room walls are decorated with rows of dead turtle shells. I can't. I just can't.
Next, we visited Ken and Lisa, who were preparing for their trip to St. Tropez to visit Ken's son Warren, who is kind of a stud. We learned that Warren married Lisa's friend Sue (WHO WAS A BOND GIRL!) back in the day, which was apparently "not the easiest of situations" for Lady Lisa though it all worked out eventually. For those who are interested, according to IMDB, Sue played the part of "log cabin girl" in "The Spy Who Loved Me."
Meanwhile, Yolanda hosted a housewarming party to show off the mansion she decorated for her ex-husband Mohamed. The girls all pretended that it was just a matter of coincidence that Yolanda, Lisa, and Kyle were going to be in Paris on the exact same days! Taylor teased what I imagine will become an upcoming conflict between her and Yolanda. Apparently Taylor has an issue with Yolanda's creepy husband David Foster. Honestly, who doesn't? More importantly, have you watched Yolanda's wedding video yet?! It's a must.
I'd also like to take a moment here to mention that both Mohamed and the Vanderpumps have swans in their yards. I think swans are becoming the new garden accessory or something. The equivalent in your lives and mine is probably like some fancy neighbors installing decorative mailboxes.
Yolanda's housewarming party was pretty boring except that Marisa arrived with the husband she seems to hate. Now I was prepared to share the many thoughts I have about how much I dislike Marisa, the way she treats her husband and her self-proclaimed "I'm like the guy" persona, but then we found out that her father-in-law died later in the episode, which is sad. So I will shelve my comments until next week.
Ken and Lisa landed in St. Tropez and stayed at Warren's home, where we learned that taste in real estate is clearly genetic. I wish Bravo showed more of Warren's house -- we only saw the driveway and backyard. Warren did mention that Ken and Lisa were staying in the guest house that was just past the tennis courts -- how fancy. Warren apparently made his fortune from properties he owns in the Notting Hill neighborhood of London. I assume he must own every part of Notting Hill.
Kyle, Kim, Mauricio, Yolanda and Brandi all traveled from LA to Paris in what looked like one piece. Ken and Lisa helicoptered to Paris and the joined the group on the balcony of Brandi's hotel room to watch Bastille Day fireworks over the Eiffel Tower. Kim was the last person up to Brandi's room and was acting like her usually spacy self -- having no idea when she arrived in Paris and cluelessly gazing into the distance. She also seemed to describe the city's impressive fireworks display with the following sounds: "Voom voom shabang!" I'm pretty sure neither of these sounds are applicable to fireworks. Until next week!
What did you think of tonight's episode? Did you like Brandi's Oscars dress? Do you think Kim was on something at the end of the episode? Sound off in the comments below.
"The Real Housewives of Beverly Hills" airs on Mondays at 8 p.m. EST on Bravo.
PHOTO GALLERY
Real Housewives of Beverly Hills