October is in full swing and Halloween is only a few short weeks away. That can only mean one thing: goblins and ghosts and ghouls have arrived in Illinois -- or at least stories about goblins and ghosts and ghouls.
Hauntedplaces.org has compiled a list of the most haunted sites in the state, including abandoned mansions, old hospitals and cemeteries with dubious pasts. These sites have high electromagnetic field (EMF) ratings, which some people say may indicate the presence of spirits. Check out five of them here:
1. St. Turibius Church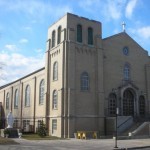 Photo credit: HauntedPlaces.org
5646 S Karlov Ave., Chicago, IL 60629
EMF rating: 73.7
At this old Roman Catholic church, the ghost of a priest named Father Joe Lechert lingers. It is said that after a church reorganization he was let go, and as a result, he died of a broken heart. Parishioners and altar boys say they have seen his ghostly figure and smelled his cigarette smoke.
2. Aux Sable Cemetery
Brown Road, Minooka, IL
EMF rating: 75.0
Aux Sable Cemetery is believed to be haunted by the ghost of a mischievous young girl who has been known to play pranks, such as lowering electrical car windows when the key is not even in the ignition. The site is also said to be a portal from a ghostly dimension.
3. 206 N. Broadway (Scutt Mansion)
206 N. Broadway St., Joliet, IL
EMF rating: 75.0
Built in 1882, the Victorian house at 206 N. Broadway St. was originally a private residence, but was a school and a boardinghouse for women until the 1970s when it again became a private home. It is said to be haunted by the ghost of a 19-year-old who was shot and killed at 2:30 a.m. during a party here. It was then purchased by Seth Magosky, a history buff and John Wilkes Booth impersonator who intended to turn the house into a museum, but he died suddenly in 2007.
4. Graceland Cemetery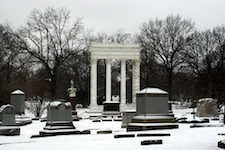 Photo credit: HauntedPlaces.org
4001 N. Clark St., Chicago, IL
EMF rating: 75.0
The spirit of Inez Clark lingers in this old cemetery. She was almost 7 years old when she was fatally struck by lightning at a picnic. There is a life-size statue of her on her gravesite, enclosed in glass. It is said that on rainy nights the statue disappears, and the apparition of a little girl can be seen walking around the cemetery.
5. Lincoln Theater
103 E. Main St., Belleville, IL 62220
EMF rating: 75.0
Lincoln Theatre is believed to be haunted by a prankster ghost. An apparition of a ghostly child has run up and down the stairs, a woman has appeared in the balcony, and tricks are played in the projection booth. Reports say there are seven ghosts who call this theater home.
See 45 other haunted Illinois sites at Reboot Illinois, including a theater where people say the ghosts of victims of a fire still hang around and a Chicago pub that is said to be the home to a cowboy ghost.
NEXT ARTICLE: Travel these 10 creepy Illinois roads...if you dare
8 abandoned Illinois sites that could creep you out
Quinn edges ahead of Rauner in new Reboot Illinois poll
Illinois wall of shame: The state's worst designations
131 new taxes on Illinois ballots Nov. 4
Photo credit: HauntedPlaces.org