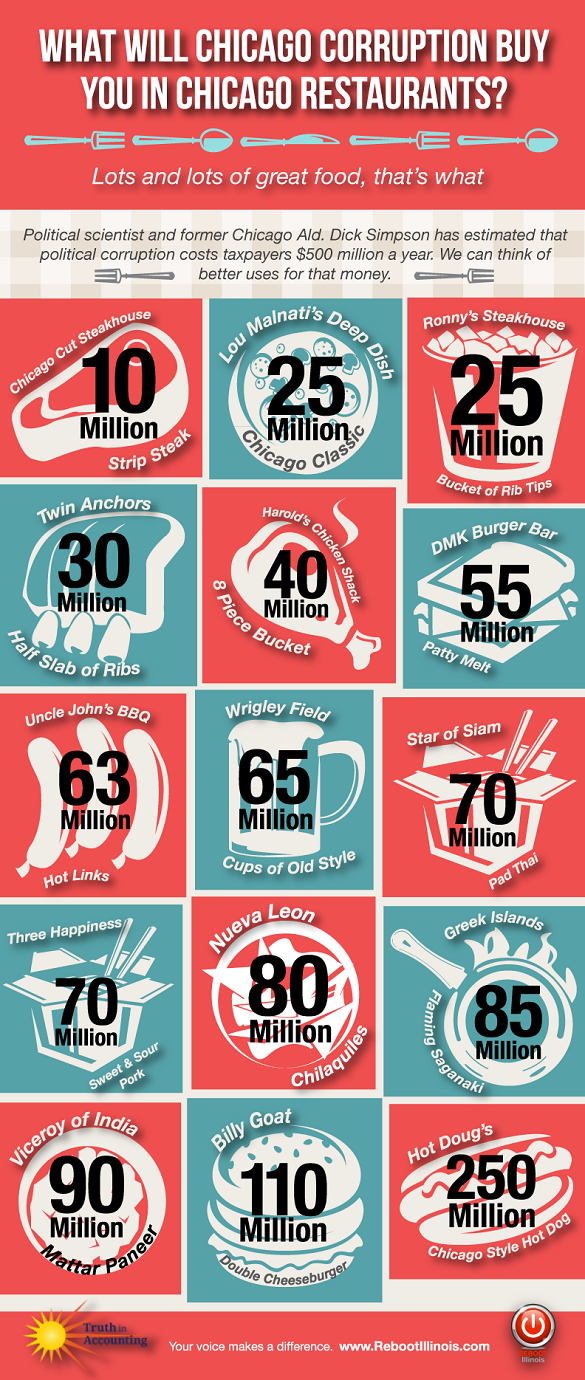 Dick Simpson is a long-time professor of political science at University of Illinois-Chicago. He also is a former alderman, whose career included significant contributions standing up to City Hall and against corruption in the city.
In recent years, he and some colleagues have estimated the cost of corruption in Chicago at roughly $500 million a year. (See this report, "Leading the Pack").
What will $500 million buy you, in terms of orders of some great Chicago foods? Roughly speaking, based on recent prices, hope you enjoy this lifetime of eating:
Chicago Cut Steakhouse – Strip Steak, 10 million
Lou Malnati's Deep Dish – Chicago Classic, 25 million
Ronny's Steakhouse – Bucket of Rib Tips, 25 million
Twin Anchors – Half Slab of Ribs, 30 million
Harold's Chicken Shack – 8 Piece Bucket, 40 million
DMK Burger Bar – Patty Melt, 55 million
Uncle John's BBQ – Hot Links, 63 million
Wrigley Field – Cup of Old Style, 65 million
Star of Siam – Pad Thai, 70 million
Three Happiness – Sweet and Sour Pork, 70 million
Nuevo Leon – Chilaquiles, 80 million
Greek Islands – Flaming Saganaki, 85 million
Viceroy of India – Mattar Paneer, 90 million
Billy Goat -- Double Cheeseburger, 110 million
Hot Doug's – Chicago Style Hot Dog, 250 million
In other words, $500 million will get you 85 million orders of flaming saganaki at Greek Islands. That's a lot of OPAs! Hope the city of Chicago doesn't end up like the cheese in this video. (Looks like the OPA tradition may have been born at The Parthenon, a neighbor of Greek Islands).
Down the road, more seriously, maybe we should convince the city of Chicago and the State of Illinois to annually estimate the cost of corruption along the lines of the methods of Simpson and his colleagues, and include those costs in the annual income statements or footnotes.
For more on Illinois' budgeting and financial policy, visit Truth in Accounting. To make your own charts based on state financial figures, visit State Data Lab.