It's easy to get bogged down thinking about all of the things wrong with Illinois: $100 billion in unfunded pension liabilities, a $9 billion deficit and a history of government corruption and inefficiency.
Luckily, as any Illinoisan can tell you, there are a lot of good things about Illinois too. The state is home to some of the country's most important transportation hubs, prestigious universities and the site of an international-grade city full of culture and food. Plus, the people are great too.
Lest we forget just how wonderful our state is, take a look at this Illinois Wall of Fame: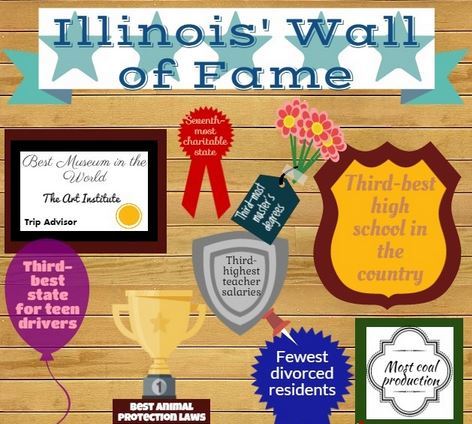 Most coal production
Third-most awarded master's degrees
Check out Reboot Illinois to see the lower half of the Wall of Fame and learn a few more cool things about Illinois--just how well did the state rank for LGBT inclusiveness and millennial living?
Sign up for our daily email to stay up to date with Illinois politics.
RELATED ARTICLES: