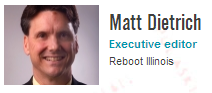 THE BIG FAIL Who is to blame for last week's epic collapse in the Illinois General Assembly? Certainly there was some ego involved, as the two top Democrats dug in over how to solve the greatest financial crisis in state history. What about all of us? Aren't we to blame for putting up with it year after year? That's our opinion. Read it here.
SHRINKING PROSPECTS Chicago Tribune cartoonist Scott Stantis credits House Speaker Michael Madigan and Senate President John Cullerton with drawing a new map for Illinois. Check it out here.

WHO'S THE PENSION AGITATOR? Capitol Fax newsletter publisher Rich Miller got a scolding from House Speaker Michael Madigan at a Springfield restaurant for, in Madigan's view, stirring things up between Madigan and Senate President John Cullerton over pension reform. But as things went into full meltdown mode in Springfield Thursday night, Miller wondered who was the real instigator. He explains in his column.

RUTHERFORD'S MANSION QUEST As a longtime Springfield resident, I know that nothing endears a candidate for governor to a Springfield crowd like a pledge to live in the Executive Mansion if elected. Illinois Treasurer Dan Rutherford made that promise on Sunday in Springfield. Is it a big deal whether the governor lives in Springfield? Yes and no. I explain on our running Campaign 2014 scorecard today.

ONE UGLY DEAL If you've driven a car in Chicago in recent years, you probably know the scourge of the city's greatly loathed, 75-year parking meter deal. It brought the city a burst of money and drivers decades of anger. There's not enough lipstick in the world to make this pig look appealing, as Mayor Rahm Emanuel is learning. Better Government Association President Andy Shaw explains in his weekly column.

SOUNDING OFF "What a bunch of losers. And we, the people of Illinois, will pay the price." So opens the Chicago Sun-Times' editorial on the Illinois legislature's ineffective session last week. The state's three biggest newspapers had plenty to say about the Great Failure of 2013. Knowing you may not have time to read them all, we give a Cliffs' Notes version.
DAILY TIP-OFF The Illinois Republican Party has a new leader in Jack Dorgan, a lobbyist from Rosemont who is a 12-year member of the party's governing committee. He tells Bernard Schoenburg of The State Journal-Register: "Hopefully we can show a united message and the candidates themselves will understand that sometimes primaries are good... but when you come out of a primary so wounded 'cause you beat each other up ... that's a problem."
The Peoria Journal Star points out that one way to regain hope for progress in Illinois after the lame legislative session is to get involved in our redistricting reform effort.
The Chicago Sun-Times' looks at efforts by Chicago Ald. Ed Burke to win $11 million in property tax appeals for some big-name clients including Oprah Winfrey and Donald Trump. Hmmmm. Is that a conflict of interest, Alderman?
As already noted, Illinois Treasurer Dan Rutherford now is officially a candidate for governor. He joins Chicago businessman Bruce Rauner in the GOP primary field.

And in case you missed any of the weekend coverage of the end of the spring legislative session in Springfield, we have several summarized and linked in the Daily Tip-Off section of our website.