Debate over the minimum wage is all the rage at the moment at both the federal and state levels. Illinois Gov. Pat Quinn has made raising Illinois' minimum wage from $8.25 an hour to $10 a major plank in his reelection campaign platform.
President Barack Obama advocates doing the same at the federal level, which now has a $7.25 minimum wage.
The tug-of-war on this issue is intense. While the Congressional Budget Office issued a report saying raising the federal minimum wage would hurt job creation, proponents say it's a necessary step to ensuring that all full-time workers can make a "living wage."
But as the graphic illustrates, "living wage" is a highly relative term. Specifically, it's relative to where you live. This interactive map breaks it down to the county level in each state. Note the difference in what constitutes a living wage in, for example, Massac County in far southern Illinois and Cook County.
Posted with permission from accountingschoolguide.com.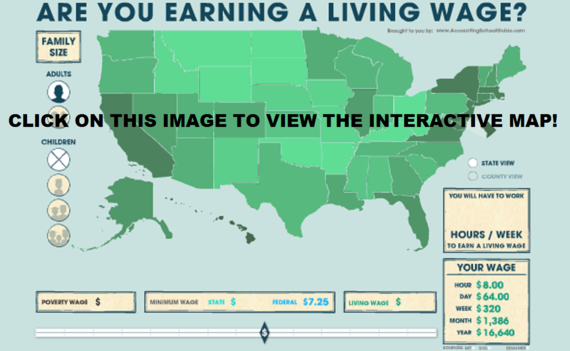 Want more? Here are 3 Related Articles:
Gov. Pat Quinn advocates for increasing the minimum wage in this interview with Chicago Sun-Times political writer Natasha Korecki. 
Here's the Congressional Budget Office report that says raising the federal minimum wage could slow job creation.
Don't forget to like Reboot Illinois on Facebook!