By Deborah Lindquist
I overheard a woman at a dinner party once say, "Put it on the table, I'll deal with it later." And while we may have said that very thing ourselves this holiday season, as we shared our social selves with friends, family, food, libations, we may now look in the mirror and say, "Does this outfit make me look fat?" (Do me a favor and please don't ask your husband, boyfriend, or lover this question.)
I find that women are quite hard on themselves when it comes to so-called figure flaws. But since this present moment is actually "later," your New Year's resolutions may include getting back into fabulous shape through diet and exercise. But you can also look fabulous while doing it. The trick is to dress thinner.
How do you do this? Here are my keys to a thinner, more stylish you:
Mix "high and low" pieces together: A long cashmere color blocked cardigan is perfect over your favorite skinny jeans or leggings. Button it at the waist for shape, and let it skim gracefully over your hips to create a long, lean line. Add heels to create more height.
Mix fitted and full to dress taller: A fuller pant or skirt with a fitted top will help camouflage extra hip and thigh curviness, meanwhile offering shape in the upper body. A longer easy top over leggings or skinny pants with stretch can create the illusion of length, meanwhile hiding any undesirable midsection poochiness.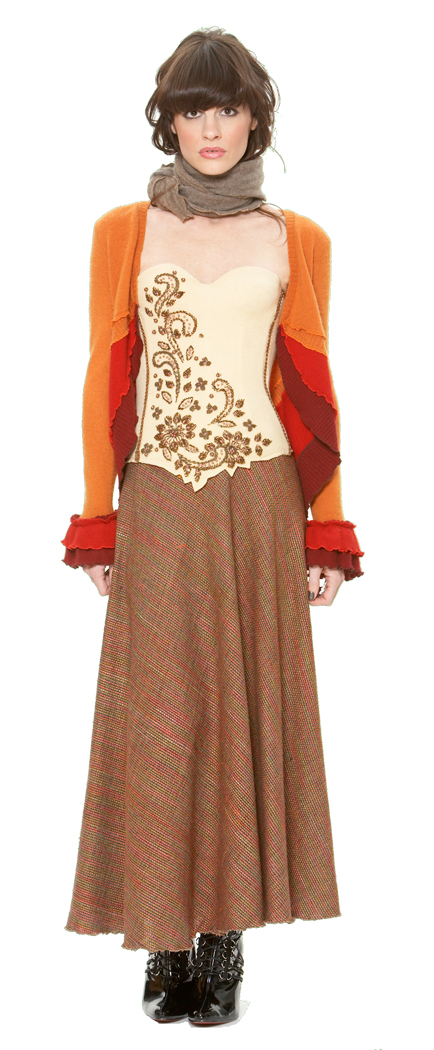 Photo credit: Glenn Campbell Photography

Show off what you do like about your body: Your shoulders are a good place to start. A "cold shoulder" or halter top will show off your shoulders, or feature your collarbone and shoulders in a wide boat or scoop neckline.
Wear a fun accessory: Wrap an appliqué cashmere scarf around your neck to draw the focus to your face. Try a color that enhances those beautiful eyes and reflects some color up on your cheeks.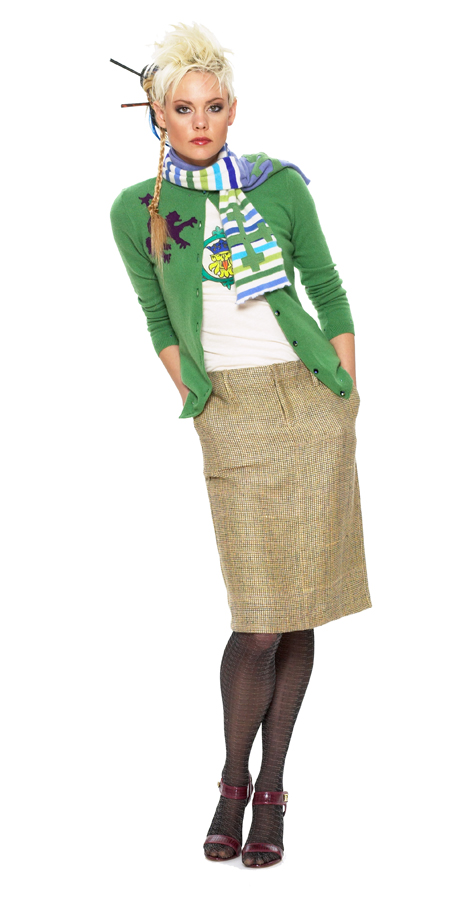 Photo credit: Glenn Campbell Photography
Wear something fitted in the right places: Avoid the notion to dress in mumu shapes. Fitted shapes will actually be more flattering. Maybe an empire waist dress, fitted at the bust and then flowing to the floor. You'll feel comfortable and sexy at the same time. Shape in your waist if your bust is fuller with a wide belt or wrap top. For evening, try a bustier with a long full skirt to shape and streamline your upper body, while keeping your silhouette long and lean.
Wear heels: Do you notice how you stand sexier in heels? Whether you like platforms or spike heels, boots or shoes, wearing heels will give you an instant attitude boost, meanwhile making you look taller and thinner.
Wear body shapers: There are amazing body shapers out there. Maybe this is the time to try some out. Do you ever wonder how the women on the red carpet look so flawless? They're probably all wearing Spanx.
Lastly, watch your posture. Remember "samasthiti" from your yoga class? Stand up tall, and smile. There is nothing more attractive than a woman who enjoys and has enjoyed her life.
Happy New Year, everyone!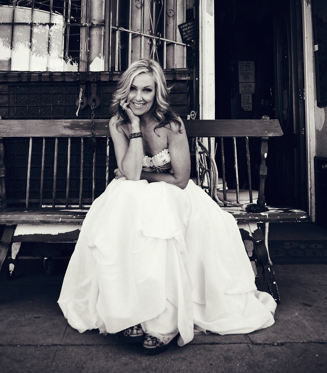 As one of American's most sought after environmentally conscious designers, Deborah Lindquist creates exquisite apparel out of a mix of "reincarnated" and new Earth-friendly fabrics, such as cashmere, hemp, and bamboo. Lindquist's avant-garde apparel has been showcased in numerous publications including Elle, In Style, Lucky, WWD, Vibe, People, Brides, and Maxim. You can also catch her one-of-a-kind pieces during episodes of Lifetime's "How to Look Good Naked" and Access Hollywood's "Hollywood Green." She has dressed trendsetters such as Rihanna, Pink, Christina Aguilera, Jessica Simpson, Paris Hilton, Keisha Cole, and Jessica Alba. Check out her designs at deborahlindquist.com and read her blog on Red Room.