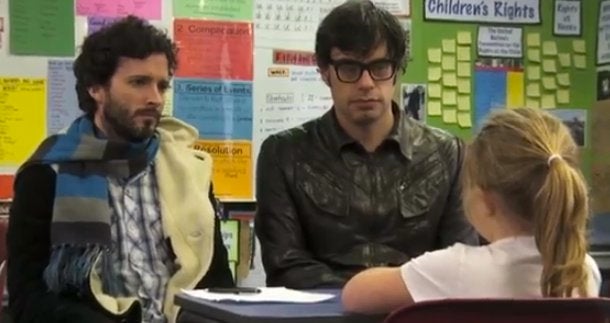 I always tell my kids they can choose to do absolutely anything in the world they want when they grow up. So they need to do some work now, at school age, to have their choice at what they'd like to do in college and beyond. Lately, I've seen how a bit of adult observation, support and reinforcement can affect kids in such a great way and I wanted to share a couple of examples, starting in sports.
You may already know that New Zealand is a rugby-loving country. Arguably more brutal than American football, rugby is a head-banging, full-tackle sport played mostly without pads or helmets. The national team, our cherished All Blacks, won the Rugby World Cup last year. A child can start playing grassroots rugby here as young as 5 years old, and for many a Kiwi family, every winter Saturday starts with a game of rugby -- rain, hail or shine. Each year, growing numbers of youngsters start playing at local clubs, then move on to school level, and those who are really driven can continue afterward at higher club level, hoping to be picked up by provincial teams.
Our school doesn't have a reputation for winning rugby championships. We do many things well, but rugby isn't one of them. We play nicely; we lose nicely. In my experience, it's not been the natural flow of the school to collectively support and celebrate team wins in rugby. They do require each student to participate in some sort of sport each term and adhere strictly to the policy of fair play. But this year, for the first time since our family has been at the school, a father with some chutzpah took on the role of assistant coach for my boys' team. Our coach (a teacher at the school), is a really kind and fair fellow, mind you, but he doesn't endorse an in-it-to-win-it ethos in his coaching. Our assistant coach, however, is one of those grunty dads who obviously played rugby when he was young as, true to stereotype, his nose has been bent to one side of his face. He thoroughly scrutinizes the form of each player, finds their weaknesses and shows them how to improve. He doesn't just toss them a line or two when reviewing each practice or game, he lives through it with them. And he also makes them feel like a family of superstars when they do well. Meanwhile, I'm on the sidelines at every sporting event screaming my head off for my kids amid a sea of much more restrained and politically correct school staff and family members.
Toward the end of this season, the school management reminded our team's parents (read: me) to keep our passion in check, to remember that these boys are only between the ages of 10 and 12 years old. The dad-coach, however, told the boys this could very well be the only rugby final they might experience in their lives, and therefore, they should play like it would be their last one ever. (Absolutely true: High-school rugby is fiercely competitive here.) The result? Our team won the city championship cup for their grade last week -- the first time for our school in 21 years. Would you guess, then, that every member of this young team has improved this year? You bet your cotton socks. And I, for one, loved it. Maybe it's because I'm American and I think winning is just plain great.
I have to admit, the school might not think the sun rises and sets on rugby, but they do believe that valuing children is one of the keys to their future success. They try to ensure that the children get a great education and do so largely to great effect (with civility, of course). I suppose some of my Georgia Bulldog upbringing finds a way to wriggle loose at sporting events. Mrs. Varcoe can be heard shouting her support from fields afar. Thankfully, as Anatole France beautifully said, "Nine-tenths of education is encouragement."
The power of suggestion can be a potent influence, especially on the young. In truth, children listen to their teachers and coaches much more readily than their own parents. Those of us who were young once ourselves all know parents are clueless with regard to most everything, for goodness' sake! As far as kids are concerned, parents have no idea about how to win in sports, unless of course they're world champions or something (and I actually have some evidence to support that).
I am asked to cohost a community radio show called Women's Voice every few weeks. The subject I chose for my most recent show was sports, following the almost best-ever results New Zealand achieved at the Olympics last month. I called Sonia Waddell for an interview, as her children go to school with mine. Sonia's one of our local sporting heroes who's a past Olympic rower and the wife of an Olympic medalist, as well as being a daughter and sister of All Blacks rugby players. Kind as she is, she didn't mind for a moment that I'd be interrupting her kids' bath time for a 45-minute phone interview. We talked about her upbringing in sports and how she and her husband raise their three children to know they shouldn't be afraid to give things a really good try at least once. (Coincidentally, that day her two youngest children had won cross-country races in their age groups.) Sonia believes that teaching kids about balance and giving them the opportunity to try a variety of activities until they find their rhythm is how they'll discover what they may grow to love and do well. And support from family and friends, which she has always enjoyed, is paramount to ongoing success. Sonia's children fully understand the value of giving something every bit of effort you can, then reaping the rewards of your trouble. Though they're very young, they have a home full of trophies and medals hard-won by their parents as proof.
One of the bonuses of raising kids in New Zealand (especially the Waikato region) is running into Olympic medalists from time to time. At the grocery store, riding past on a bike, pumping gas, rowing on the lake... Heroes are quite often in our midst. It's astounding to me that a country with just over 4 million people can boast 13 medalists from one Olympic Games, and many more from past Games. I'm originally from a city of that size in America and I think we may have had one or two Olympians -- ever. To New Zealand's Olympians, the beginning and end is all about the love of the sport. There are never million-dollar sponsorship deals waiting on the other side of the medal dais. Encouragement that comes from families and coaches, sometimes starting at a very young age, is what can help ignite a fire and keep it burning bright.
Generally, I'd say children in New Zealand are especially clever at working out what's important in the ways of the world. And I would also submit that in this country, kids aren't particularly worried about what car the neighbor is driving. Most, regardless of social status, are outside running barefoot with abandon from their first steps all the way up until adulthood. Kiwis seem to care about issues in their own country more than anywhere else... in a good way. New Zealand is like a little world onto itself. You could argue that case about many other countries, regardless of size. But here on the north and south islands of Aotearoa (the land of the long, white cloud), because we operate pretty much inside our own bubble and are also a small country based on population, I see very often that people take a long, considered look at a person or community needing help and decide quickly to jump in, gumboots and all, to assist.
Now, here's the inspiring part. If you've read some of my other blogs, you'll know I work at a wonderful new charity called Social Angels. It's my job to think of ways to help other people in New Zealand, probably making mine one of the best jobs around. When I saw a video last week that based a new charity song around the ideas of young children, I thought it was just perfect (as well as hilarious). Children were invited to help the Flight of the Conchords create lyrics to a song -- a brilliant idea by a Kiwi named Brooke Howard-Smith -- for the Cure Kids charity. Endearing and simple ideas that come from children can move even the most disagreeable of us. And, back to me and my parenting style, I just can't apologize that I'm one of those forever loud and proud parents who can't find the volume control. I know whether my children rise to dizzying heights or fall down flat on their road through life, I'll be right there cheering alongside them.
Hope you enjoy this glimpse of some of our Kiwi kids (and their supporting cast) as they contribute to what will soon be New Zealand's favorite song: