As I write, twelve men and women sit inside a glass conference room at the Bronx Criminal Courthouse deliberating the facts and evidence surrounding a dogfighting bust in which eight men were arrested on June 14, 2008. Over the course of two weeks, the jury listened to both the prosecuting attorney and defense attorneys' arguments, and now the fate of four men -- of the eight men arrested, only four (Alexander Estephane, Juan Toledo, Auritz Acoy and Alterik Mason) were tried -- is being decided by a jury of their peers.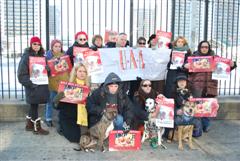 The closing arguments by the defense included common misinformation about pit bulls. Conway Martindale, Estephane's attorney, told the jury that his clients' 13 unaltered pit bulls were not fighting dogs, they were "friendly family pets" despite the fact that they lived in deplorable conditions outside in crates. He also reminded them that his clients' pits could not be fighting dogs because they were too skinny. "Fighting dogs need to be well-fed, bulked up and strong to get in a ring, like a boxer, like a champ. But these dogs couldn't have been fighting dogs because they were too skinny."
A little investigative work by this attorney would have enlightened him to the fact that fighting dogs are purposely kept hungry so that their desire to kill and ravage is even more profound in the ring, hence Estephane's 13 skinny dogs.
Defense Attorney Martindale also told the jury that when the cops went to survey the area outside Estephane's home on East 179th Street, the dogs were all wagging their tails, further reinforcing the fact that his client owned friendly pit bulls and not "vicious fighting dogs."
However, where Mr. Martindale fed the jury fiction, the prosecuting Assistant District Attorney, Elizabeth Brandler, clarified the facts. Besides talking about the great shifting terrain between wrong and right, she told the men and women before her that while pit bulls who are trained to fight may be dog aggressive, they have to be human-friendly in order to be handled by their masters. In her closing summation, Ms. Brandler's message to the jury was to do good and trust their conscience.
And that they did. After an entire day of deliberations, Acoy and Mason left the courthouse free men on Thursday while Estephane and Toledo were found guilty of dogfighting. They will be sentenced on March 17, 2010.
In the world of dogfighting as it pertains to the law, the outcome is a real victory. "I am very pleased about the verdicts delivered today," said UAA President, Jennifer Panton. "Many thanks go out to the NJ and NY Police Departments as well as Animal Care & Control of New York City. The legal expertise and devotion of ADA Elizabeth Brandler and Jacob Kaplan is a whole other victory, and let's not forget the 12 men and women of the Bronx who let the world know loud and clear today that dogfighting will not be tolerated."