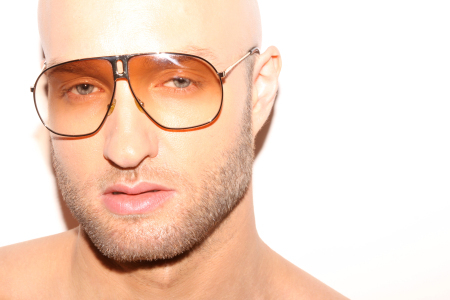 Recording artist Cazwell called me while out running errands in NYC to chat about his latest single with Peaches and recent collaboration with Luciana, as well as his plans for his upcoming album.
I can barely hear you with the sirens. Where are you right now?
Right now I'm on Madison Avenue... I just bought glasses for my apartment. It's a new place for me that's more expensive than my last place, but it's time to grow up. I lived in the East Village for six years in a run-down building. My rent was only $400 a month, and it was owned by an old-school Ukrainian family. The apartment was slanted about seven inches, the electrical couldn't even handle an air conditioner, my landlord would only turn on the heat when it snowed. This one time, there was a robbery, and I called the cops. When the officer arrived, he looked around and then asked me, "Are you squatting here?"
It's been a while since I saw you. What have you been up to?
I've been working on my new album, and I'm really excited. I just finished a track with Luciana Caporaso. She's just got such a great voice that sounds like it's made for a dance floor. And you know, Reggie, she's a sweetie, too.
You've been able to collaborate with some great performers. You debuted your latest single, "Unzip Me," with Peaches, on my stage in Palm Springs. How did you two end up working together?
We know a lot of the same people, and a mutual friend had a party, and she told me that she wanted to do a track with me. I really wanted this to happen, so I sent her three tracks, thinking, "She's got to like at least one of these." "Unzip Me" was the one she picked. When she sent me the vocals that she had recorded for it, I got the chills listening to it a cappella. She has such an amazing, "bad girl" sound in her voice. When we shot the video, she and I were standing next to each other, and I remember thinking, "Oh my God, I'm really working with Peaches right now, and she's performing my music." It's an incredible feeling, because she's an artist and a person I respect so much. I love her creativity and also the way that she lives her life -- her punk-rock mentality.
Someone else you've worked with a number of times is Amanda Lepore. She and I were talking the other day, and she told me how much she really loves you and loves working with you.
I was the executive producer of her album and wrote all but two of the songs on it. She's somebody that really means a lot to me. She's probably my favorite person, and I just love how she lives life. She's got a really punk-rock attitude, as well. A couple of years ago, Amanda won some nightlife award for being "Best Dressed." She went up to accept the award completely naked and says, "I don't know much about clothes, but my hair looks fierce," and I knew right away that was a great lyric. "Cotton Candy" was all about a really sweet guy she dated. "Love You Down" was a song I wrote for her about a guy that she dated who was a total dick that I hated... but I wrote it for her. I really love her albums, because the lyrics really introduce you to a person that I admire.
Well, I know you are finishing up your own album. What are you trying to achieve there?
For my album, my goal is to get 10 really solid songs where I love them all, and if I am DJing, I would play myself in a club. Everything you can move to on a hip-hop level or a dance level. I'm also getting ready to shoot my next video.
What's the single?
It's called "Rice & Beans," and it's going to be really hot. It's about a love affair with an uptown Dominican. I'm planning out the video for it right now, and it's going to have lots of hot latin boys and be a little on the cartoony side.
Sounds like another South Bronx fantasy.
Yeah. I'm casting lots of hot boys with cute faces who know how to shake their ass. If you know of anyone... [Laughs.]
How would you describe your music?
There's elements of hip-hop in what I do because I rap, but I'm not hardcore. I don't consider myself any more hip-hop than, say, LMFAO. If you look at my catalogue of music, what I really make are party songs, music that people can have a good time and dance to. There was certainly a time when I wanted to be accepted by the rap community. I started out in a rap group in Boston, and I had this whole dream in my head in regards to my sexuality that one day these attitudes will change, and that didn't happen exactly that way, but then I met Larry Tee, and he told me, "Instead of trying to get these people to accept you, make your own scene and your own sound. Make your music and your audience will find you." And they really have.
Just recently, I was chatting with a hip-hop music exec, and your name came up...
Oh, really?
He had coined a nickname for you.
What is it?
He called you :Gay-Z."
[Laughs.] Well, I'd never put myself up on the same level as Jay-Z. I mean, to me he's one of the top rappers of all time. He's a lyrical genius. Just extremely talented, but that isn't really a compliment. They're really bringing my sexuality before my music, which is kind of lame. I'm obviously comfortable with being gay, but does anyone refer to Jay-Z as a heterosexual rapper?
Let's talk about sexuality. How old were you when you realized you were gay?
When did I know I was gay? As soon as looking at other boys gave me a hard-on. [Laughs.] I've always known I was gay and had crushes on boys. When I was a little kid I had a crush on MCA [Adam Yauch] and Mike D from the Beastie Boys. Really, I think it was that I wanted to be MCA. I had seen him live like eight times, and he was someone I definitely wanted to emulate.
What sort of a little kid were you? What was your favorite thing to do growing up?
Among my brothers, I was always the gay/creative one. I was in chorus, and I used to love to perform poetry. I had Shel Silverstein stories that I'd memorize and perform, because it was like I always knew that for me there was this power to rhyming and lyricism. When I was in school, I hung out with a lot of skaters and punk kids, but I stayed out of trouble. I was in drama class, and I had a part in 10 Little Indians.
That's cute.
The thing is, though, that I didn't really like acting. I wasn't into the idea that someone else gave me words to say and told me where to stand and how to feel.
But you're obviously very connected to your work creatively.
I suppose so. There are people who perform music that someone else wrote, that wear clothes that other people pick out for them, and that's just not the sort of artist that I am.
What sort of guys do you like?
I like guys who know how to make a fool out of themselves and not take life so seriously, because truthfully, I'm a very motivated person, and I can be very focused and serious about my work. When I am with someone who is very carefree, I appreciate that, but don't get me wrong: I'm not going to be someone's sugar daddy. They should have a job and work of their own and things that motivate them... and be a total whore in bed. [Laughs.]
Cazwell can be seen as the host of the Here TV program Boombox. Follow him on Twitter and Facebook.