Careers Through Culinary Arts Program (C-CAP), a pioneering organization that has awarded $37 million in scholarships for students attending culinary/hospitality programs across the U.S., will be holding its annual Gala Benefit on Monday, March 4, at Pier Sixty/Chelsea Piers in NYC. Open to the general public, every year this event wows attendees with more food from more chefs than any one human could possibly consume (though we can try)... and all for a great cause.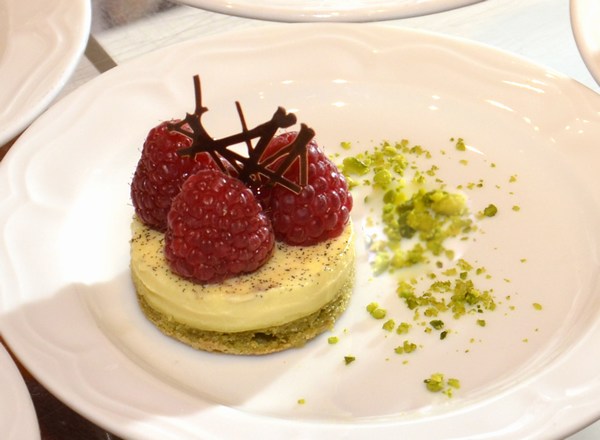 Restaurant Daniel / Daniel Boulud & Sandro Micheli: Pistachio Dacquoise with fresh raspberries and vanilla cream (Jerry Ruotolo, Courtesy C-CAP)
C-CAP not only awards scholarships to culinary and hospitality students, it operates high school culinary programs in underserved districts as a means to break the cycle of poverty through meaningful careers in the culinary and hospitality industry. Founded in 1990 by Richard Grausman, a life-long educator and cookbook author, C-CAP has transformed the lives of tens of thousands of inner-city kids. Donating millions in equipment, supplies, and training hours, as well as connecting budding chefs with established chef-mentors, internships and jobs, C-CAP is the only nonprofit of its kind, and its impact is quite frankly beyond measure.
The annual Gala Benefit raises a healthy portion of the funds that go towards C-CAP programs, so as attendees mill about the grand tasting, they do more than enjoy the stellar food and rub elbows with the culinary elite, they also do their bit to provide solid futures for kids who might otherwise have little options. Eating well and doing good, my favorite kind of culinary event indeed.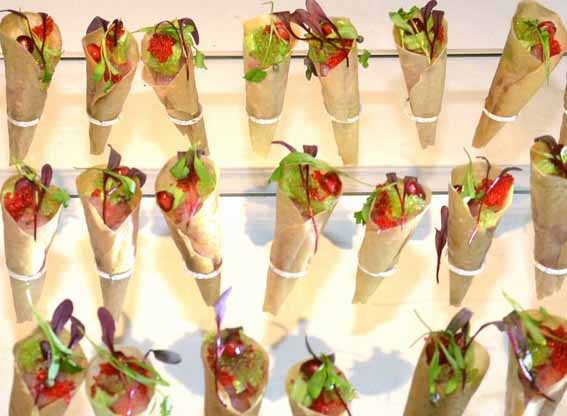 Extra Virgin / Joseph Fortunato: Tuna Tartar Cones with avocado mousse and pomegranate (Jerry Ruotolo, Courtesy C-CAP)
The list of participating chefs at this premier event reads like a who's who of the culinary industry, and includes C-CAP Board Member Marcus Samuelsson, Top Chef Host Tom Colicchio, Iron Chef Masaharu Morimoto, Top Chef Masters' Jonathan Waxman, the eclectic Wylie Dufresne of wd~50, and renowned Pastry Chef Ron Paprocki of Gotham Bar & Grill. C-CAP alums Thiago Silva, Sean Quinn, Alfred Stephens, and Kelvin Fernandez, all of whom have risen high in their careers, will also be participating this year.
Chef Matt Hoyle of Nobu 57, another participating chef as well as one who hires C-CAP students and alum, told me why chefs like himself and others make time for C-CAP. "There isn't any other organization that does what C-CAP does. I have these kids working in my kitchen, and even with the hard cases, my mentoring them and giving them a chance is what makes a huge difference in their lives. That just wouldn't happen without C-CAP."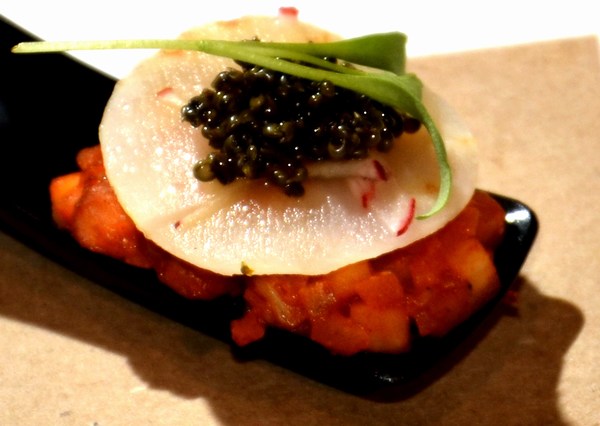 Kibo / Ayumu Matsuda: Lobster Salad with black quinoa, celery root and preserved lemon (Jerry Ruotolo, Courtesy C-CAP)
Nearly as remarkable as the food is this year's silent auction. On the block are a first class trip to Positano to stay at Tre Ville (where celebs like Elizabeth Taylor and Liza Minelli vacation), a week-long stay (including air fare) at J.K. Place on the island of Capri, a jaunt through Rome, Florence and Capri, and a feast for 16 people cooked by Marcus Samuelsson in your home or in the private dining room at Ginny's Supper Club.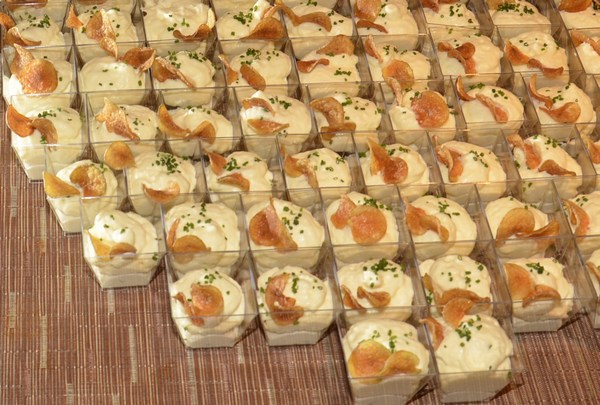 Colicchio & Sons / Tom Colicchio: Potato Bavarois, Hackleback caviar and vodka cream (Jerry Ruotolo, Courtesy C-CAP)
By far not the complete list, here's a small sample of the chefs and the dishes they'll be offering at this year's C-CAP Gala Benefit:
Chef Toni Robertson of Asiate at Mandarin Oriental: Soba Noodles, Trout Roe and Uni Cream
Jonathan Waxman of Barbuto: Gnocchi with Walnut Pesto and Budino
Pastry Chef Ashley Brauze of DB Bistro Moderne: Grapefruit-Chocolate Terrine, layered with grapefruit vanilla diplomat, dark chocolate cremeux, chocolate pain de genes, and Campari-poached grapefruit
Matt Hoyle of Nobu 57: sautéed Nantucket bay scallops on a salad of baby spinach, yuzu, parmesan, extra virgin olive oil and dried miso
Pastry Chef Alexandra Ray of North End Grill: Key Lime Cheesecake with sour cream gelée, blood orange and coconut-lime fluid gels, macadamia toffee powder and shards
Matteo Bergamini of SD26: Soft Quail Egg-filled Raviolo with truffled butter and Parmigiano Reggiano
Mario Carbone and Rich Torrisi of Torrisi Italian Specialties: Duck Terrine with mulberry mustard
Regina Varolli is the author of "99 Things You Wish You Knew Before Going To Culinary School," endorsed by Bobby Flay and Johnny Iuzzini, among many others, as a "must read" for anyone considering going to culinary school.