If you're a regular reader of The Huffington Post Food section, then you probably love food. If you also love cooking and baking, but you're not quite a pro, then maybe you've wondered about taking some recreational culinary courses designed for home cooks and bakers. Well there's good news for you if you have, there are a lot of classes out there for you.
Whether you want to dedicate a weekend or an evening (or two) to honing your skills in cooking or baking, or even your knowledge of wines, an internet search will turn up exactly what you want. But to get you started, here are a few of the best programs for cooking and baking enthusiasts.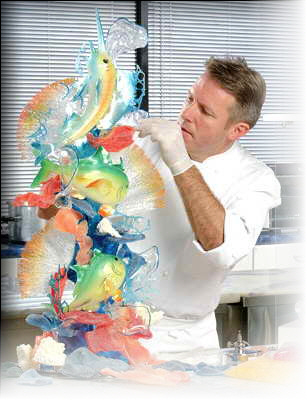 Ewald Notter, Award-Winning Sugar Artist & Founder of the Notter School of Pastry Arts in Orlando, FL (Photo by Doug Scalette, Courtesy Notter School of Pastry Arts)

New York City is full of recreational cooking classes. Both the International Culinary Center and the Institute for Culinary Education (ICE) have frequent classes for home cooks who want to take their skills and knowledge to the next level. The ICE boasts hundreds of these classes, and last year alone, 23,000 people participated. But don't let that number fool you, the class sizes are small, and are often taught by noteworthy instructors who hold down impressive jobs in the industry.
The Institute for Culinary Education offers Recreational Classes in cooking, baking, wine and beverage, food media, and career development. Prices start at $105 for a minimum four-hour class, and they're always held on weekends and evenings. Sample courses are Cake Decorating, Cupcake Workshop, Breakfast Pastries, Knife Skills, Pizza, Essentials of Fine Cooking, Wine Essentials, and Wines of the Veneto. There's no way I could list them all here -- there's way too many -- so check out the website yourself and book early, because they sell out fast!
The International Culinary Center (ICC) also has a great Recreational Division, though not as extensive as the ICE, the ICC still offers classes in culinary, pastry and bread, and wine and beverage, and they also have programs and summer camps for teens. The ICC offers cooking classes from $195 for a four-hour course to $785 for a 15-hour course taught in three sessions. Some examples of culinary and pastry classes are Chocolate Desserts, Classis Croissants, Parisian Breads, Sushi, Tapas, The Secrets of Spices, and High-tech Cocktails.
For those not living in New York City, a great place to begin your search for recreational cooking classes is at Le Cordon Bleu, which offers culinary and baking classes at all of its sixteen campuses across America, including Las Vegas, Los Angeles, Chicago, San Francisco, Sacramento, Miami, Dallas, and Boston. A few examples of what you can study at Cordon Bleu campuses are cake decorating, appetizers, and French and Italian Cuisine. The 3-hour classes cost $90.
Le Cordon Bleu's first campus was in Paris -- where Julian Child studied -- offers extensive recreational workshops and demonstrations. So if you want to learn how to make the perfect baguette, French soups, crispy desserts, traditional French breads and regional French cuisine, why not learn from an instructor who really knows what these things are? All classes are taught in English, so it's a perfect activity for foodies to add to their Paris vacation.
Classes at Le Cordon Bleu, Paris, range in price from 45 Euro for several hours to 455 Euro for a two-day class. You can find a full list of classes on Le Cordon Bleu's website. From the Course Information Page, just click on "Paris Campus Programs" then "Paris Short Courses" and finally, click on the link to view courses by date, as this will also give you the prices.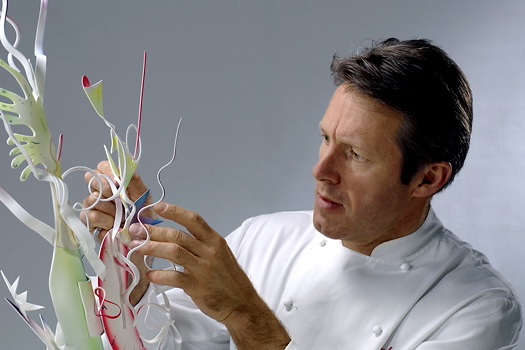 Ewald Notter (Photo by Neil Greentree, Courtesy Notter School of Pastry Arts)
If you live in Orlando, Florida and want to polish your pastry skills, then you're in luck! You've got the Notter School of Pastry Arts. Ewald Notter, founder of the school, brought home a victory for Team USA at the Coup du Monde de la Patisserie (Pastry World Cup) in Lyon, France, has won numerous other accolades, and his sugar skills are second to none in America (in my humble opinion).
The Notter School's website doesn't yet have its 2011 recreational course schedule up, but when I spoke with them they said they're planning to add recreational courses that will begin in the spring. For professional pastry chefs looking to master chocolate and sugar techniques, the Notter School offers focused continuing education classes for $830.
There are so many more cooking and pastry courses for non-professionals all across the country, and they're not only a great way to become a better home cook or baker, they're fun, and full of serious foodies like yourself. You can make great new friends who share your passion, or even spark a passionate new relationship (I know some couples who met in classes like these). So the next time you think I wish I could decorate a great cake, or I wish I had better knife skills, check out the recreational cooking and baking classes in your area and make that wish come true!