On Daniel Boulud's 50th birthday his business partner Joel Smilow gave him $100,000 and told him to spend it wisely, which he did by creating a scholarship for C-CAP alumni to send them to Lyon for five weeks at L'Institut Paul Bocuse. A long-time supporter of C-CAP (Careers Through Culinary Arts Program), Daniel again this year held a competition for two C-CAP alumni in his own kitchen of the flagship Restaurant Daniel, where he and both his Executive Chef and Chef de Cuisine judged the dishes of competitors Gabrielle Calle, Junior Sous Chef at BLT Fish, and James Daversa, Sous Chef at Lure Fishbar South Beach, Miami.
Closed during lunch hours, the kitchen at Restaurant Daniel is nevertheless busy during the day with prep for the evening service. So it's a great show of his support that Boulud is willing to give two days of time and space to C-CAP for this competition. Competitors Gabby and James were presented with the task of creating a chicken dish over the two days, creating a one-plate meal that would represent their own unique style while showcasing the main ingredient and the products of the season.
Chef Daniel Boulud checking on James Daverso's progress, Daverso in the background (Regina Varolli)
Gabby, who had been responsible for the pasta station at her previous position at Gotham Bar & Grill, made a chicken ravioli, noting that "Pasta never fails to cheer me up!" She also made her own ricotta that she folded into the minced chicken to create the filling.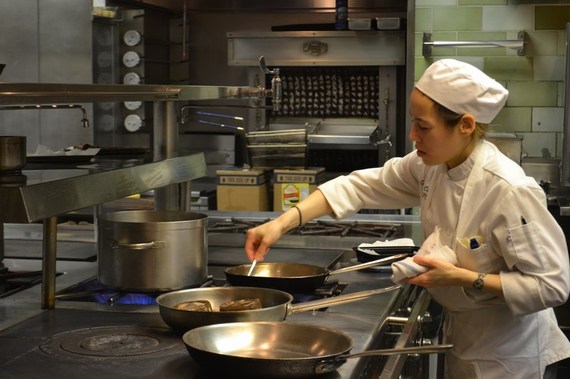 Gabrielle Calle, Junior Sous Chef at BLT Fish, competing in the kitchen of Restaurant Daniel (Regina Varolli)
James stayed close to home with his dish, a simple roasted chicken with vegetables. James said of his dish, "It brings me right back to my childhood, cooking with my grand-parents and parents. This dish is representative of myself and of all the techniques I have learned over the years since childhood."
Judging the dishes were Daniel Boulud himself, along with Executive Chef Jean-François Bruel and Chef de Cuisine Eddy Leroux. Beating out Gabby with only a few points, James Daversa won the competition and will be flying off to Lyon, France in May.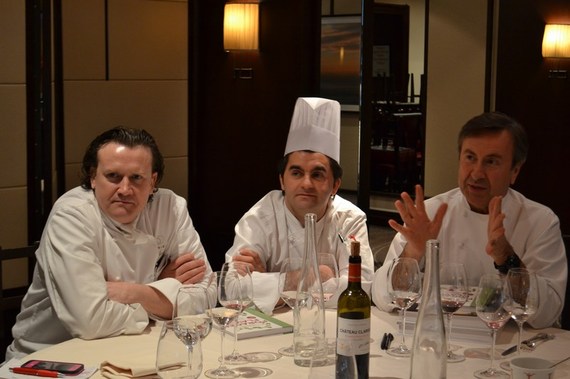 Judges, left to right: Executive Chef Jean-François Bruel, Chef de Cuisine Eddy Leroux, and Chef Daniel Boulud (Regina Varolli)
When I asked Chef Leroux what he thought of the competition, he explained, "It's always fun to see young talent express themselves. I think both candidates were very good. They had different approaches to the dish. One translated better than the other, but I think that they could both be going to France."
Daniel Boulud's involvement in C-CAP doesn't end with this competition, he also welcomes C-CAP alumni into his kitchen as interns and externs. Chef Leroux, as Chef de Cuisine at Daniel, has first-hand experience working with C-CAP alumni, of whom he says, "The C-CAP students we get here have been great. They are very motivated and hard-working. We are happy to have C-CAP graduates in our kitchen."
Of his ability to offer this tremendous opportunity to young C-CAP alumni, Daniel said, "I cherish being able to give the opportunity to a young chef who may not otherwise be able to have an international experience at this point early in their career. I think someone as young and talented as James Daverso will benefit greatly from this French culinary and cultural exchange." As to why he felt Daverso edged ahead of Calle, Chef Boulud said that "Daverso's dish was really about the chicken. Although Gabby was very creative, Daverso kept to the theme and executed his dish very well."
When James Daverso was announced as the winner, Daniel came up with a consolation prize on the spot for Gabby, who also received a signed copy of Daniel's new book... Her second prize? Dinner for two at Restaurant Daniel. Though not quite five weeks in Lyon, it was nevertheless a gift from Daniel's heart that touched Gabby deeply.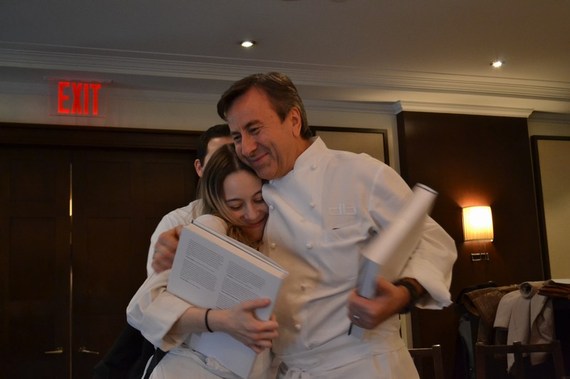 After announcing the winner, Daniel hugs Gabby and tells her she has an invitation to dine at Restaurant Daniel (Regina Varolli)
Speaking with both C-CAP competitors after the winner was announced, Gabby told me that she was "nerve-wrecked and stressed but that's what really pushed me. I'm completely honored to be cooking here in Daniel's kitchen. If you had told me a year ago that I would be staging here let alone competing here today, I wouldn't have believed you. C-CAP made it all happen for me. Today was really a learning experience!"
Of his experience and his win, James said, "I'm excited, very very excited! I wouldn't be here without C-CAP. In high school I was a big jock but my cooking teacher told me I was pretty good at this and then I met Richard and my life changed. I don't know where I would be without this organization."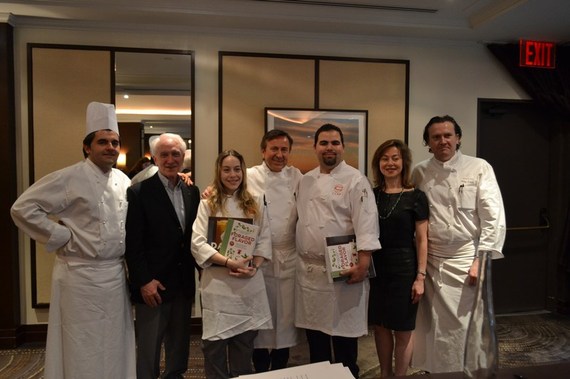 Left to right: Chef de Cuisine Eddy Leroux, C-CAP Founder Richard Grausman, C-CAP alum Gabrielle Calle, Daniel Boulud, Winner James Daverso, C-CAP President Susan Robbins, Executive Chef Jean-François Bruel (Regina Varolli)
The official announcement of the winner was made at C-CAP's Annual Awards Breakfast at The Pierre Hotel in NYC, an event at which C-CAP gave away over a half a million dollars in culinary scholarships to high school students, including two full tuition scholarships for a 4-year Bachelor Degree at the Culinary Institute of America and another for Johnson & Wales. The Daniel Boulud Scholarship includes a five week program at L'Institut Paul Bocuse, including several meals in Michelin-starred restaurants.