In the new Food Network series Save My Bakery, airing on Wednesdays, host Kerry Vincent doesn't hold back on straight-up constructive criticism, but she also has the opportunity to show viewers her compassionate side. Save My Bakery takes the often controversial Kerry Vincent to ten bakeries in the U.S. that are in serious need of a rescue, where Vincent does what she does best, serves up her honest and insightful two cents. But don't expect to see Kerry Vincent make like Gordon Ramsay and bludgeon these bakers with the hard truth, as Kerry herself told me in an interview, "I'm firm, but I'm not screaming. I don't need to be 'bleeped' out because I'm just not the four-letter word type of person. That's not my style."
What is Vincent's style is no-nonsense, a lot of common sense, and yes, a generous helping of compassion. For Kerry, this is a welcome change from her role as judge on Food Network Challenge where she was what she called "a polarizing figure on the show." As a judge on Challenge, Vincent became famous for her hard line and seeming lack of a soft side, on Save My Bakery, she welcomes the opportunity to "smile and be myself and not just be the grumpy judge."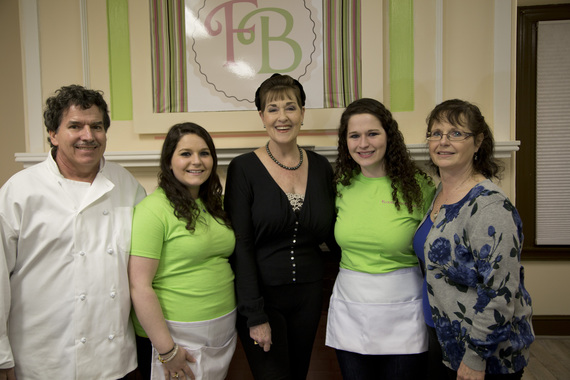 Kerry and the Owners of Flourtown Bakery (Photo Courtesy: Food Network)
Kerry admits, "people either love me or hate me, and that's OK." She got quite used to this on Challenge. But, explains Vincent quite happily, "I haven't really seen anybody not love Save My Bakery because it's not about me, it's about the bakery owners, their staff, the families, it's about relationships... and it's a great transition that I can actually develop a relationship with these people, and that I can laugh and be happy on camera!"
Yet, when her task is to ride into town and crack the whip in the hopes of actually saving these bakeries from failing, Vincent can't hold back her keen insights into why these bakeries are on the verge of failure. As Vincent remarked, "I still have to be stern, there's a lot at stake for these bakeries. But on Save My Bakery I have the opportunity to have more empathy. I'm not judging anybody on the show, I'm really trying to lift them up and let them fly."
It's not an easy situation to manage for Vincent. Many of these bakeries have been around for decades, and there's a clash among the younger and older generations. All of the bakeries are on the edge of financial disaster, and in many cases, the fact that the bakery has been around for three and four generations means the owners can be very set in their old ways and haven't even stopped to think about how to get with the times.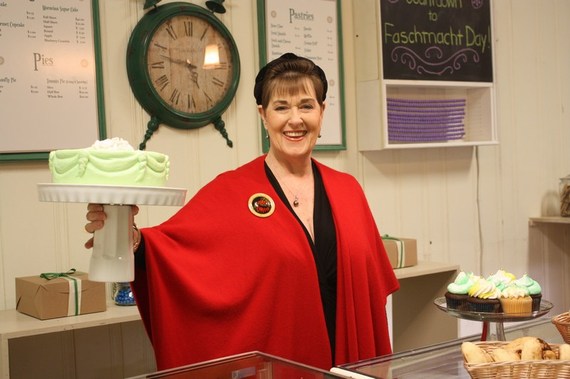 Kerry Vincent on Save My Bakery (Photo Courtesy: Food Network)
Vincent said, "I'm not afraid to tell them the truth. But at times it feels to them like I'm hitting them between the eyes with a two-by-four because nobody has ever said anything that isn't positive to them, for generations, and they think the status quo is the way to go. It's not!"
Kerry described how in many cases these bakeries are still cranking out "old favorites" that just aren't selling, and how the owners aren't even keeping a record of what sells and what doesn't. She called it a "recipe for ruin" when a bakery is "making 100 of a beloved but by-gone item every day, and only selling two... That item either has to be modernized if it can, or it has to go."
Along with Kerry's insights and advice, each bakery gets a complete front of the shop make-over, along with a menu revamp. So there's a lot to do in the mere forty-eight hours that Kerry will spend at each location. "There's so much rushing around and a bit of chaos with the construction and what-not. So on the show I take time to sit down with everyone over a cup of tea to talk."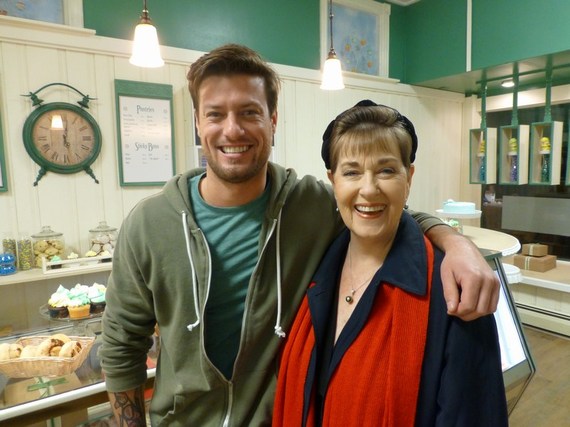 Kerry and contractor Jared Dostie who remodels the bakeries (Photo Courtesy: Kerry Vincent)
When Kerry told me this she laughed, "Yes, I know, how cliché. But it's not a cliché actually, sitting down to a cup of tea and saying what really needs to be said is an isolating moment that means something and I've found it's been very effective." Indeed, every shop owner Kerry visited said to her at the end of filming that the time when they had tea and talked, an often eye-opening, jaw-dropping moment, really was pivotal to them. It's when the truth of how their business was failing and how to make it work finally began to sink in and take hold. It's the moment when she really "lights a fire under them so that it pushes them off their throne of apathy."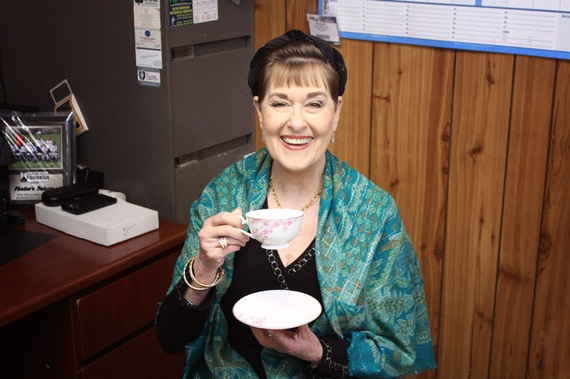 Kerry Vincent enjoying her cup of tea (Photo Courtesy: Kerry Vincent)
For Vincent, this is critical. She admitted that in just forty-eight hours she can't possibly save a bakery from closing, that what she has to teach them must take root or the business won't grow in the long-term. "I can only hope that the advice I give and the suggestions I make go beyond the two days I spend with them, and that it sparks a creative drive to improve and keep things going in the right direction long after I'm gone. The only way I'll know if I really did save the bakery is if in two years they're still open and working, and actually improving!"
Much of what Kerry sees holding these bakeries back is the way that people deal with what she sees is really the heart of the bakery, and the heart of Save My Bakery... relationships. There's the business relationship that the owners have with their employees and their customers, the relationships of the families, of wives and husbands, children and parents, even grand-parents, and how important it is for these relationships to work in order for the business to work. And while Vincent admits she doesn't have all the answers for all the problems they face in these relationships, she certainly knows what it takes to make a relationship work long-term.
"The fact that I've had a forty year marriage with Mr. Vincent counts for something. Throughout your life, no matter what you do, there has to be a negotiation and give and take with the other people in your life. Doug and I are a team, but there has to also be freedom to let the other person fly, and to let yourself fly too. He does his stuff, I do my stuff, and we do our stuff. And if you can get that together, then you'll have a very successful and happy relationship with somebody for a very long time."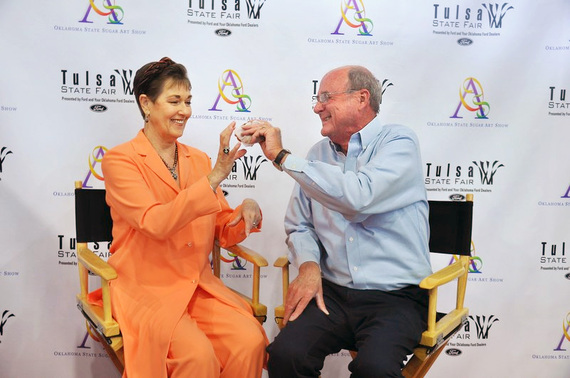 Kerry and Doug at The Oklahoma Sugar Arts Show, founded by Kerry (Photo Courtesy Kerry Vincent)
Unable to resist the opening she gave me (40 years married!), I asked Vincent what her and hubby Doug would do to celebrate such a huge milestone. Her reply... "It'll just be another day on the calendar, no fuss! It's why we have such a successful marriage. We'll probably take a trip down memory lane and have some giggles about the beginning because that's what days like that make you do, but no fancy dinner or big party. We're just happy being happy!"