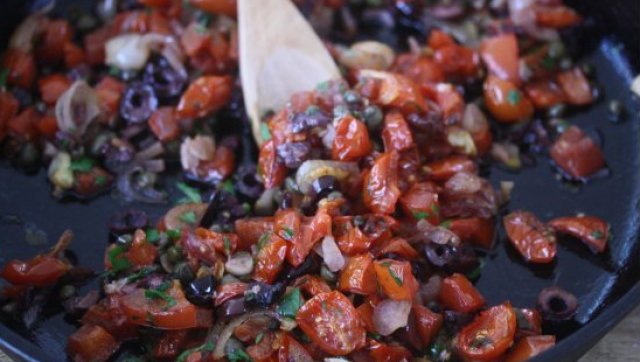 The always innovative StarChefs.com International Chefs Congress (ICC) is returning to New York City for the seventh year on September 30 until October 2, bringing with it some of the most talented chefs, coolest kitchen equipment and tastiest products from across the globe. Running concurrently with the ICC is the third annual International Pastry Competition hosted by Johnny Iuzzini, and the third annual "Somm Slam," a wine-tasting competition hosted by Master Sommelier Fred Dexheimer.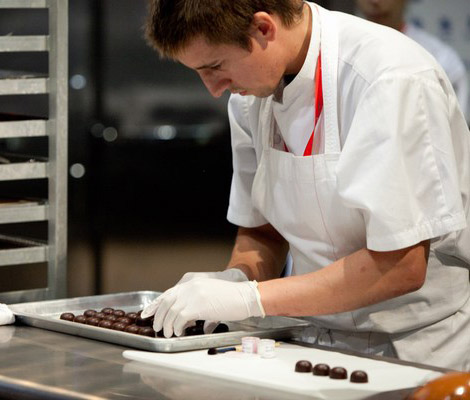 2011 Pastry Competition Winner Ramon Perez, Perez will be a judge at the 2012 Competition (Courtesy StarChefs.com)
New to the ICC this year is EAT@ICC, a collection of food carts from top chefs as well as three pop-up restaurants. Chefs Katsuya Fukushima, Jordan Kahn and Matt Lightner team up with Jade Range and Meat & Livestock Australia to bring a savory pop-up offering three courses, and Chefs Dominique Ansel and Michael Laiskonis will each have a pastry pop-up.
Chefs with food carts include Ken Oringer, Alex Stupak, Andy Ricker, Angelo Sosa, Sara Jenkins, Hillary Sterling, Paul Qui, Damien Herrgott (recently named one of the Top Ten Pastry Chefs in America), Iacopo Falai and Jeremiah Bullfrog. But the list goes on, and the dishes the chefs are offering can be found on the StarChefs.com ICC event schedule.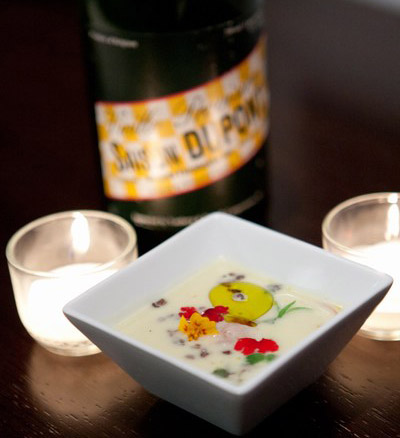 Chef Ken Oringer's White Orchid Root Gazpacho. Oringer returns to the ICC this year for EAT@ICC. (Courtesy StarChefs.com)
Of the new EAT@ICC, StarChefs.com Editor-in-Chief Antoinette Bruno told me:
"EAT@ICC is our way of bringing trends in the restaurant industry to life -- not just the format of food truck or pop-up, though both are increasingly important vehicles for experimentation. It's about having so many influential styles in one space: the quick-serve hyper-culinary Meatball Shop, that atelier-style hyper-seasonality from Matt Lightner, Andy Ricker and Alex Stupak's culinary explorations, even Jeff McInnis's southern comfort food at Yardbird. It's all there-and more. One spot. Three days!"
Returning to the ICC this year is the legendary Iron Chef Masaharu Morimoto, who will give a presentation on "The Legacy of Japanese Cuisine" on the main stage. Morimoto has a way with demos, his mix of encyclopedic knowledge and quick-witted humor always make him a favorite. This year, Elizabeth Falkner takes to the main stage with a savory demo titled "Urban Gothic: Exploring Cuisine through the Cityscape."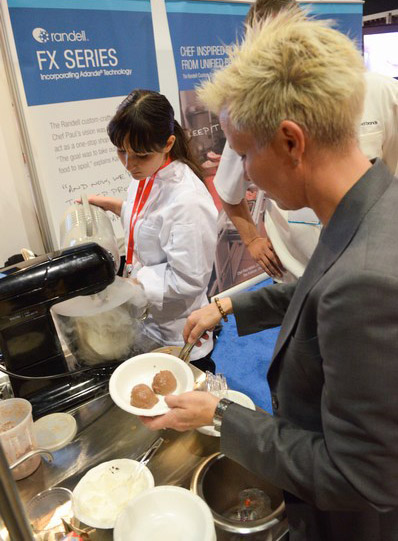 Pastry Chef Elizabeth Falkner prepared ice cream with the Liquid Nitrogen Ice Cream Table she developed with Unified Brands in 2011. This year Falkner, recently transplanted to Brooklyn to open Krescnedo, will do a savory demo. (Courtesy StarChefs.com)
Keeping to the tradition of a truly international event, the people at StarChefs.com are bringing in Josean Martínez Alija of Nerua at the Guggenheim in Bilbao, Spain, who will present Nerua and Nature at Its Core. From London comes Chef Virgilio Martínez and his demo Exporting Flavor: Modern Peruvian Cuisine. Italian Chef Davide Scabin of Combal.Zero in Piemonte presents Italian Pasta Reloaded, and French Chef Alexandre Gauthier of La Grenouillère in Madelaine-sous-Montreuil presents The New French Guard.
American chefs Marcus Samuelsson, John Besh, and Mario Batali will also take to the ICC main stage. Samuelsson of Harlem's Red Rooster will present alongside Swedish Chef Mathias Dahlgren on Natural Cuisine and Freedom of Expression. Besh joins fellow New Orleans Chef Susan Spicer of Bayona for a presentation entitled Guts, Glory, and the Gulf. And Mario Batali will join Davide Scabin and Mario Carbone of Parm for a panel discussion on The Changing Role of the Italian Chef.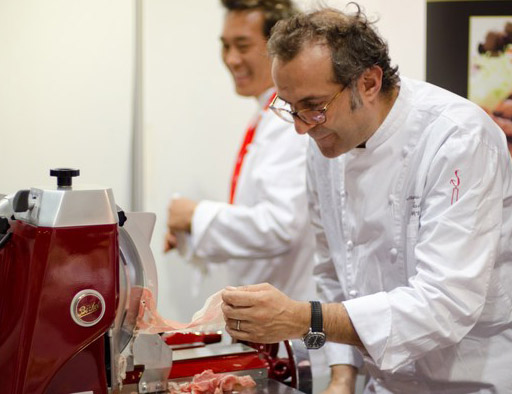 Italian Chef Massimo Bottura of Osteria Francescana in Modena sliced Proscitto di Parma on a Berkel slicer at the ICC's 2011 Products Fair (Courtesy StarChefs.com)
Off the main stage, the ICC has some sweet workshops and panels lined up for 2012. Angela Pinkerton of 11 Madison Park, also one of this year's Top Ten Pastry Chefs in America, will hold a workshop on turning classic pastry concepts on their head with avant-garde sensibilities. Johnny Iuzzini joins Michael Laiskonis, Jordan Kahn, Sam Mason and Alex Stupak (both former pastry chefs at the famed wd~50) to discuss the continuously evolving role of pastry chefs. And Dominique Ansel holds a workshop on mastering laminated dough (anyone who has tasted his heavenly Kouign Amann will appreciate his talent in this area).
Pierre Hermé's 2011 ICC Macaron Workshop. No PH this year, but his protégé Damien Herrgott will be peddling Hermé-style macarons in modern flavors at this year's EAT@ICC (Courtesy StarChefs.com)
On the savory workshop side, the ICC presents Masaharu Morimoto on the fundamentals of sushi, Pok-Pok's Andy Ricker's workshop will explore the ancient secrets of Thai cuisine, Chef Missy Robbins of A Voce will hold a workshop on fresh pasta, and Chicago Chef Chris Nugent (Goosefoot) will explore the power of edible visuals. Nordic Chef Mathias Dahlgren of Restaurant Mathias Dahlgren in Sweden will hold a workshop on exploring cuisine as a moment in time.
There's also an overflowing array of mixology and wine workshops, featuring the best talent at the forefront of tipsy trends. And all of this is just the tip of the ICC workshop iceberg.
Being of the opinion that chefs should be involved in their communities, and having recently done a story here on HuffPost about the non-profit organization Careers through Culinary Arts Program (C-CAP), I'm happy to see that this year's charity partner of the ICC is C-CAP. In addition to the proceeds of EAT@ICC going to C-CAP, its founder Richard Grausman will speak in an ICC business seminar with Chefs Marcus Samuelson (C-CAP Board member), John Besh, and Sat Bains in a discussion on the role of the chef in community building.
When I asked Will Blunt, managing editor of StarChefs.com, why they are supporting C-CAP this year, he replied:
"Supporting C-CAP is no-brainer for StarChefs.com. Through our online content, APPs, the Rising Stars Awards program, and, of course the ICC, we strive to be a catalyst for success in the restaurant industry. And Richard Grausman is one of the ultimate pioneers in this regard. C-CAP has been giving underserved high school students the tools they need to make it in our industry since 1990. I can't wait to see the C-CAP students onsite at ICC working with some of the world's top chefs in the pop-up restaurants -- it will no doubt be inspiring for the students and chefs alike."
There's so much going on at the StarChefs.com ICC that there's no way I could include everything in one article (and I didn't even get to all the products to sample, or the blow-out parties and after-parties!). And, like every year before this one, tickets to the event are coveted and sell out fast. But lucky for all your industry peeps who want to keep on the cutting edge of your craft, they haven't sold out yet.
Regina Varolli is the author of the Amazon best-selling book "99 Things You Wish You Knew Before Going To Culinary School." Available online and at booksellers everywhere.