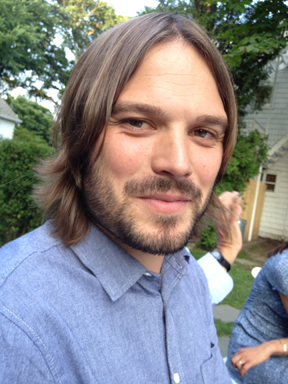 The documentary's catchy title, Keep On Keepin' On, comes from the legendary trumpeter Clark Terry, now 94, a line he uses to inspire young musicians: Justin Kauflin, a blind pianist composer he's nurtured, could not attend the special Summerdocs screening at Guild Hall in East Hampton on Friday night. Now in Los Angeles recording an album with Quincy Jones, Kauflin's one of Terry's successful students in jazz, but so is the Australian drummer and surfer who made this debut documentary, winner of the Audience Award at this year's Tribeca Film Festival; the filmmaker Alan Hicks also took home the award for Best New Documentary Director. At a pre-screening cocktail party at The Maidstone, I had the opportunity to ask him how an Australian came to this landmark American music, and how he made his first film on a jazz legend's story.
"I came to New York from Wollongong, Australia when I was 18 to study jazz and drums and I ran out of money. I needed to go back. One of my teachers said you should come to the Blue Note tonight to hear the Oscar Peterson trio. He sat me down between Clark Terry and his wife Gwen Terry. Clark said he thought returning to Australia was a bad idea. I should stay in NY and continue my studies. He invited me over to dinner and I had a great meal with jazz greats, and then he invited me again and again, and eventually told me to bring my sticks so I could study with him. He asked me to join his band.
After that I did go back to Australia and a local channel wanted to make a documentary about my friendship with Clark. We could talk about Quincy Jones (Terry was his first teacher) and Miles Davis, but the money fell through. I was talking to a buddy of mine, Adam Hart, a cinematographer, and he said, "Mate, we can just do it ourselves. It'll be easy." If I'd only known! We saved up money for a year and went to just film Clark's life story. Justin Kauflin, the blind piano player was always there. So we changed our focus and as soon as we did that, the work took on a life of its own. He was such an interesting character to have around. I'm still a player but I haven't been practicing enough, as I should be. Clark is on my case about that."
At the post-screening Q&A, Alec Baldwin went to town on Hicks and his drummer/ surfer persona, who obliged by sprinkling his responses with "mate." Alan Hicks takes his success in stride: The Weinstein Brothers' Radius picked up this film at Tribeca; and there's already a buzz: Keep On Keepin' On may be this year's 20 Feet from Stardom.
A version of this post also appears on Gossip Central.